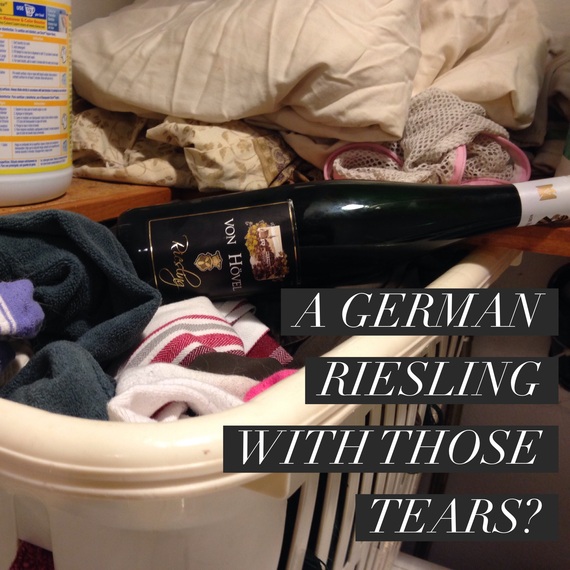 I've engaged in three genres of laundry so far in my life. Well, I guess you could say four because when I was young our family had a maid who did my laundry. But since I was too young to drink then, I'm setting it aside in my quest to give an overview of the best wines to pair with laundry.
My adult laundry experience has been a far cry from the leave-it-on-the-floor-and-the-maid-will-pick-it-up-launder-it-fold it-and-place-it-back-in-your-drawer kind.
Traveling Laundry is the first genre I was exposed to after my parents' house. This is the kind of laundry that goes outside for field trips to get cleaned. This is probably the happiest of laundry types since it gets the most fresh air, yet it is also the most demanding.
Since field trips with Traveling Laundry require two hands, if not three, the wine to pair with them should always be in a sealable container so you can throw it on top of your clothes with the detergent and dryer sheets; it must be white, in case the cap isn't quite tight; and it should start ice cold to allow for warm-up time as you'll sit in the hot Laundromat for a couple hours.
Sauvignon Blanc from New Zealand is a perfect companion for Traveling Laundry because:
Kiwi wines have screw caps, for the most part.
New Zealand's flagship wine offers crisp flavors of grass and hay that remind me of being outside at picnics, instead of inside doing laundry.
They taste great both ice cold and lukewarm.
The second, more menacing kind of laundry is Emergency Laundry. This is the kind of laundry that lurks in the corner of your closet, piling up slowly, sneakily, until one day you realize that all you have left to wear to work is your blue, two-sizes-too-small business suit and ski socks.
There is no messing around with this kind of laundry. You may have had plans to meet co-workers for a drink at 6:00, but after a day in those when-I-sit-I-can't-breathe suit pants, you make Emergency Laundry your top priority. Not even the cute, new guy in accounting will deter you.
I'm relatively certain that you already know which wine pairs best with Emergency Laundry ... Whichever Wine Is In the Kitchen, Open or Not.
Sometimes it is something left over from dinner.
Sometimes it is the extremely nice bottle of wine that your dad brought you, the one you're saving for a special occasion.
In this state of feeling sorry for yourself -- who knows what might have happened with the guy from accounting? -- you deserve it. This is an emergency even Dad will understand.
The third genre of laundry is known as Sentimental Laundry. I love this laundry. This is the laundry of your kids.
First, there are the socks that are so little you can't believe anything could ever fit into them. Then you wash clothes that look like someone went through Ann Taylor or Banana Republic with a shrink ray, zapping everything in sight into miniature, each piece of clothing adorable. Painters' pants that are 12 inches long always choke me up.
Later, your Sentimental Laundry is covered with grass stains, mixed with soccer socks, and tainted by things that make you tear up from the smell. You go through more Spray-N-Wash than detergent during this stage.
Before you know it, you're folding and sorting clothes from the dryer and you can't figure out who's they are because they could fit either you or your husband. Your youngest daughter returns to the laundry area, holding a pair of underwear by two fingernails saying, "Mom, these are yours."
Wine selections for Sentimental Laundry are challenging. Given your mood, these wines need complexity, depth. They must be low in alcohol as they may be sipped at any time of day. And most importantly, they must pair well with the salt of sentimental tears rolling into the corners of your mouth.
An off-dry Riesling from Germany is my pairing suggestion for Sentimental Laundry because:
They have such amazing aromas of apricot, pear, honey and even petrol that you can almost be content just to sniff them without drinking any of the wine. Almost.
Most German Rieslings are under 10% alcohol, which helps you maintain your cool as you transition from laundry to after-school teacher conferences, or worse, afternoon business meetings.
The sweetness in the wines pairs perfectly with the salt of your tears.
These wines are so beautifully made that the only problem I see with them is fitting the tall bottles in the side door of the fridge.
For the time being, I'm happy in the German wine section of the liquor store. Of course, as a woman who likes to plan, I'm contemplating what type of wine I'll need in the old folks home where This-Doesn't-Look-Dirty Laundry is the norm.