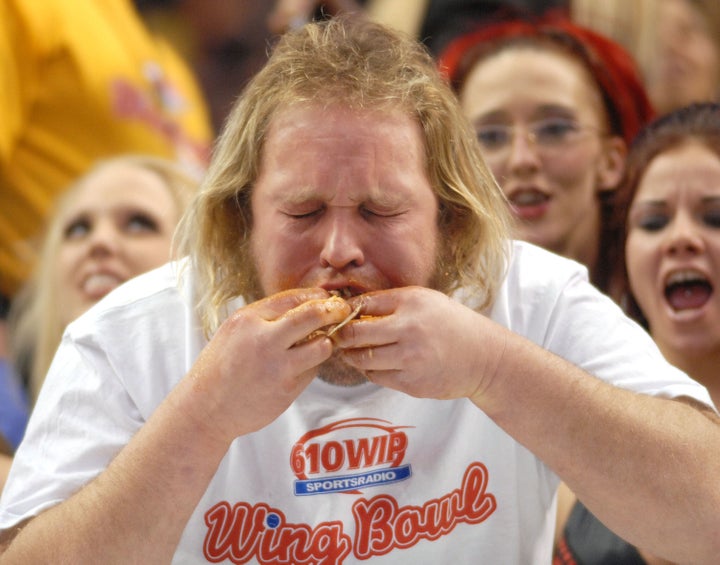 They say you can't go back to spring break, and they are right. Yet, spring break seems to symbolize the collegiate American Dream -- no picket fence, 2.5 kids yet -- we want to party with no consequence, no limits and no tan lines. At the age of 42 -- older, but no wiser -- I returned to spring break for 14 hour run in Panama City. A rental car -- no hotel room to crash in -- and destiny in the form of the first qualifier of the Hooters World Wing Eating Championship, awaited me. But it was Friday, and there was business to take care of first.
Most folks find it strange that there is a league for competitive eating. Would they find it stranger that every ranked Major League Eater signs a three-year contract with the organizing body -- the I.F.O.C.E -- The International Federation of Competitive Eating (the only stomach-centric sports league in the world). The contract is to ensure that each guritator competes only in league events and eschews the non-paying restaurant challenges (made famous by certain TV shows, giant hockey puck tasting burgers and massive pizzas that taste worse than the cardboard they served in). I have a confession: I have an eating Achilles heel. My local Boston bar in NYC is Professor Thoms -- they do Monday night lobster specials, serve beer named after Bill "Spaceman" Lee, show all the wicked Beantown teams and even welcome New Yawkers. They, like most bar food establishments, serve nachos. I have never finished an order of their nachos -- a waste for the casual diner, but a colossal embarrassment for the 20th ranked eater in the world (An autographed poster displaying my eating prowess hangs behind the bar, but not for long after they read this post). The nachos are delicious, served on a pizza tray, and despite last year's entire Celtics playoffs, Pats, and Bruins games, each attempt left me pawning off some sour cream stained chips to the folks seated next to me. I am now freed from this albatross of cheese and jalapenos as recently Prof Thoms has offered a "Nachos for one" served on a football-like plate, but clearly, my pride and dented stomach capacity will prevent me from ordering the puny dish. Restaurant challenges are out, but the loophole in the MLE contract is the all-you-can-eat buffet. Since my contract had recently expired, I planned on resigning and celebrating at a half-price sushi all-you-can stomach joint on 1st Ave.
The contract was easy, most eaters have a boiler plate agreement, but I have a special rider that provides if a crab cake eating contest occurs, I am allowed three National Bohemian beers as my dunking liquid. No alcohol is allowed during eating contests, but it's a dealbreaker for me, if I can't double fist Old Bay seasoned crab and Natty Boh beer. The league wasn't happy, but it's not like there is an M&M eating contest and I refuse to eat the brown ones. The contract is printed, signed and faxed -- it was time for some stomach fireworks. For several months I had been researching half-priced sushi places until arriving at one that has a catering party platter selection voluminous, reasonably fresh, and tasty.
I had arraigned a platonic dinner date with a fellow competitive eater, Maria Edible. She is of the new breed of pro-eater, young, sexy, and capable of consuming over a gallon of chili in six minutes. Maria dates the number two eater in the world, Pat "Deepdish" Bertoletti, and he with his mohawk and her with her tattoos make for a more benign Sid and Nancy of Punk Eating. Maria, who recently had been wrestling with the idea of vegetarianism, was willing to help me decimate the ocean's economy for all-you-can-eat sushi. When I discovered that my place offered all the beer and sake one could drink with their voluminous meal for only 33 bucks, it was like being handed a preview of Heaven. Granted, this is not the wisest meal one should have the night before a wing eating contest, but I was going on spring break so stretching my liver's capacity, along with my stomach's seemed like a Masters Degree like idea. As I settled into my first round of sushi (6 Ikura, 2 Eel, 2 White Tuna, 1 Kani, 1 Saba, 1 Inari, hand rolls of spicy crunchy yellowtail, spider roll, and black pepper roll) I told Maria about my first trip to Spring Break, back in 1991.
My junior year of college with barely 100 dollars to my name, meant I would be staying in Baltimore, spending my limited budget on Natty Boh and a bushel of crabs. I did own a beat up pick-up truck, so when two females I knew reasonably well, offered to pay gas, tolls and oil to Ft. Lauderdale, visions of multiple viewings of VHS copies of Hot Moves, Spring Break and Hardbodies made my answer, "when can we leave and where will we stay?" One girl had a grandmother who would house us, rent free and we left that afternoon. Twenty-two hours later, sputtering gas fumes into Ft, Lauderdale, Grandma said, "No chance." I found myself staying in a room with nine other sorority girls -- it seemed like a movie -- until the first morning, the manager unlocked door and threatened to charge per person or boot all us. I secretly moved to the balcony and slept under a folding chair for the rest of the week. Spring Break on such a limited budget was not quite like the movies I loved, but I'll give you the highlights. I bought a week's worth of hot dogs and sour kraut, a case of Wegman's Beer, and a bag of briquettes. I got drunk on left over green beer from St Patrick's Day at every skinny bikini, naughty lingerie, or wet tshirt contest (where they give away the leftover green beer). Friday I discovered and all-you-can-eat peel and eat shrimp special in a strip club. Peelers and peelers, except all the strippers had gone to the beach. I discovered one could get down a lot more shrimp without the peeling part of the equation. I may still be digesting those shells. After seven servings, I was asked to leave. Saturday, I took the bag of briquettes' and lit a BBQ (first on the balcony and before moving to the more approved concrete parking lot). I sent folks to the grocery to bring back whatever they wanted me to grill. I ate a third of everything I cooked for eight hours straight while drinking warm Wegman's. Then we drove back to Baltimore. Not a fun drive back with spring break in the rear view mirror, but I had joined the countless ranks of America's collegiate youth -- I had even hooked up on the beach one night (cue the music from Fraternity Vacation.) -- spring break had become spring broke, but I was unfettered, free, inebriated, and content.
Maria Edible: "You would be able to eat a lot more half-priced sushi and drink a lot more beer and sake if you didn't talk so much."
Me: "Duly noted. Let me tell you about the next time I went on spring break over round two"
Calling all HuffPost superfans!
Sign up for membership to become a founding member and help shape HuffPost's next chapter