"I plan to force sea mammals -- small whales, dolphins, sea lions -- to conform to my strict design aesthetic," deadpans architect David Hertz through the static of a cell phone hitting a bad pocket on the PCH.
Then he laughs. He's kidding.
Hertz -- whose Wing House, composed from pieces of a Boeing 747, took off in the media this year -- is answering a question about his newest project, essentially a marine mammal hospital.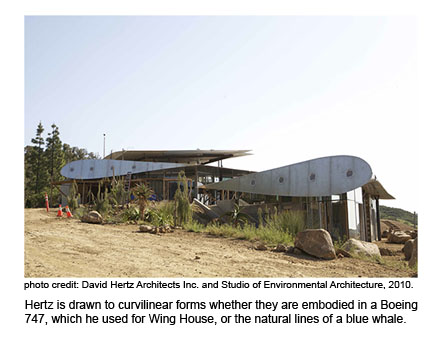 What I want to know is, will programmatic requirements, say tons and tons of H20 and an intensive care unit designed to handle a seal in critical condition -- eradicate any aesthetic leeway for Hertz.
The Marine Mammal Care Center is the brainchild of Peter Wallerstein who has saved ill, injured or orphaned marine mammals and sea birds from immediate danger on Los Angeles area beaches for over twenty years through his organization Marine Animal Rescue.
Slated for Playa del Rey, the beach community just west of LAX in Los Angeles, it will provide a second Los Angeles County coastal facility with the capabilities to treat and subsequently house the creatures while they recuperate. Still in early planning and fundraising stages, it will ultimately be a water-bearing hospital -- a convalescent home with liquid appointments.
Surprisingly, Hertz contends that the program as well as the site provide "a lot of creative license to create an interestingly architectural building."
"The function is very simple," he continues. "And we have lots of room to work." While the initial scheme calls for a 5500-square-foot building, the complex's series of pools and pens will unfurl over about 20,000 feet.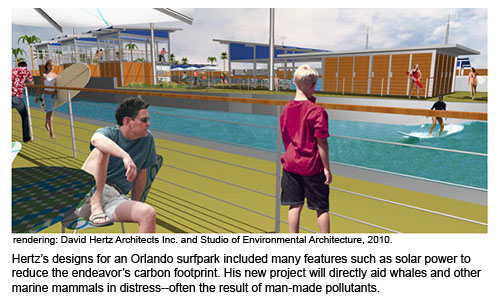 Hertz and Wallerstein are scouting sites but the architect already sees room to play with the roof and other structural elements. And designing a medical facility for residents that swim isn't as far from the forms of Wing House, built from technology that flies, as one would imagine.
"I've always been very interested in sculptural curvilinear shapes -- like airplanes and surfboards," explains Hertz, who notes a connection between those forms and his new 'clients.' "When you look at a marine mammal, there's nothing more beautiful than a blue whale or dolphin. I'm sure my architecture might be impacted by my interaction with them on this project."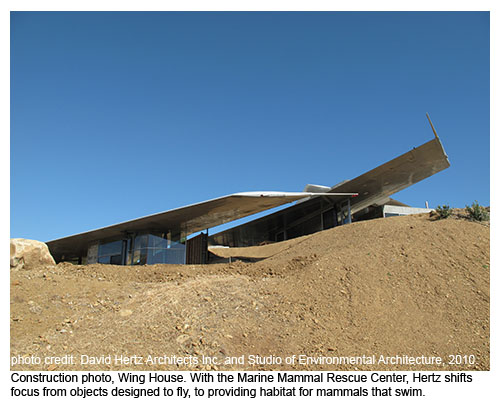 An avid surfer and waterman, who was aware of Wallerstein for years and met his client in the line-up (where else), Hertz has designed pools for liquid tonnage before. A pen for an ill sea lion is low key compared to a recent endeavor designing an Orlando surfpark (which is currently on hold.) There, Hertz not only facilitated an enclosure required to re-create the notion of surf but an underlying "reef" which adjusts to generate various wave forms -- from a menacing man-made Indo tube to a grom-oriented gentle peeler.
However at the Marine Mammal Care Center, "we're not trying to mimic a natural marine environment," says Hertz, "the goal is to have these mammals for as little as possible," then release them.
The two endeavors do share a dependence on solar energy. The surfpark channels both photovoltaic cells and wave energy, while the new project will harness the former. Amongst Hertz' directives from Wallerstein is that the center, dedicated to care for mammals often endangered by man-made pollutants such as a carelessly dropped plastic bag, treads very lightly on the land.
Such ideas have long been amongst Hertz's values, personally and professionally. Still, working for Wallerstein -- a mission he's taken on pro bono -- has deepened his sensitivities. "You see the effects [of man] more when you see Peter save a baby seal with a gill net around its neck that he's been trying to get for two months," the architect notes.
Yet, it's statistics that underlie the urgency of Hertz's new commission. In 2009, Marine Animal Rescue extricated 348 mammals and birds and transported them to safety -- midway through 2010 Wallerstein and his team had nearly reached that number.
Calling all HuffPost superfans!
Sign up for membership to become a founding member and help shape HuffPost's next chapter