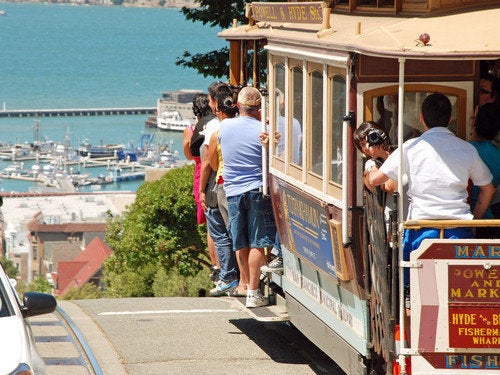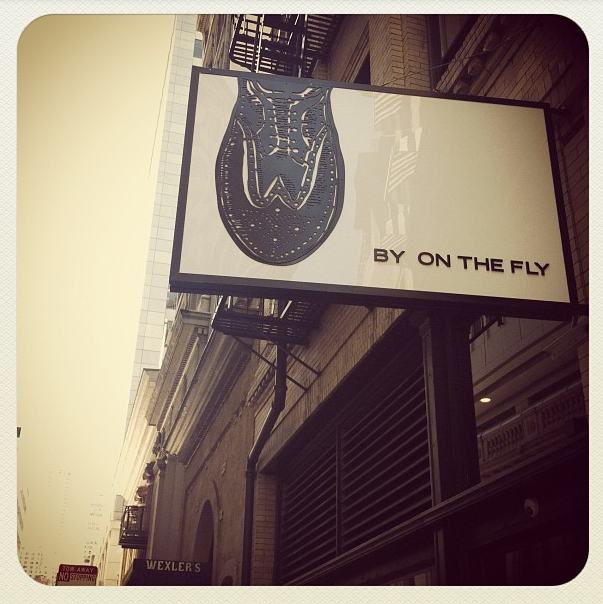 "The sinister mode is that everything's for sale," says Ami Arad, the founder of On the Fly, as he opens the grand doors and I get my first peek into the distinguished club on Sacramento Street.
On the Fly began in 2004 as a web business for men's fine fashion goods. "We were heritage before heritage was cool," says Arad.
After accumulating inventory they decided to open a store in the Embarcadero Center in 2008. Last year On the Fly took over the B. Dalton bookshop upstairs in a permanent pop-up type of way.
The specialty store is great for a guy with gaudy tendencies who wants, say, custom avocado green wingtips or Gold & Wood eyewear made from exotic woods and precious metals. "I had some glasses with purple temples. It's totally stupid, but I love it," says Arad.
Fernando, the on-site tailor, is there five days a week. In the next month a woman named Bethany will be in the store creating bespoke business cards, calling cards, and stationary on a letterpress.
"So far we've done okay doing stationary for men. It will be much better when guys see the craftsmanship that goes into it," says Arad.
The club, called Wingtip, is a few blocks away and is an extension of the men's store. It's an interesting concept in aspirational product placement. There are no salespeople or price tags at Wingtip. But if you like the pewter cup the espresso is served in, Brunswick billiards table, or the soaps in the bathroom, you're in luck. It's all for sale.
Seriously. There's nothing ironic or hipster about it. This is a meeting place for bankers, lawyers, and the more status-conscience technologists. The intimately lit locale lends itself well to sharing trade secrets and downing fine Scotch.
The club has about 325 members. They pay $200 in monthly dues that are redeemable at the store. So if you're the type who spends at least a few Franklins a month on Toschi shoes, Barbour jackets, or Agave jeans, the membership is essentially free. As Arad's business card says, it's a loyalty club like none other.
There's a pocket square library and members are welcome to borrow a handkerchief to match their outfit as long as they don't blow their nose in it.
There are also Audi A8s on the premises for impressing dates and clients. But Potemkin Village this is not. Ten members have gone on to buy Audis after driving around the Wingtip cars.
While there's definitely a proper East Coast vibe to the whole place, Arad proactively dislikes the analogy to an Old Boy's Club. Indeed, 10 percent of the members are female.
At 6 p.m., men of the Financial District are just starting to trickle in. They're dressed in suits and ordering lavish cheese plates from Cowgirl Creamery and charcuterie from Boccalone to go along with their cocktails and conversations.
As members flip through the wine menus made from signature leather they come across a weekly brief of club events. There's a Humphrey Slocombe ice cream social, a dominos tournament, and a legal trip to Cuba on the schedule.
At 6:30 p.m. Arad announces a tour of the soon-to-be new and improved Wingtip. Yes, Arad's vision is finally becoming a reality. On the Fly just signed a lease with the owner of the old Bank of Italy building on Montgomery Street.
"We could not spend a nickel here and the store would look a lot nicer," says Arad as he leads a tour of the National Historic Landmark that will be the future home to On the Fly retail store and the Wingtip club.
Arad's excitement for the new spot is palpable. He shows the nook that will be the single barber station with beveled-windows and the vault room that will be retrofitted into a fitting room.
'This is so freaking cool," says one member on the tour, basically salivating at all the old marble.
The club will be upstairs on the 10th and 11th floors. Imagined are private parlor rooms, golf simulator rooms, a grand rooftop, and a corner office for getting last-minute work done -- all with breathtaking views of the Transamerica build and Coit Tower.
The landlord recognized the uniqueness of this space and agreed that Wingtip will make fine use of it.
The store-cum-club has not done much advertising for these first years but this is all about to change. Now's your chance to be super fly and get in on the newest concept in retail.
REAL LIFE. REAL NEWS. REAL VOICES.
Help us tell more of the stories that matter from voices that too often remain unheard.