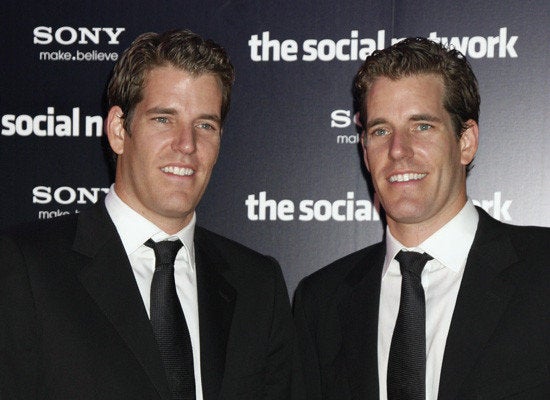 The Winklevosses just won't quit--and they're taking their case to the top.
Despite having won millions of dollars in their suit against Facebook, Cameron and Tyler Winklevoss, whose attempts to reopen the settlement were rejected by a federal appeals court, say they will now appeal the Supreme Court in the hopes of obtaining an even bigger payout from their Facebook suit.
The Ninth U.S. Circuit Court on Monday refused the Winklevoss twins' request for an appeal to their settlement with Facebook founder and former Harvard classmate Mark Zuckerberg. The Winklevoss twins allege that Zuckerberg stole their website idea and created Facebook.
The Winklevosses are not stopping there: According to CNET, "The twins' attorneys announced [Monday] that they intend to file a petition with the U.S. Supreme Court, asking the high court to hear their case against Facebook and co-founder Mark Zuckerberg."
All Things D has published a release issued on Monday by Howard Rice, the law firm representing the Winklevii and business partner Divya Narendra. The release claims that Facebook undervalued their share price when the settlement was reached and may owe the Winklevoss brothers and Narendra millions more.
"Settlements should be based on honest dealing, and courts have wisely refused to enforce a settlement obtained by fraudulent means," the release reads. "The Court's decision shut the courthouse door to a solid claim that Facebook obtained this settlement by committing securities fraud. Our Petition to the Supreme Court will ask the high court to decide whether that door should be reopened."
Mark Zuckerberg also faces a lawsuit filed by New York state businessman Paul Ceglia, who claims to own at least 50 percent of Facebook after signing a contract with Zuckerberg in 2003.
REAL LIFE. REAL NEWS. REAL VOICES.
Help us tell more of the stories that matter from voices that too often remain unheard.