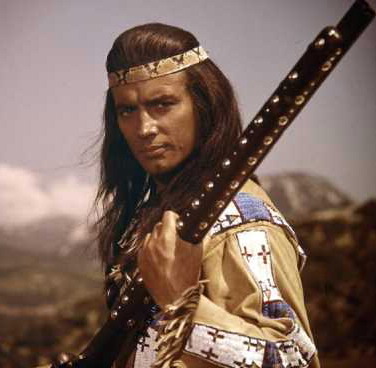 Imagine being locked up in a prison where all you can do is read historic books about the Southwest United States and dream of how the American Indian warriors roamed the deserts of Arizona on horseback, free as the wind and as one with the elements. That is exactly what Karl May, one of the most famous authors in German history, did 100 years ago while he was incarcerated for petty crimes he had committed in his early years. Even though his books have sold more than 150 million copies and have been translated into multiple languages, most Americans have never heard of Karl May or his stories. But in his native country Germany, Karl May's books and the characters that drive them have become part of the fabric of German culture. Just like in the U.S., many Germans grew up playing cowboys and Indians, but because of Karl May's stories, they all wanted to be the Native American instead of the cowboy.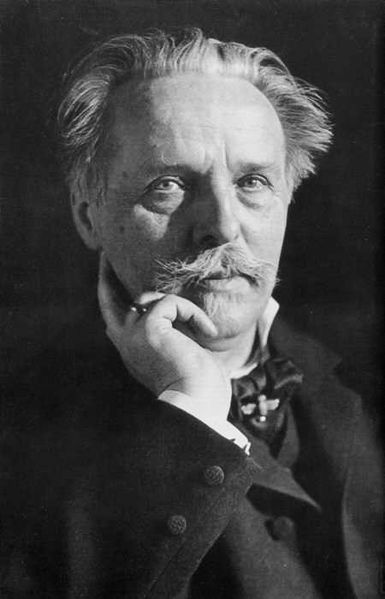 The lead characters in his books -- Winnetou, a magnificent Mescalero Apache Chief, and his counterpart, a German nobleman named Shatterhand who packed a power punch (played by Lex Barker, known to many Americans for his role as Tarzan) -- were like the American story of Tonto and the Lone Ranger, except in Karl May's books, the Apache was no sidekick to his white partner -- no kemosabe. He was the hero in his own right. What is fascinating is that Karl May had never been to America, yet he captured something very special in his books. In the 1960s, his stories were turned into a series of movies. Winnetou was portrayed by French actor Pierre Brice, who captured the German imagination by showing what it must have been like to be the chief of the Mescalero Apache Nation -- a chief who unites all the neighboring tribes to rise up against the railroad builders that are invading their lands. The Winnetou films have become legendary in Europe, especially in Germany. Over the years, they have been shown numerous times on European television.
This could explain some of the fascination the Germans have with American Indians, particularly with the Apache.
Each summer, the Germans host open-air theater shows known as Karl May Spiele, where they play out the story of Winnetou and Shatterhand on horseback in front of thousands of people. They have done this for decades, and Pierre Brice played Winnetou for many years. There are even a few sites in Germany where people go camping, not in a modern way, but dressed in full American Indian regalia, living in tipis by the campfire in the woods. Some people find it a bit odd that the German people would imitate another culture so different than their own, but I choose to see how they have taken the best of Native American culture and romanticized it. After all, life was not easy back then, with survival depending on how well a tribe could hunt and provide food and shelter for its bands. Life was not just a happy campsite in the woods. Pierre Brice's enigmatic portrayal of the Apache Chief Winnetou has earned him a place in the hearts of the German people forever.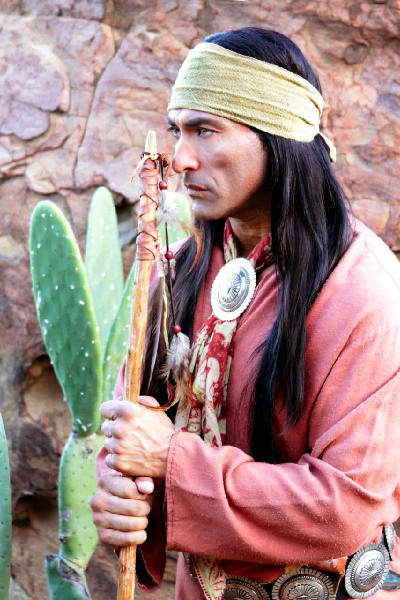 To this day, Brice remains a celebrated star who is loved by people all over Germany. Although he is of French descent, he captured the essence of an Apache warrior chief with all the right qualities: proud, strong, wise and fierce. But just like Karl May, he has never met the Mescalero Apache people, something I am planning to change soon. In a world where most kids grew up playing Cowboys and Indians, we all fantasized about what it must have been like back in the days when the proud Indian nations lived in harmony and peace with Grandmother Earth. This idealized notion has never been more realized than in the books of Karl May and in the hearts and minds of German people. In my career, I have been approached several times to play Winnetou. It hasn't happened yet, but rumor has it that there is a Winnetou project in development in Germany. Reinventing these classics will be challenging.
I can't forget the sense of irony here, where the indigenous people of American are loved and respected by other nations more so than country they live in. I wonder how many people around the world know the true scale of poverty and problems that are faced right now by the Indian Nations of North America.
Top: Pierre Brice as Apache Chief Winnetou
Bottom: Jay Tavare in authentic Apache regalia, photo by Cherrilyn Silva
Winnetou the Warrior -- Trailer
Elspe Festival - Karl-May-Festspiele 2011
Popular in the Community