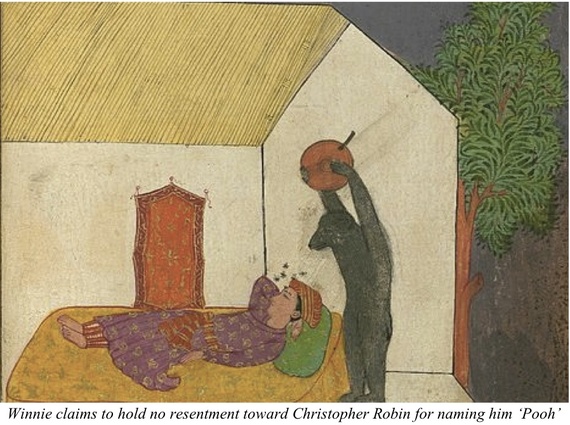 The bear formerly known as Winnie the Pooh filed an official name change petition with the Hundred Acre Wood Civil Court today. "My motivation is quite simple," he said. "I am not pooh. Thus, I no longer wish to be called as such. I am adopting the appellation 'Winnie the Bear.'"
Winnie continued, "This is not proportionate to being saddled with a celebrity-kid name like Zen or Zucchini-Blossom. Pooh, Poop, Poopy, Turd, Floatie, Dung, Dookie, Crap, Caca, or even the diminutive BM, are inappropriate and humiliating names. Yes, certainly the moniker wreaked havoc with my self-esteem as a cub, but being named for excrement as a grown bear is proving detrimental to my career and future prospects."
When asked if he held any resentment toward Christopher Robin, Winnie replied, "No. This is what happens when you allow small boys to name things. Perhaps he found the tonality, the aural aesthetic of 'Pooh' pleasing. I am choosing to believe that he was well intentioned...though I admit a part of me can't shake the feeling he christened me 'Pooh' to satisfy a more impish, dare I say, sadistic craving."
Per sources at the Hundred Acre Civil Court, the name change is expected to be finalized with ten business days.
Calling all HuffPost superfans!
Sign up for membership to become a founding member and help shape HuffPost's next chapter