Winnie the Pooh reminds me a lot of my son -- an adorable creature who moves at his own pace, loves to spend time with friends, gets into mischief, and is always thinking about his next meal. So, we were excited to spend some time with Pooh and his friends during Adventure Theatre MTC's stage version of Winnie the Pooh.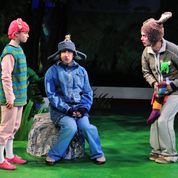 Genevieve James as Piglet, James Gardiner as Eeyore, and Joshua Morgan as Rabbit
Although some key Pooh characters, like Tiger, are missing from the line-up, Pooh, Piglet, Owl, Rabbit, Kanga, Roo, Eeyore, and Christopher Robin wind their way through four adventures in hilarious performances. Against a beautiful backdrop of Ashdown Forest, Piglet and Pooh hatch a plan to catch Heffalumps with honey, Eeyore looks for his missing tail with help from his forest friends, Piglet searches for the prefect birthday present for Eeyore, and Rabbit tries to fool Kanga in order to get her to take her dreaded bathtub out of the forest.
Fear of Kanga's bathtub resonated with many little ones in the audience and, when Kanga appeared on stage with a bathtub and soap, one child asked if he would have to take a bath and cried briefly. Overall, though, Winnie the Pooh is a very funny production and all of the children in the audience laughed throughout the play. Through their adventures, Pooh and his friends impart important lessons and children walk away from the play having learned that even little creatures can be useful, the value of saying "I'm sorry," and that new things aren't so bad.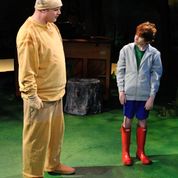 Todd Scofield as Winnie the Pooh and Holden Brettell as Christopher Robin
Winnie the Pooh is not as interactive as some shows we have seen at Adventure Theatre, but there are times when children help the characters look for things on the forest floor and my children remained engaged throughout the show. All of the actors gave good performances, but James Gardiner stole the show in his dual roles as Eeyore the grumpy donkey and Kanga, the fretting mother Kangaroo he played in drag.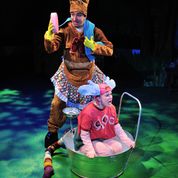 Genevieve James as Piglet, James Gardiner as Kanga
If you go, Adventure Theatre MTC is located in Glen Echo. The theatre has general admission seating, but with only seven rows arranged in a semi-circle around the stage, there are no bad seats in the house. An intimate experience is guaranteed with any seat, so there is no need to plan on arriving much before show time to ensure a good seat. If the theatre is packed, however, you may not be able to sit with a large group if you arrive late. There is plenty of free parking, but plan on leaving a few extra minutes to walk from the parking lot through the park to get to the theater.
Adventure Theatre recommends Winnie the Pooh for all ages. My five-year-old thoroughly enjoyed the show and had no problem following the action. My two-year-old had a harder time following the four interwoven plot lines, but also enjoyed the performance and laughed out loud several times.
Winnie the Pooh runs through February 24th. Tickets are $19.00 for everyone one and up. In order to make the show accessible to everyone, there will be an American Sign Language Interpreted performance on February 2 at 2:00pm and a Sensory Friendly performance February 16 at 2:00pm.
Put down your hunny pot and head out to enjoy the show!
Photos and tickets provided courtesy of Adventure Theatre MTC.
Support HuffPost
The Stakes Have Never Been Higher
Related
Popular in the Community