Morbid fans of the Hundred-Acre Wood rejoice: The skull of the bear that inspired A.A. Milne's classic "Winnie the Pooh" stories is now on public display at the Royal College of Surgeon's Hunterian Museum in London -- and it holds clues to how the bear suffered tooth decay.
The skull belongs to Winnipeg, "Winnie" for short, a female black bear who lived at the London Zoo. Lieutenant Harry Colebourn of the Royal Canadian Army Veterinary Corps purchased Winnie when she was a cub from a hunter in Canada prior to World War I. He then brought the cub overseas with him to England, where she became the unofficial mascot of his regiment. When Colebourn's regiment had to travel to France in 1914, he left Winnie in the care of the London Zoo.
The zoo is where a little boy named Christopher Robin, author A.A. Milne's son, met Winnie and became enamored with the silly old bear. He named his toy bear after Winnie, and the rest is history.
Winnie died of old age in 1934. Her skull has been in the possession of the museum ever since, but this is the first time it will be on public display, according to The New York Times.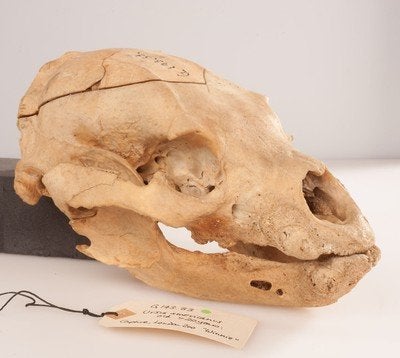 The skull's not just a nostalgic relic for Pooh enthusiasts. Dental surgeon Sir James Frank Colyer, who was the first researcher to write about dental diseases in bears, analyzed Winnie's skull as part of his research. He found that Winnie had lost most of her teeth, which he attributed to both her old age and her less-than-ideal diet. 
"People would come to the zoo specifically to meet Winnie, to watch her playing, to have photographs taken with her, feed her honey," Abigail Woods, professor in the history of human and animal health at King's College London, told the BBC.
Museum staff saw the skull "with fresh eyes" when they recently reviewed some of the items in their collection, Hunterian director Sam Alberti told The New York Times. The skull's unveiling also comes shortly after the publication of Finding Winnie, a children's book about the true story behind Winnie the Pooh. The author, Lindsay Mattock, is Colebourn's great-granddaughter.
Even so, museum officials were cautious about how they marketed the attraction. "We did think carefully about this because we didn't want the message to be, 'Come to the Hunterian Museum and see Winnie-the-Pooh.'" Alberti said. "No. It's a skull."
Calling all HuffPost superfans!
Sign up for membership to become a founding member and help shape HuffPost's next chapter