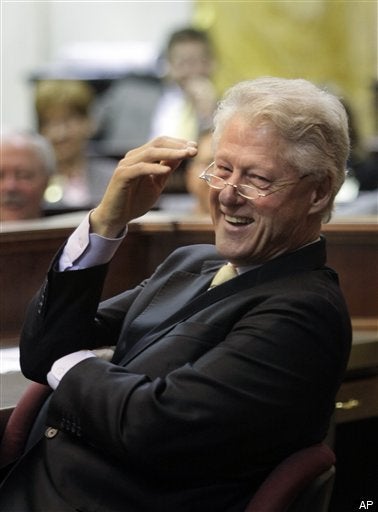 I woke up this morning to my usual routine. I made the children breakfast, picked up the carpool, dropped the little darlings off at school, and headed back again to start my day's work. After signing Oprah's "No Phone Zone" pledge, I chucked my purse and my cell in the back seat, out of reach, so I could minimize the temptation to hit the speed dial. Just like See's Candy and French fries, resisting the urge to indulge would be too difficult. Back home, I settled in with my green tea and checked my Blackberry for messages. Much to my surprise, there was a message from Bill Clinton. Yes, the Bill Clinton. Bill's subject line was intriguing -- "Join me in New York." Now wasn't that a thought? I could stand to be whisked off to the city that never sleeps for a rendezvous with President Bill Clinton. Bill. Me. New York.
As I read the email, I was reminded once again that Hillary is even smarter (and funnier) than most people realize. I couldn't help but laugh right along with Hillary about her "Join me in New York" campaign teaser. Talk about a problem solver. According to CNN, Hillary's campaign debt stands at a staggering $771,000. So she comes up with the greatest fundraising idea of all time - raffling off Bill. If you donate to her campaign, you'll be entered to win a day in New York with Bill and a friend of your choice. This is a win/win for Hillary. She gets her retired husband out of her hair for the day and her debt gets knocked down a little closer to zero. Genius!
I was so amused by the brilliance of this offer that I laughed to myself and thought what would Bill say if I actually won?
"Hey Donna, it's Bill. Congrats! Your generous contribution has brought us together. Some call it luck. I call it 'destiny.' I've put together a partial itinerary especially for us. How 'bout 10 am. Meet me in my Harlem office. I'll give you a tour. I call it my 'Man Cave.' Hillary totally nixed 'The Dude Hole.' Anyway, it's pretty sweet! I got one of those KISS Pinball machines from Ace Frehley himself. I'm up to 200,00 points! Then at 10:45 we can catch Hot Tub Time Machine. Have you seen it? Hysterical. No more popcorn for me, thanks to Dr. Buzzkill. I used to mix my Goobers and Raisinettes right in with the corn. Salty and sweet, baby! Then we can head over to White Castle on 103rd St. for lunch. Now, Donna, do me a solid and keep this between us. I promised Hill no more secrets, but if she asks, just back me up and say we split a wrap at 'Just Salad', okay?"
As was pondering the possibility of going for a taping of Saturday Night Live and listening to Bill play the saxophone, my husband came in the room and burst my fantasy bubble. Darn it! My new BFF was just about to throw the first pitch at a Yankees game.
Now picture the scene: I'm in my office, looking like a house frau who has yet to discover this "thing" called mascara, while my husband is dressed like the second coming of Cary Grant. I hate that. I'm sitting here with bed-head Medusa hair from the night before, wearing carpool jeans, and my cozy cashmere sweater that makes me look like a fuzzy brown cow. But ha! But I've got the ultimate ace up my sleeve: a message from Bill Clinton. I couldn't help but mess with my husband.

I said "You may think you look handsome right now, but don't you think for one minute that I don't have it going on. Trust me, I'm hot! I have friends in high places." I then passed him my phone so he could see my call list. Boom, there it is. He reads it out loud and his face drops. "Bill Clinton wants you to join him in New York?" He looked at me for my response. I just shrugged. "Yep. Guess I still have it going on, and Bill knows it." My husband took the bait and said, "If you are trying to make me jealous, believe me, I am." (I love that my husband really thought the former president would want to hang out with me.) He said quite seriously, "Bill knew you were in New York last week, didn't he?" Bingo! I said, "He must have heard."

My Cary Grant-looking husband walked out the door. I smiled at the genius of Hillary, and I laughed over my "message" from Bill. Then I went straight for my mascara.

All I could think was: good job, Hillary! Mission accomplished. I am writing you a check today. In fact, your "Spend a Day With Bill" Campaign worked so well that my husband came back ten minutes later and asked if he could take me out to dinner tonight. As for Bill, any time you want to hit up White Castle, I'm in - as long as Hill is too. Just don't tell my husband.