Whenever I visit a Marine unit – a base, a battalion, a school – it doesn't take long to get a sense of what is important to that unit's command. Don't see Marines taking shortcuts across the grass? It's likely that the command discourages it. Vehicles in the motor pool neat and clean? Maintenance is clearly a priority for the command.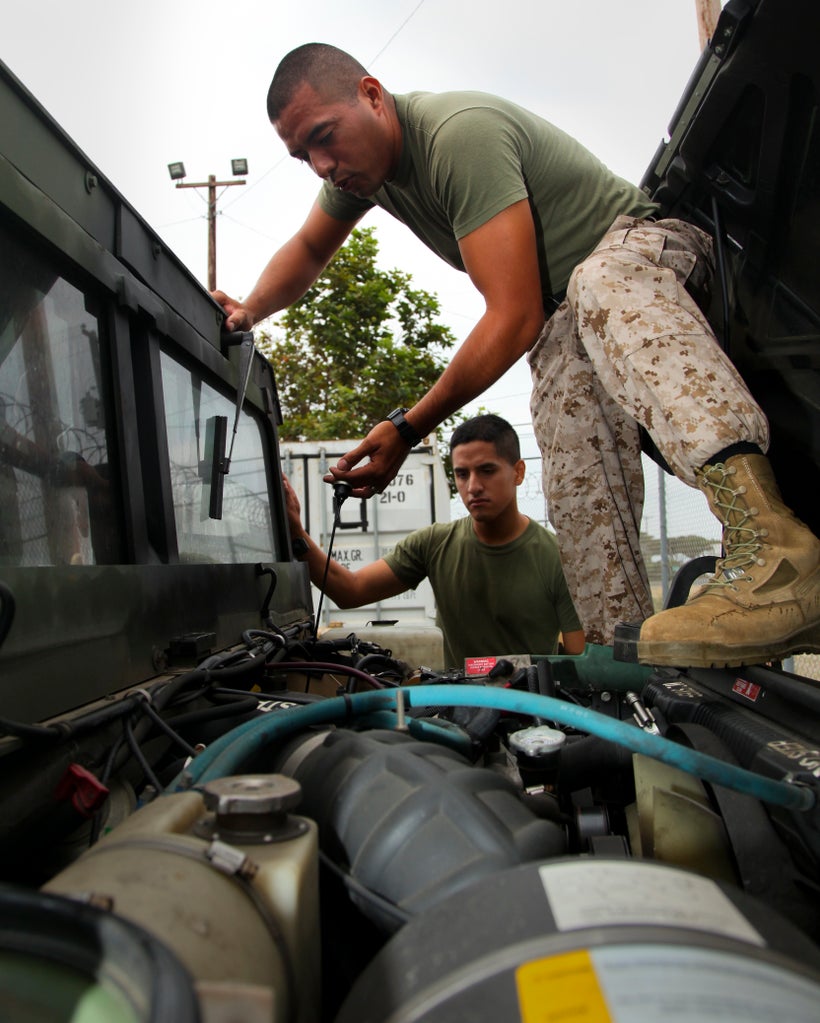 You can also get a sense of how much of a priority transition is to Marine units – take a look at when Marines from any particular unit are attending the base's transition education program, TRS. Ideally, service members are preparing for transition a year or more in advance of their end of active service or retirement date, but I occasionally meet Marines who are just a few months out from hanging up the uniform and haven't yet attended transition classes or begun to prepare.
To be honest, I was one of those Marines myself. I didn't put a lot of stock in preparing for my transition. I'm not sure why – I wasn't entirely sure how being a sniper was going to translate to the civilian job market, but still I waited until the last minute to attend transition classes. My lack of preparation had consequences.
When I talk about transition, I'm often asked about how receiving the Medal of Honor affected my transition. I actually didn't receive the Medal while on active duty. In fact, I'd been out of the Marines for over a year before I was notified I'd be receiving it, so it didn't have much of an impact on my initial transition.
My transition wasn't smooth, or easy, or even linear. It took me awhile to find my path after leaving the Marine Corps. My rocky transition also wasn't particularly noteworthy at the time – I got out of the Marines during a historically tough veteran unemployment period.
This knowledge of the veteran unemployment crisis, coupled with my personal transition experience, led to my decision to become a veteran employment advocate and a Personal Branding Ambassador with Hiring Our Heroes and Toyota. I didn't want my Marine brothers and sisters to have the kind of transition I did, so when I had the opportunity to use my platform to help improve transition for other Marines, it was an easy choice. After all, it's what we do – Marines take care of Marines.
With that mantra in mind, it's no surprise then that transition has also become a renewed priority for the Corps in recent years. In fact, this year the long-running Marine Corps slogan The Few, The Proud was put on hiatus in favor of a newer, more contemporary slogan: Battles Won. And while the new slogan has a very tactical ring to it, a quick visit to Marines.com uncovers a longer statement of purpose that includes a very important transition message: "…we make Marines who win our nation's battles and return as quality citizens."
Winning our nation's battles and returning quality citizens isn't a new focus for the Corps – we've been doing that for more than 241 years. But until every employer, recruiter, and hiring manager knows it, talking about – and celebrating – the value our Marines bring back to their civilian lives is important. By making it a central point in the Corps' statement of purpose,
the Marine Corps is showing the kind of transition leadership our Marines need.
It's important that we don't stop there, though. Transition leadership is important at every level of the Corps, from the Commandant and Sergeant Major of the Marine Corps to every Staff Sergeant at every installation around the globe. Our Marines, whether they get out after a single enlistment or serve for a 20-plus year career, have earned the transition resources and runway they need to go on and do great things for America as private citizens. And just as with those squared away motor pools and well-used sidewalks, it's the unit leadership from NCOs and officers that will carry that transition-focused message to our Marines. Having a message focused on transition matters to Marines, because just as it takes 12 dedicated weeks to turn recruits into Marines at boot camp, it takes a little time and a little planning to return civilian-ready Marines. And just as with boot camp, that investment in Marines' transitions is well worth the effort.
Those of us who are already veterans can provide a different kind of leadership to support transitioning service members. Each day, we lead by example – to the 92 or so percent of Americans who have never served, each of us represents the value veterans bring to their civilian careers. We can also serve as translators and advocates for veteran candidates for positions within our companies. We can offer our mentorship to new veterans who join our organizations and grow our professional networks to help open doors for our brothers and sisters in arms.
Working as a Personal Branding Ambassador for the last five years has been an opportunity to continue to do just that for our veterans as they look for the right opportunities to allow them to contribute in meaningful ways as civilians. We regularly meet with business and community leaders around the country to talk not just about the value veterans bring but also best practices for recruiting and retaining those veterans. We travel to military installations around the world to share tools and resources available to service members looking to communicate more effectively with civilian employers.
Last year, it was a huge honor to welcome Bonnie Amos to the Personal Branding Ambassador team. Bonnie has long been an amazing advocate for our service members and their families, and for me it has been incredible to once again work with one of my personal mentors in support of our veterans and military spouses.
Earlier this summer, our Ambassador family grew again with the addition of Betty Welsh. Betty brought with her a storied commitment to our military families (and added to our Air Force subject matter expertise as well), and in a short time, Betty has quickly become a huge asset to the team.
Today, we're fortunate to announce that our ranks have grown once again with the addition of our newest Ambassador, Patrick Murphy. Patrick is my buddy and a decorated Iraq veteran who was a paratrooper with the 82nd Airborne Division, which is almost as good as being a Marine. Murph completed a pair of overseas deployments in Iraq and Bosnia before transitioning out of active service into the second phase of his public service as America's first Iraq vet to serve in Congress, where he coauthored the Post 9/11 GI Bill, before serving as the 32nd Under Secretary of the Army. He's a genuine champion for our brothers and sisters in uniform (and also as the guy who still can't pass up a zero-dark-thirty PT opportunity). I'm truly looking forward to partnering with him to improve career opportunities for our veterans.
REAL LIFE. REAL NEWS. REAL VOICES.
Help us tell more of the stories that matter from voices that too often remain unheard.
This post was published on the now-closed HuffPost Contributor platform. Contributors control their own work and posted freely to our site. If you need to flag this entry as abusive,
send us an email
.