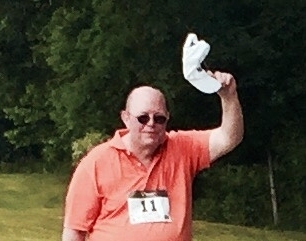 "Tonight, tonight the strip's just right
I wanna blow 'em all out of their seats
Summer's here and the time is right
For goin' racin' in the street"
-Bruce Springsteen
"She told me 'Baby, when you race today
Just take along my love with you
And if you knew how much I loved you
Baby nothing could go wrong with you'"
-Brian Wilson.
June 5 was a big day for me. The Tuttle Tots 3K in Carrollton, Kentucky was the first time I had been in a running race in 26 years, and I came in second in my age division. The McNay Financial team won two first place plaques, including fastest team, and we supported a cause I believe in.
The day before, I had a medical checkup that confirmed that I had lost over 90 pounds in the past six months.
Without the weight loss, I would have never attempted the race. At my current weight of 285 pounds, I was one of the heavier people running, but at my previous weight of 377, they would have barred me from the race or had an ambulance waiting for me at the finish line.
It was a major life victory just to be there. To come back with plaques and a medal were beyond my wildest dreams.
It also confirmed one of my driving motivators. When I get knocked down, I get back up. God's gift to me is my ability to overcome adversity and help others do the same.
Both motivations brought me to the Tuttle Tots race.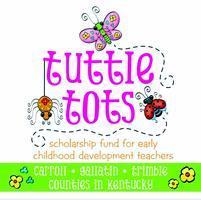 "Beyond the door,
There's peace I'm sure,
And I know there'll be no more
Tears in heaven"
-Eric Clapton
"Carroll County's pointed out as kinda square
The biggest thing that happens is the county fair
I guess that's why it seems like such a big event
What we all call the Carroll County accident"
-Porter Wagoner
Caroline's parents, Stacy and Chris Tuttle, are friends of mine and I stay in touch on Facebook. Losing a three-year-old is something you never completely come back from. When you see psychological lists that try to quantify stress, the loss of a child is usually at the top of the list.
Two psychiatrists, Thomas Holmes and Richard Rahe, developed the Social Readjustment Rating Scale, which is better known as the Holmes and Rahe Stress Scale. It attempted to rank stressful events and how those changes would impact your mental and physical health.
I've hit a number of things on the top of the Holmes and Rahe scale. My sister, father and mother died at young ages. I've been through divorce, illness, the death of a close friend and many other top stressors.
None of those compare to what the Tuttle family went through. They are terrific people and I am not sure how they have stayed so strong. They could have turned bitter and cold hearted after such a terrible loss. Instead, they used Caroline's death as a way to make a positive impact in their community.
The Tuttle Tots race honors the memory of Caroline and the money goes to the Tuttle Tots Educational Scholarship Fund, which awards scholarships to early childhood development teachers who live in Carroll, Gallatin and Trimble Counties in Kentucky.
Running in a race had not been on my wish list. Even after losing 90 pounds.
There is a concept in the weight loss world know as a "non-scale victory." Over the past six months I have had many. My blood sugar is perfectly normal and I threw away my stash of diabetes medicine two days after my December 1 surgery. That was a life changing, non-scale victory.
The day I could sit in an airline seat and not ask for a seat belt extender was a non-scale victory. The day I could walk into a department store and find clothing in my size was a non-scale victory. It takes a lot for me to get fatigued and I am happy and positive. A non-scale victory for me and those in my world.
I have plenty of other "non-scale victories" on my wish list and will celebrate a scale victory when I pass the 100 pounds in weight loss mark in the next month or so.
But when Stacy Tuttle sent me a Facebook invite for the Tuttle Tots race, I immediately knew I had to be there.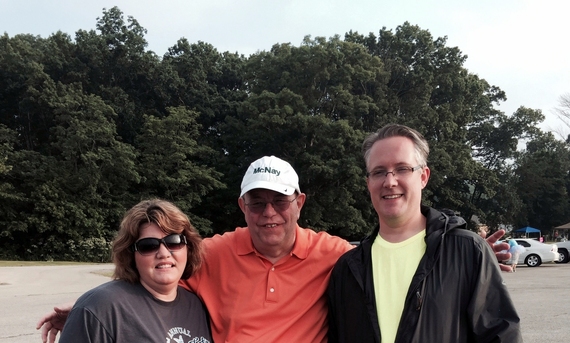 I own the publishing company for Dr. Jim Roach MD's best-selling book, God's House Calls, and working on the book made me acutely aware that sometimes God taps you on the shoulder and gives you a hint about your next move.
I took the Tuttle Tots invite as a "house call."
I had to overcome a lot of internal roadblocks. When I ran in my last race in 1989, it was the only year in my adult life that I weighed less than 200 pounds. Could I make this race at 285 pounds? I organized a team and we needed a 4:30 a.m. wake up call to get to Carrollton for the race. Would someone oversleep? Everybody was in my parking lot 30 minutes early. We were one of the first groups to arrive.
I started the race way too fast and hit a virtual wall in the middle of the race. I wore the wrong shoes and definitely the wrong socks. I could feel large and painful blisters forming on my feet and I realized that my primary goal had to be to finish. But I still remembered I was in a race. I pushed to get my best time and gave it all that I had.
When it was all over, my team took home two first place plaques and one of my teammates was the overall winner. This 56-year-old came in second in his age group and won his first medal in over 30 years.
I could have done cartwheels for the 100 miles back to my home.
We stopped at a truck stop for lunch and I did not take my race number off my shirt or my winner's medal from around my neck. A lot of big tough truckers looked at me strangely. I figured that even if I could not take them in a fight, I could outrun them all.
With my severely blistered feet, running anywhere might have been a struggle, but we had an excellent lunch without any violent incidents.
It was a day of true joy. I helped bring attention (and the largest team) to a cause I believe in. I broke through my negative barriers about running and can't wait to enter the next race.
And when we come back to defend our Tuttle Tots championship next year, I am confident that I will not be the heaviest person there. The gastric sleeve surgery gave me the opportunity to change all of my habits and lose 90 pounds in six months. I won't be surprised if I am another 90 pounds lighter by this time next year.
The surgery gave me life. And the chance, six months later, to honor the life of a young girl who died three years after her life started.
Life, death and renewal seemed to tie together as I ran through that park in Carroll County, Kentucky.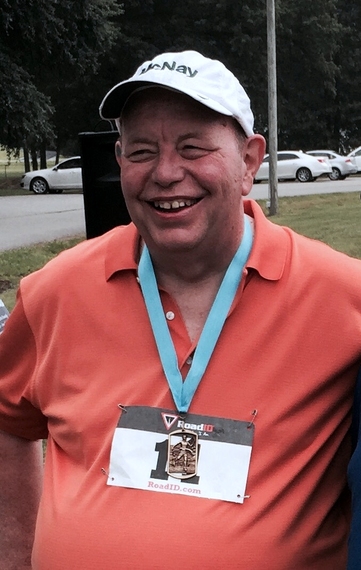 The World According to Don
"I'll find a place to rest my spirit if I can
Perhaps I may become a highwayman again
Or I may simply be a single drop of rain
But I will remain
And I'll be back again and again and again...".
-Jimmy Webb
"I've been a puppet, a pauper, a pirate, a poet, a pawn and a king
I've been up and down and over and out and I know one thing
Each time I find myself flat on my face
I pick myself up and get back in the race"
-Frank Sinatra
I'm writing a new book. It started out being the story of my weight loss surgery, but as both my editor Adam Turner and my youngest daughter Angela Luhys have astutely pointed out, the real story is not about losing weight; it's about my belief in the power of second chances and my outlook on life.
If you read my previous eight books and the hundreds of newspaper columns that I wrote, certain themes start to appear over and over.
As I have noted in a couple of best-selling books, I grew up as the son of a professional gambler. Although I don't personally gamble or bet, I reference my late father often. As Angela made me realize, the world of gambling is truly a metaphor for how I look at everything.
If you lose on one day, you have a chance to get it back tomorrow. When the dice are rolling your way, you should know to start hedging your bets and minimizing your risk as eventually lady luck will walk away from you. That's when you get away from the table.
You do your research to get an "edge" in every decision that you make. You find the best and smartest advisers you can find. You pick your friends carefully and learn to say no to people with different motivators than yours. When you hit a winning hand, you give back. You tip well. You say thank you. You support people who need a helping hand.
You appreciate that luck can be a fickle thing and tomorrow is not promised to everyone. That's especially easy to remember at a race honoring a three-year-old that went off to school and never came home. But you want a plan if you are blessed with the ultimate jackpot of a long and healthy life.
You do everything you can to take luck out of the equation. Successful gamblers, like people who are successful in any form of endeavor, are those who study their craft the longest and find unseen ways to get an edge on the competition.
They have the confidence, and guts, to believe in their convictions and put their money, or life, on the line.
If you slightly adapt what I just said, you realize it is the same advice that I give people who win the lottery and is my philosophy of life on any subject. Those principles came into play when I made the decision to do something about my health.
I've known for about 15 years that persistence is my strongest character trait. Actually, I've really known it my entire life. Since childhood, I always win the awards for "most enthusiastic" and "Charlie Hustle." (When in doubt, people in the Cincinnati area name awards after Pete Rose.)
Going through the weight loss process brought me back to a project that the "Strategic Coach" Dan Sullivan had us do when I was in a Toronto-based entrepreneurial program in 1999.
Sullivan had us go to 10 people who knew us best and ask them what our unique abilities were. Things that distinctly defined our personalities. (It is a terrific process that everyone and anyone should try.)
I did the project twice so I had 20 responses. Nineteen listed the number one trait as persistence. Many, including my mother, college roommate and the director of my industry group, used an analogy equating me to the Energizer Bunny.
No matter what happens in life, I keep going and going and going. There are days when I forget it, but ultimately, getting up and getting back in the race is what I do.
There were different second and third place responses, but my ability to keep coming back jumps out at everyone. Including myself. I've been self-employed since age 23 and that can be a roller coaster of cash flow and emotions. When things go bad, I have unfailing confidence that it will turn around. When things are good, I try to squirrel money away for the days when things get in a slump.
It's one of the reasons I like lifetime annuities and tell lottery winners to take annual payments instead of a lump sum. My thinking is always to minimize risk and think long term.
Weight loss surgery was a calculated gamble. I've seen people die from it or have multiple complications. I've seen some not lose weight or gain it all back. Life threatening and expensive surgery (my insurance would not pay for it) was not a "quick fix" or an "easy way out." It was the chance to put myself in a position to make a comeback that would include a long and healthy life.
Like a gambler, I tried to have every edge. I studied the surgical procedure and process to the point where I could probably perform it myself. I picked a superstar surgeon and a hospital that specialized in the procedure. I have terrific doctors and experts in nutrition in my inner circle and we interact almost daily.
The key to persistence is having the confidence to pull off "the impossible." Confidence comes from research, gathering the right experts and doing what the experts tell you to do. If you have enough confidence, you will inspire those around you to follow your lead.
I went to the Tuttle Tots race with the purpose of supporting a good cause and showing myself that I could run in a race and finish it.
Coming home with the awards was a bonus. It told me my plans for a healthy life are working. And that my philosophies on how to live life are solid, too.
I came to the race to honor the life of a little girl who died too young. I came away with a sense of gratitude. And that I have been granted H0 a second chance to do things right.
It was one heck of a day and heck of a race.
McNay is a multiple best-selling author and former syndicated columnist. He has Master's Degrees from Vanderbilt University and the American College and is in the Hall of Distinguished Alumni at Eastern Kentucky University. You can read about him and contact him via www.donmcnay.com.
Calling all HuffPost superfans!
Sign up for membership to become a founding member and help shape HuffPost's next chapter