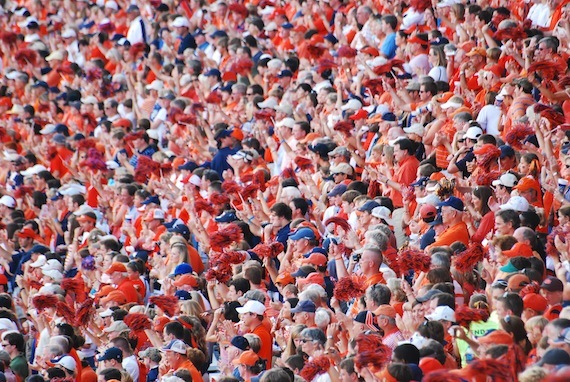 This is a big moment for sports. 2015 saw monumental breakthroughs in sports as a catalyst for social change. Historically, sports have been effective at raising awareness of underexposed issues, sparking important conversations, and shifting public perception. We saw this come to life in a whole new way in 2015 with professional and collegiate sports taking a stand on some of our country's most pressing issues, those same issues that teams have shied away from in the past, despite being in a credible position to create change.
When racial tensions escalated on the campus of the University of Missouri and the administration failed to take action, student groups protested for President Tim Wolfe to resign. After two months of no results despite clear instances of racism on campus, athletes of color on the Missouri football team took a stand. They refused to play until their voices were heard. 36 hours later President Wolfe stepped down.
Professional sports teams and leagues also stepped up their activism game in 2015. On Christmas day, the NBA released a series of provocative ads in partnership with Everytown for Gun Safety, a movement of Americans working together to end gun violence. While Everytown advocates for "common sense" gun laws, the issue of guns in the U.S. is still a highly charged one, mucky waters in which most sports leagues would never dare tread, until now.
What happened at the University of Missouri and with the NBA harnessed the power that sports teams and leagues have long understood they possess: the ability to bring immediate and widespread awareness to an issue. They have effectively created high intensity, important moments around major issues. But what's next? How can sports ensure that these moments lead to real progress?
At Purpose, our experiences supporting people-powered social movements around big issues like international LGBT rights, the crisis in Syria, and climate change have helped us understand what enables movements to succeed. A critical component is the ability to organize a large community, reach them during moments inspiration, and build their long-term engagement. Fans bring exactly these elements to sports. They are the missing ingredient that could take moments of influence and attention created by sports and turn them into transformative movements for change.
A Love That's Here To Stay
Fans make up some of the largest, most engaged communities on earth. What sports instills in fans even goes beyond engagement -- it's a passionate and unwavering love that often lasts a lifetime. This emotionally-charged attention is an invaluable asset that movement builders work tirelessly to cultivate. Sports has the ideal framework for building social movements: the deep engagement of a large group of people, sustained over a long period of time. This facet of fan engagement allows sports to be effective on issues where shifting a generational perspective and inspiring a longer-term commitment to action is essential to achieving change, such as LGBT rights or racial justice.
Being a sports fan can be a transcendent experience. Adidas captured this feeling with their "Impossible is Nothing" ads. Sports is the one place where people escape the frustrating, and too often disappointing, rules of everyday life. In sports, the underdog can win. It's a space where even well into adulthood our imaginations can still soar and we can see something we never dreamed we would. On many social issues such as climate change, all actors are underdogs with the odds stacked against them. Pursuing social change requires an individual to believe in progress when seemingly none has been made. Sports lifts fans into the exact frame of mind needed to believe in the impossible -- that, along with their team, they can win more than just games. They can win on big issues, even those that seem like a guaranteed defeat.
Teamwork Makes the Dream Work
Social change often involves people shifting perceptions, challenging or affirming beliefs, and caring about something that might feel distant to their lives. Social influence has shown to be a critical factor when it comes to getting people comfortable enough to take these often intimidating steps. The human brain is actually hard-wired to do this. We imitate others to navigate the many choices we must make on a daily basis, referred to by psychologists as social proof.
Sports creates unparalleled opportunities where so many people gather together and do the exact same thing at the same time. These explosive moments of solidarity and euphoria enable the laws of social influence to take hold in a way that is powerful and unique to sports. For example, fans are not just an average "peer" to one another. They have a deep bond underpinned by strong commonalities, shared interests (at least one), and an assumption of aligned values. This establishes trust among fans of a given team and thus a higher propensity to imitate, especially around something as intense as action on social issues.
So what does this untapped potential of fans look like when brought to life in the name of social good? Sport Club Recife, one of Brazil's biggest soccer clubs, launched an organ donation campaign to help increase access to transplant organs. An inspiring video played before every game in the club's 35,000-seat stadium asking fans to apply online for a Sport Donor card. The "Immortal Fans" campaign reduced organ transplant waiting lists in the Brazilian city of Recife to virtually zero in the program's first year and has continued to lead to a significant increase in the number of life-changing transplants according to the BBC.
Related
Popular in the Community