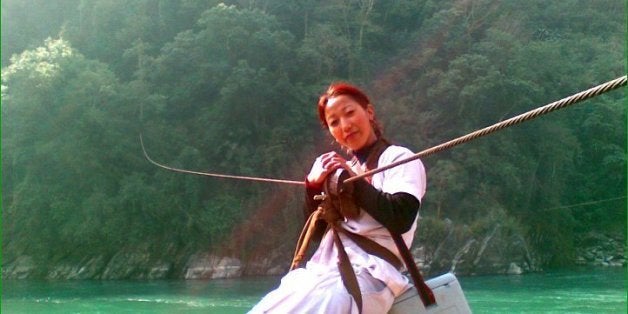 This post is part of the Relay for Kids in partnership with SOS Children's Villages. We've reached our goal in supporting the SOS Children's Villages, but please continue to share in support of our continual effort to help children in crisis. Scroll to the bottom to find out more.
Last month I was in India visiting medical professionals who have dedicated their lives to the most vulnerable among us: unborn children and infants. I was humbled to learn about Mary*, a skilled birth attendant who travels by rope cord over deep and vast bodies of water to reach pregnant women who would otherwise have no access to basic pre and postnatal care in their rural surroundings of Northeast India.
Newborn or neonatal deaths account for 40 percent of all deaths among children under five. The majority of these deaths (75 percent) occur during the first week of life, and between 25 to 45 percent occur within the first 24 hours. As a mother, it breaks my heart to know that up to two thirds of these deaths could be prevented if skilled health workers -- like Mary -- perform effective interventions at birth and during the first week of life.
As I reflect on these statistics, I can't help but think back to one year ago, when my daughter made her entrance to the world. I had all the comforts modern medicine could provide: a clean and equipped hospital, a competent physician and nurse team and a multi-day hospital stay to help me recover from an unplanned cesarean section.
But what if my daughter hadn't won the proverbial "birth lottery"? Two-thirds of neonatal deaths occur in just 10 countries, with India (my country of origin) accounting for more than a quarter and Nigeria for about a tenth. With no doctor, no anesthesia -- not even a sterile surface to deliver the baby -- it's unlikely that my daughter or I would have survived what I now consider one of the most memorable days of my life, had we lived in certain parts of rural India.
The United Nations said it best: Maternal and neonatal mortality in the developing world is not only a public-health concern, but a fundamental human right. That's why I lead an organization devoted to these issues called Samahope. At Samahope we empower medical professionals, like Mary, to expand their ability to reach more mothers and children in need.
What is the single most important thing every child needs? Simply put, it's a chance at life beyond the womb.
*Name changed for privacy reasons
We Reached Our Goal: From March 23 until April 24, the Relay for Kids blog series unlocked a donation from Johnson & Johnson to SOS Children's Villages in support of their work in helping children in crisis. Each time you 'liked' or shared a post via the social media icons or comment in the section below, it triggered a $1 donation (per social action) from Johnson & Johnson to SOS Children's Villages, the world's largest organization dedicated to orphaned or abandoned children, up to $30,000*. $1 provides food, shelter and medical care to a child in crisis. In addition, you could also Donate A Photo** and Johnson & Johnson donated $1 when you uploaded a photo for SOS Children's Villages -- which helped raise up to an additional $20,000 in seconds with the click of your mouse or snap of your smart phone.
*Blogs must be shared between March 23 and April 24, on Facebook, Twitter, StumbleUpon, Reddit, Tumblr and Google+ via the Huffington Post's social media icons. Each share will trigger a $1 donation up to $30,000. There are no limits on how many times you can share a post.
** via the Donate A Photo app for iOS and Android. Johnson & Johnson has curated a list of trusted causes, and you can donate a photo to one cause, once a day. Each cause will appear in the app until it reaches its goal, or the donation period ends. If the goal isn't reached, the cause will still get a minimum donation.
Editor's Note: SOS Children's Villages is a partner of Johnson & Johnson, which is a sponsor of The Huffington Post's Global Motherhood section.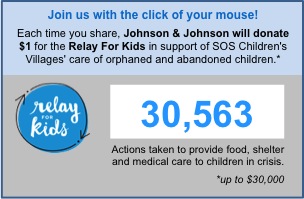 Calling all HuffPost superfans!
Sign up for membership to become a founding member and help shape HuffPost's next chapter