For the past several years I've helped judge Trend Micro's annual What's Your Story video contest, which, in past years, focused on how to combat Internet risks like cyberbullying and inappropriate use of mobile technology. But this year, the contest had a more uplifting theme. Contestants were asked to create videos that addressed the question, "What does the good side of the Internet look like?"
There were two $10,000 grand prize winners in two categories: individual (or a group of individuals) and schools. The winners in the individual category were Saad Sifate, George Strawbridge, and David Oladejo, of Ottawa, Ontario. The school grand prize went to teacher Patty Ream's class at Ripley Union Lewis Huntington High School, of Ripley, Ohio.
Sifate, Stawbridge and Oadejo's entry, "I'm an Educated Dude," which took place in front of a graffiti covered wall in Ottawa, consisted of a poetic rap about the pros and cons of the Internet. I was a little worried that the group might have missed the mark when the lyrics began with, "Press down Ctrl H, all I see is hate, confidence deflate and less than civil debates." But I lit up when he went on to rap, "But the forgotten message is that the Internet has a direct correlation to education communication and a supreme impact on our generation. Education is the key." What impressed me was the way the video explored the nuances of the Internet and how you can transform bad into good."The Internet is a composite and the parts that are negative are what can truly make it positive," it concluded. But my quotes don't do it justice. Click here or below to see the two-minute video for yourself.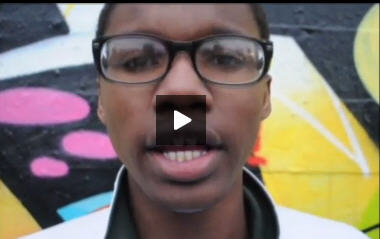 The school video, "The Legend of the Responsible Gamer," begins with a teenage boy bad mouthing another online gamer "you're so bad kids, why do you even play this game, why not do everyone else a favor and log off." But then the unthinkable happens. A hand reaches out from the monitor and pulls the young gamer into another world where he is greeted by a guy in what looks like a Jolly Green Giant outfit who -- in a positive and very physical way -- teaches him a lesson in humility as they go through an obstacle course together with some positive reminders like "it takes a much better person to encourage somebody rather than bash them down." Click here or below to view the video.