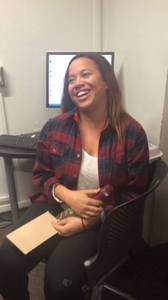 I remember Fridays when I walked home from school with Eric, rushed to change clothes and headed across the street to his house to play. At dusk, I'd head home to shower and put on my black dress, stockings and flats and return to Eric's for Shabbat dinner. I still remember the distinctive taste of Challah and tons of food that his grandmother cooked. I never felt out of place as the only person in the room who didn't understand the Hebrew prayers. Then there were my Tuesdays, reserved for the playground with Uzuri and Hector, my friends from Nigeria and Colombia. I always found time every week to hang with Sam, my Venezuelan best friend.
It all changed when I turned eight. My family left Maplewood, a town known for its diversity, for Morristown, where we were the only black family on the block. On the surface, Morristown lacked diversity, especially considering my overwhelmingly white neighborhood that matched the makeup of the honors courses that I took in high school. I spent years looking for a label to fit in besides "black girl." I would learn the irrelevance of labels in the spring of junior year when my name found it's way to a ballot that read Bill, Phillip, Joe and Sydney -- the typical "hot guy", the "jock," the "class clown," and me. There was not a label for me, which, at first, made me think I must be crazy for running for class president. The girls would vote for Mike, the basketball team for Drew and Matt's speech would make everyone laugh. Didn't I need a label to win?
In Maplewood, there were not any two people who seemed alike so I never thought twice about being myself. It wasn't until I was placed in an environment where the white majority was dominant and seemed to be monolithic that I experienced a discomfort with myself. I tried desperately to be like my friends. I straightened my hair everyday to get rid of my natural afro I wore as a child. I listened to the bands that my friends loved even though I hated the music. I wore Abercrombie, even though the clothes weren't meant for my Beyonce-like curves. I became secretly thankful for my light skin tone because it made me look closer to the majority than those with dark skin. Throughout middle school, I felt ashamed to be black because it differentiated me from everyone around me.
My family's Kwanzaa celebration launched my journey to self acceptance. When I was thirteen my mom invited our white neighbors to the celebration. At first I was embarrassed to share this part of me with my friends. I thought they might see me differently if they witnessed this hidden side of me. I feared it would accentuate the obvious differences I tried to escape. At that moment I thought back to Maplewood and remembered its okay to be racially different. The girl who now believes Kwanzaa is for everyone became one who realizes the school is not just made up of labels.
I changed my definition of diversity beyond race and ethnicity. I saw that white people should not be defined by being white just as I should not be defined by a label of race. I also saw the superficial constructs of the labels my opponents wore and embraced. I discovered I was not the underdog in the election and that lacking a label was my asset. I wanted to represent the majority of our grade that didn't have a "title," like those who do not like the lunchroom social world, those unafraid of being smart or being called a nerd and those who value eclectic interests. I had started to see my classmates and myself beyond superficial labels. Moreover I won the election because my classmates were able to see me beyond any labels while my opponents epitomized typical high school classifications.
Sydney Webber, a graduate of Morristown High School, is a freshman at the University of Pennsylvania.
Calling all HuffPost superfans!
Sign up for membership to become a founding member and help shape HuffPost's next chapter