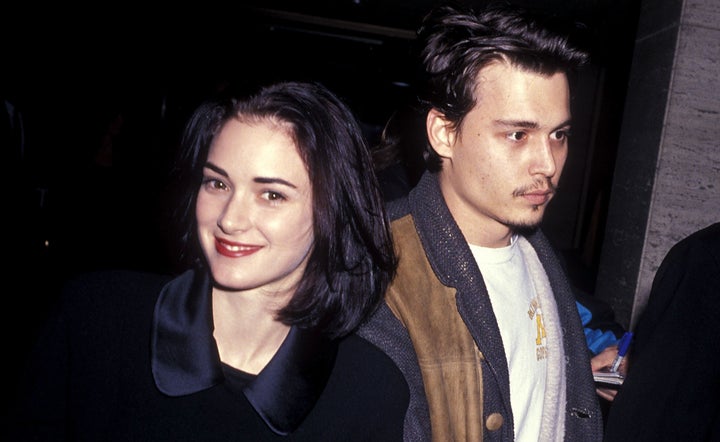 "I can only speak from my own experience, which was wildly different than what is being said," Ryder told Time magazine in an interview for her new Netflix show. "He was never, never that way towards me. Never abusive at all towards me. I only know him as a really good, loving, caring guy who is very, very protective of the people that he loves."
As Ryder said herself, she can only speak from her "own experience" -- the experience of a relationship with a man that has been over for more than two decades and has absolutely no bearing on what Heard said happened to her. 
Every time a woman defends Depp based on her past experience with him -- some dating as far back as 30 years -- and every time the media focuses on that woman's experience, it becomes all too easy to ignore Heard's own claims and experiences. 
While Ryder cushioned her comments by telling Time, "I wasn't there. I don't know what happened. I'm not calling anyone a liar," she focused her commentary on shock that Depp could have done what Heard has accused him of. 
"I'm just saying, it's difficult and upsetting for me to wrap my head around it. Look, it was a long time ago, but we were together for four years, and it was a big relationship for me," she told the magazine. "Imagine if someone you dated when you were -- I was 17 when I met him -- was accused of that. It's just shocking. I have never seen him be violent toward a person before."
While the 44-year-old actress at least acknowledges the fact that her relationship with Depp was "a long time ago," she continued her character defense of her "Edward Scissorhands" co-star, calling the thought of him being physically abusive "unimaginable."
The idea that abusers can show patterns of abuse is volunteered by Time as the reason for asking Ryder about her relationship with Depp in the first place. It's also the reason the media is still waiting with bated breath for Kate Moss to chime in. (Depp was arrested in 1994 after he trashed a room at the Mark Hotel in New York. According to People, police suspected he was drunk and had been fighting with Moss.) 
Ryder's comments echo those of Depp's former longtime partner of 14 years Vanessa Paradis, with whom he has two children, and by Lori Anne Allison, Depp's first wife, who he was briefly married to in the mid-80s. Both came to the actor's defense shortly after Heard accused Depp of domestic abuse in May. 
While finding a pattern of abuse in Depp's past relationships would likely strengthen Heard's case, it's a Catch-22, because Depp's past relationships can never speak to his marriage to Heard.
There's no reason to believe that any of Depp's exes are lying on his behalf, but none of their statements -- all of which have been widely publicized as counterarguments to Heard's claims -- actually say anything about whether or not Depp was abusive in the context of this particular relationship.
Calling all HuffPost superfans!
Sign up for membership to become a founding member and help shape HuffPost's next chapter
BEFORE YOU GO
PHOTO GALLERY
Celebrity News & Photos