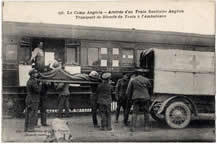 "... they've been bringing in wounded late at night so no one can see them... the men are in a terrible state, and they arrive with their clothes reeking of dirt and rats...

"... They bring them in on trains when there's no one to see them -- men with no faces, with no legs, and all the blood on their uniforms -- they don't even have time to change them, all that French mud still on them."
Thea Brissenden's ambulance-driving skills, and her courage under fire, in France, make it possible for grievously wounded men to survive long enough to be transported all the way to a London hospital.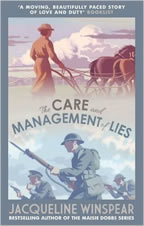 Thea Brissenden is one of several admirable characters in Jacqueline Winspear's World War One novel The Care and Management of Lies.

Electing service
London's 1915 intolerance of suffragettes and persecution of peace-proponents oblige Thea to flee. She escapes those battles to serve in France as a member of Britain's Voluntary Aid Detachments.
Thea volunteers to ferry wounded from blood-soaked first-aid posts, advance dressing stations, and casualty-clearing-stations near the front, to the operating tents of field hospitals. In my screenwriter-wannabe imagination, it is in those "stews of muddy, filthy, blood-soaked waters" that she meets the lead character in Winspear's prior novels: Maisie Dobbs, a VAD nurse.

Imagining that several Winspear scenarios are fused for the silver screen (and taking great liberties at that), we would flashback to Thea on the train taking her to England's seacoast, and what will be a storm-tossed Channel crossing.

A young woman's place, and prospects
A railway conductor guesses that she might be okay rolling bandages and making tea. Thea holds her temper, somewhat, and matter-of-factly explains that she can take apart "a motor engine" and put it back together. Recovering from the conductor's dismissive, she tells herself that her skills as a mechanic "will come in useful when the war's over, I shouldn't wonder." She has heard predictions that "there will be no young men to wed if this war continues as it started." She consoles herself that she may be able to make a life and livelihood for herself.
Thea is a farm girl who knows how to handle horse-and-plow. But instead of a horse-and-wagon, she is tasked with having to coax a recalcitrant internal-combustion ambulance over muddy, rutted, shell-shocked roads.
Close to the front, the shelling convulses the vehicle and jostles every bone in her body. If she drives too fast, she will hit the ruts hard and "hear the cacophony of screams from the back of the ambulance," where the wounded have been loaded onto tiered wooden trestles. If she drives too slow, "she would deliver more dead than alive."
In a film adaptation, I imagine Thea in a rain-soaked woolen great coat; she would be wearing a lop-sided woolen cap with ear-flaps. Huge boots, mud-covered. Face, mud-streaked. For casting cues, one might think back to Cold Mountain and the Renée Zellweger portrayal of Ruby Thewes.

A woman's work
Winspear's The Care and Management of Lies along with a number of Maisie Dobbs novels have plenty of filmable scenes. In the former, there's Thea in "combat" with the elements and balky machinery: Thea remonstrates the starter handle. In exasperation, she unlatches the ambulance's bonnet and tends to the motor with an oily cloth from her coat pocket. She removes scum from points and plugs, cleans every part of the engine, and slathers oil where lubricant might be needed. With resuscitation now possible, she hastens back to the starter, leans into the crank handle, and cranks, and cranks... She won't take "no" for an answer.

In another scene, we see Thea, after a long exhausting day, making ready for the next day's casualties: "with pails of water, disinfectant and a scrubbing brush" she "sluices the inside of her ambulance and watches the blood run out into the mud." Stolidly, she eyes "the gullies streaming red with the essence of men, some of whom would be committed to the earth by nightfall." Compassionate, but inured, "she does not flinch as blood runs out onto the mud of France."
My imagination has Thea teaming up with Maisie Dobbs whose nurse's cape and long woolen skirt hold "the seeping damp" of the front, where lice and rats populate "the rivers of fetid water and blood." Together with surgeon Simon Lynch, they deal with "brutal disfigurements," working "not just to save a soldier's life, but to make that life bearable when the soldiering is done."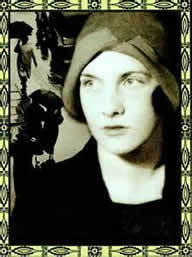 After the war, Maisie credentials herself as a do-gooder psychologist and investigator devoted to exposing scams and scandals, solving mysteries and crimes, along with righting wrongs. In the movie, Thea, skilled as a mechanic, will keep Maisie's red MG convertible purring reliably. She'll keep track of Maisie's appointments along with the whereabouts of Maisie's battered leather document case.
I'd like to see the two of them investigate the secretive operations of a clinic for the War's maimed, mutilated, and still-shell-shocked (The Retreat). How does the mysterious owner-operator attend to what we now refer to as post-traumatic stress disorders? How does he account for the suicides? Is The Retreat sustained by an unusual number of generous bequests from patients and suicides?
The War to End All War, didn't...
Could a star-studded movie provide some moral impetus for ceasing a bit of the fire in Syria? Iraq? The Ukraine? Probably not.
And yet, might vivid movie or TV mini-series depictions of those wounded in body and mind accelerate the revamping and overhaul of the heinously-underperforming VA system?
Might a star-studded movie or TV mini-series do what Congressional committees and journalists have not been able to do?
Shouldn't the fateful origins and terrible toll of WW I provide text for thinking about how conflicts and existential threats are "managed"?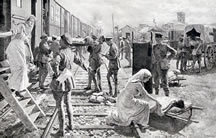 Rights to develop a television series based on Winspear's Maisie Dobbs books were reportedly acquired by a film and production company in the UK. From what I can tell, the series does not appear to be under development. I wish it were otherwise, for what Thea and Maisie saw, and heard, and dealt with, should be depicted.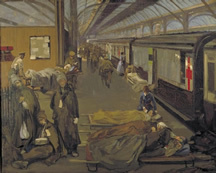 At casualty-clearing stations, in an ambulance, in an operating tent, these women have to steel themselves to see and hear and do what no one wants to have to do, see, or hear. They dread the wounded who apprehensively study a nurse's face, her expressions, her voice and breathing - so they might detect, from the slightest hesitation or flinch, a clue about their chances, their mortality. These young women had to teach themselves what not to convey - and how to say what could be said.
Someone with big coin ought to volunteer, or be drafted and recruited, to step up with development clout.
Perhaps Rooney Mara, Natalie Portman, Olivia Munn, and Andrea Riseborough might be auditioned for the role of Maisie Dobbs. For Thea Brissenden, how about
Jennifer Lawrence, Emma Stone, Gal Gadot, Olivia Wilde, Noomi Rapace, or Lake Bell. They'd get to tell and show a large big-screen audience how so many World War I wounded were "written off like leftovers."
As a gardener cemetery-custodian laments, to Maisie, "Bad enough seeing 'em go off to war, let alone losing them when they come back."
-------------------------

Photographic image of wounded soldiers being bandaged at field hospital tents courtesy of The National Library of Scotland, Edinburgh.
Painting of wounded at railway platform, "The Wounded at Dover" (1918) by Sir John Lavery (Imperial War Museum).
Hospital train images, Royal College of Nursing.
Calling all HuffPost superfans!
Sign up for membership to become a founding member and help shape HuffPost's next chapter