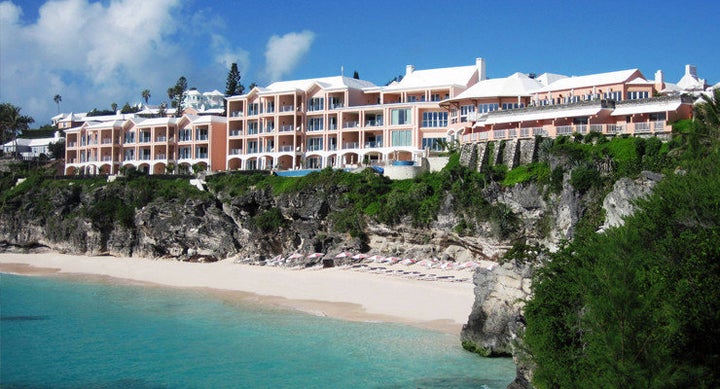 Post-holiday stress aside, the notion of taking a vacation in my own backyard has always been intriguing. After all, I live in Bermuda where the temperature nears a balmy 70 degrees in January; where golf courses and spas are awash in winter bargains; and where flights from most East Coast gateways are no more than two hours. So when The Reefs Hotel & Club advertised a super-low rate in its ultra-luxe club condos -- nearly 70% off a two or three-bedroom suite with unending Atlantic Ocean views -- I jumped at the chance to play tourist for a weekend. Room booked, my holiday hangover was already disappearing. Once I stepped into the hotel however, it was a complete afterthought.
Owned and operated by the Dodwell family since 1983, The Reefs is one of Bermuda's most beloved south shore resorts: For the third consecutive year it was chosen as the number one resort in the Atlantic by the readers of Condé Nast Traveler, and readers of Travel+Leisure have honored it as one of the top hotels in the region for 14 years straight. With the hotel consistently at capacity its owners decided to expand, so in 2009 they unveiled The Reefs Club -- a wing of amenity-laden suites for sale in Bermuda's burgeoning vacation ownership market. When they're not filled with owners they're available for rent, which is just what I did with my wife, Joy and our 10-month-old son.
"Are you kidding me?" It's a question my wife has uttered upon entering many luxurious hotel rooms but this one had an altogether different tone. "Look at this view!" And indeed there it was: Beyond the gourmet kitchen with shiny stainless steel appliances, granite countertops and glass-topped bar; past the hardwood dining room table with its coral reef upholstered art deco chairs; and just after the thoughtfully appointed sitting area replete with island-inspired books, blue glass lamps and wingback wicker chairs was a floor-to-ceiling glassed-in panorama of the turquoise Atlantic Ocean.
And then it immediately got better.
"May I?" asked the porter standing next to the living room's three glass walls. Before I even knew what he was asking, he slid all three onto each other creating an instant outdoor space drenched in sunlight and salty air. Our living room had just become an open-air balcony. It was a novelty that never got old and certainly one that was as equally appreciated as our private outdoor whirlpool tub or our sprawling veranda perfect for long lunches or the sumptuous master bedroom with oversized spa-like bathrooms boasting huge soaking tubs, rain showers and his and hers sinks. We even laughed about the three flat-screen televisions found throughout the suite -- wondering why anyone would want to watch or listen to something other than the crashing waves below.
Even for us sun-drenched locals it was a treat.
Needless to say we didn't leave the hotel much. Days were spent reading poolside, taking long walks on the private pink-sand beach and admiring Bermuda's longtail tropicbirds from our ocean-view couch. This being vacation, we made appointments at La Serena spa too, The Reefs' brand new wellness center with seven treatment rooms, an ocean view manicure/pedicure station and yet another ocean-view relaxation room with bamboo floors, comfy chaise lounges and designer teas on tap. It's the only Elemis spa in Bermuda and like the hotel, it too is offering seasonal deals (like the Winter Warmer, a 90-minute Elemis aroma stone massage for $159, down from $199). Two blissful massages later -- staggered of course, so one of us could watch the baby while the other got rubbed down -- we returned to our room relaxed and rejuvenated.
The following morning, pondering our short commute home, we do our best to take it all in one last time. Open go the sliding glass walls and in comes the crisp ocean air. In the sun-splashed living room we enjoy coffee, whole wheat toast and fresh fruit -- groceries that were bought in advance by the hotel concierge and delivered to our room upon arrival -- and listen to the now familiar soundtrack of the whooshing waves.
"What time do you want to check out?" I ask Joy. Her response? "Never."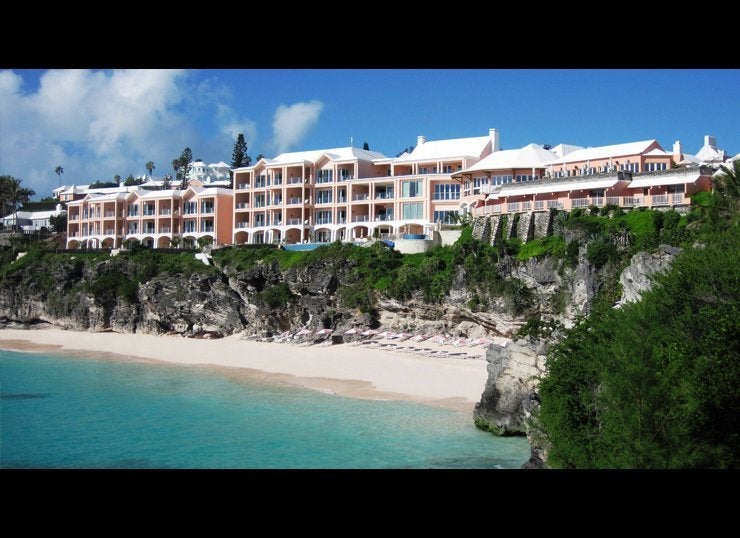 Bermuda's Winter Deals
Related