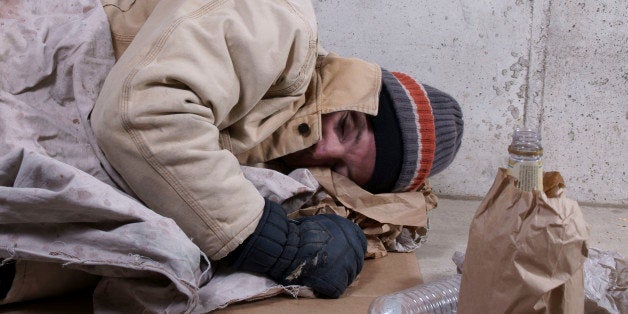 For many homeless people, an impending storm can be a death sentence.
When temperatures drop to dangerously low levels, advocates and officials often seek out those in need of shelter, in order to save them from freezing to death. While many cities have emergency winter action plans in place, others do not -- leaving some of society's most vulnerable members out in the cold.
Even though hypothermia can set in between 32 to 50 degrees Fahrenheit, designated shelters in many major cities don't open until well after those conditions set in, a National Coalition for the Homeless survey found.
The study noted that winter shelters in Des Moines, Iowa, for example, don't open until the thermometer drops to 20 degrees. Emergency shelters in Baltimore, Md., don't open until it's 13 degrees.
The brutal weather has already taken a devastating toll on the homeless this winter.
Advocates in the area worked to encourage homeless people to seek shelter, and county officials and nonprofit groups doled out blankets and socks to people on the streets, the AP reported.
Some organizations have relaxed their rules in order to protect as many people as possible.
The staff at the Tulsa Day Center for the Homeless, a shelter in Tulsa, Okla., put in extra hours to accommodate the uptick in the number of people seeking help. The organization also allowed people who were barred in the past for breaking rules to stay there, Tulsa World reported in December.
But advocates say that waiting until temperatures drop to act is simply waiting too long.
Calling all HuffPost superfans!
Sign up for membership to become a founding member and help shape HuffPost's next chapter