Earlier this month, the groundhog predicted something we already knew: Six more weeks of winter are on their way. With horrific snow storms making their rounds across the country and frigid temperatures keeping us close to home, be prepared for these four common winter dangers to keep your family safe.
What kid (and adult) doesn't love the thrill of going sledding? It's a fun way to keep kids active during the winter months, but more than 20,000 kids and teens end up in emergency rooms each year due to sledding-related injuries.* Head injuries are by far the most common, due to collisions with other people or objects.
As parents, there's a lot we can do to make sure our kids are having fun safely. Follow these quick tips to ensure a safe trip.
To prevent frostbite, dress children appropriately in hats, gloves and turtlenecks -- scarves can pose a risk of strangulation.
Make sure your kids wear helmets -- those designed for winter sports work best, but bike helmets can work as a substitute.
Choose a sled and hill that's right for you -- sleds should have brakes and steering ability, and hills should be free of obstructions and not lead into traffic or parking lots.
On cold winter nights, we see frequent use of candles, fireplaces and space heaters. Unfortunately, four out of five home heating fire deaths are attributed to space heaters alone, primarily due to improper maintenance and keeping them too close to flammable materials such as furniture, curtains and bedding.***
With 50 percent of all home heating fires occurring during December, January and February, take these steps to protect your family.***
Make sure you have a properly working smoke detector.
Plan and practice a family escape route, keeping everyone's physical abilities in mind.
Drive safely in inclement weather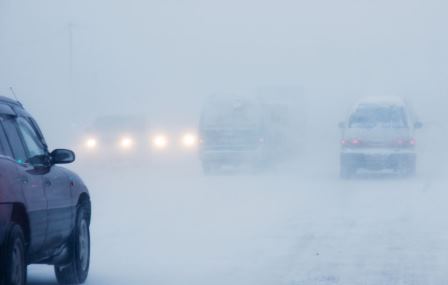 Driving in winter storms can be dangerous for even the most seasoned drivers. In fact, every year, nearly 900 people are killed and another 76,000 are injured in motor vehicle crashes during snowfall or sleet.**** Take, for example, the recent 193-car pileup in Michigan that left one person dead and dozens more injured, not to mention the regional travel nightmare for days afterwards.
Whether you're on the road for your daily commute or taking your family on a winter excursion, always use extra caution during winter precipitation, have an up-to-date emergency kit and remember these tips:
Regularly check the air pressure in your tires, antifreeze level and wiper fluid.
Stay on top of weather reports and allow plenty of time to arrive at your destination.
Practice safe driving behaviors such as designating a sober driver, refraining from distracted driving and staying well-rested before hitting the roads.
Watch your back while shoveling
For most of us, shoveling snow is part of our cold weather routine. Yet every winter, about 100 people in the U.S. die from shoveling-related causes, such as overexertion.** Just recently, 19 people died due to shoveling activity during the Chicagoland blizzard earlier this month -- the victims were predominantly male and over the age of 40. The combination of cold air, increased heart rate and strenuous work is not to be taken lightly.
Before you begin clearing snow-covered surfaces, make sure you're physically prepared for the task, and practice these guidelines:
Pace yourself as shoveling can raise your heart rate and blood pressure dramatically.
Shovel only fresh snow as it's easier to shovel than the wet, packed-down variety.
Push the snow as you shovel -- it's easier on your back than lifting the snow out of the way
Don't let cold weather and winter dangers keep you from enjoying the season -- a little preparation goes a long way.
Visit the National Safety Council at nsc.org and follow us on Twitter at @NSCsafety.
Deborah A.P. Hersman is president and CEO of the National Safety Council, an organization focused on saving lives and preventing injuries at work, in homes and communities and on the roads.