There are an estimated 250,000 Syrian refugees living in Iraq - the majority staying in the Kurdistan Region of Iraq. Some 94,500 refugees live in ten camps directly supported by UNHCR; but most live outside camps and can face great hardship during winter. UNHCR has assisted some of the most vulnerable over the winter with heating and cash assistance - including cash for rent in some of the most extreme cases. Caroline Gluck, UNHCR's senior public information officer in Iraq, met one family struggling to get by.
These days, 40 year-old Syrian father of three, Faruq Mohammed Hamo, tells me there are local shops where he dare not go and show his face
Faruq is deep in debt and is ashamed to go to stores where he can't pay back the food items he's bought on credit. His family fled conflict in the Kobane, Syria, in September 2014. They now live in Qaladze, north of Sulaymaniyah in the Kurdistan Region of Iraq, just a few kilometres from the border with Iran. They fled with nothing and have been helped by neighbours as well as getting help from UNHCR. But, Faruq says, he has been unable to find regular work and things are going from bad to worse.

Faruq used to get work digging water wells. In Syria, he also supplemented his income farming, raising sheep and goats and selling crops in the market. But since he and his family arrived in Qaladze, work has been drying up. And ever since the onset of winter, he said, he has not worked at all. "It's very difficult to make ends meet. We struggle with nothing."
"We have one kerosene heater and also use an electric heater when there's electricity - but normally, that is only available 10 hours a day. We just have to get used to the cold - but its much colder here than back in Syria", he said.
"There are shops where I can't go back because I owe them so much money. I'm so worried about what we're going to do; I often can't sleep thinking about that," he said.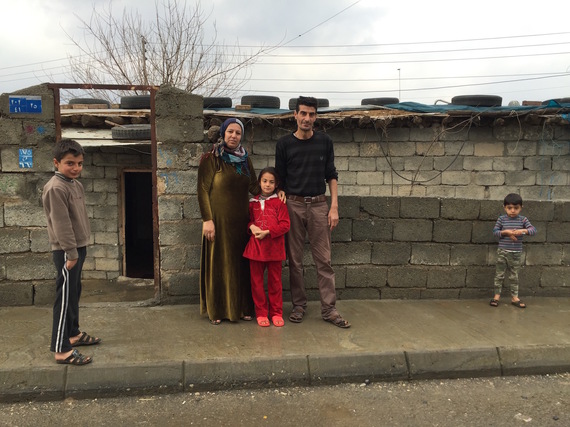 Father of three, Faruq Mohammed Hamo, and his family struggle with debts

His wife, 37 year old Adla, says she's at a loss to see how they can change their situation. "Our biggest need is cash...we need money to pay the rent, electricity, kerosene and food. We haven't paid the rent for the last four months", she confided. "We have absolutely no cash in the house. My husband wants to borrow more money, but I'm telling him no! We're so much in debt - how can we pay it all back?"
The family are supposed to pay 150,000 Iraqi dinar (around $135) for their draughty two-room building which leaks when it rains. Faruq has fixed extra plastic sheets to the roof, held down by old car tyres, which has helped a bit, but it doesn't reduce the draughts and cold, which has resulted in bouts of flu for the whole family.
The family have received assistance from the UN refugee agency, UNHCR, which has provided winter cash assistance, as well as extra blankets and plastic sheeting. But, they say, daily life is still a struggle.
And while Faruq's children look forward to more snowfall this year and the prospect of snowball fights and winter games, Faruq is hoping for winter to pass quickly, for the weather to warm up which might bring with it more opportunities to try to find work and provide for his family again.
On 4 February in London, high level delegates from more than 70 governments, together with UN, non-governmental and other organisations, will be discussing the Syria conflict, about to enter its sixth year. The challenge is how to better provide humanitarian assistance to those affected, both inside Syria and in neighbouring countries, which are hosting more than four million refugees
Follow developments; .@refugees .@SupportSyrians @UNHCRIraq #SupportSyrians
REAL LIFE. REAL NEWS. REAL VOICES.
Help us tell more of the stories that matter from voices that too often remain unheard.