In the winter of 1972 I was invited to live as a guest of Mishkenot Sha'ananin in the legendary city of Jerusalem. It proved to be a rare opportunity to engage in a dialogue with Israeli and Palestinian writers and artists involved in a search for peace. "It is tragic that, in effect, Arabs and Jews are in the Alamo now killing each other," was an oft-heard remark.
The wife of an Arab scholar told me: "I'm still tense when I talk to a Jew. I can't accept any real relationship with Israel. But I'm not against them as human beings."
In the midst of this dialogue came a few prophetic words from Israeli writer Amos Oz. He said, "If an occupation should continue, it would bring about a corruption of Israeli society. You cannot have a double standard, with first-class citizens and second-class ones.
"If a blow-up occurs in 25 years, it will come from my son."
Someone else involved in this scenario was Teddy Kollek, who was the legendary mayor of Jerusalem for many years. Teddy often rode in Israeli garbage trucks with Arab workers, to show solidarity with them. This is where we first made our acquaintance. I engaged in a lot of solitary walking in Jerusalem, and he would stop and talk to me. Often we met and talked at the Garden of Gethsemane. After I returned to the United States, Teddy and I continued to correspond. He once wrote, "How good it was hearing from you about your writer-priest activities. Surely better than my mayor-garbage collector."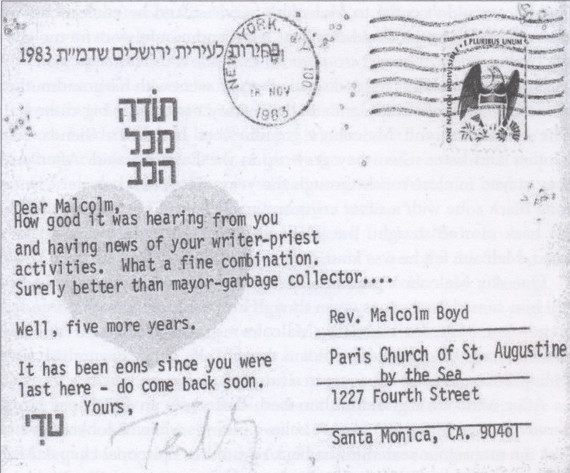 Teddy Kollek seems to have been at his prophetic best when he came to Jerusalem. "The only city that may be compared to Jerusalem in Montreal," he once said. "There you have the French and the English, and neither intends to become the other. Here we have no intention of making a goulash. Arabs will remain Arabs, and Jews, Jews. Neither wants assimilation. We do not wish to let the dividing lines vanish. You will find the same situation here in a hundred years. People want to stick to their roots. This is a positive and not a negative thing."
Americans are able to comprehend this situation because of the its traditional melting-pot mentality, but does that apply here? The American notion of "e pluribus unum" has recently come under sharp attack from many quarters. Ethnic and social groups in the U.S. now take new paths in their differences, origins and varied social aspirations. This has radically altered the makeup of American society. I wonder sometimes: should our mayors consider riding on garbage trucks?
Related
Popular in the Community