Perhaps you are one of our many customers in a corner of the country with gentle, balmy winters. Possibly, you "escaped" the Northeast years ago and never looked back! We can't blame you. Vermont winters are long, cold, and heavy on the snow--they aren't for everyone. And if you tried to place an order with us last January during our big power outage, you know what we are talking about. Vermont winters can be cruel.
But tough winters also make tough people. Tough people who persevere. And that's especially true of our village tradesmen--the plumbers, the electricians, the furnace repairmen, the snowplow drivers. You see them gathered at the gas station for coffee at 5:00 a.m., ready to deal with a day of drifting snow and frozen pipes. And these same people carry logging chains and gravel in the beds of their pickup trucks, so they can help out any motorist they find stranded in a snowbank. No money changes hands. They may be flinty but they are good, solid neighbors. Doing the right thing is the only thing.
When Mother Nature pummels Vermont, we often keep in mind the words of Robert Frost, a contemporary and friend of my grandfather Vrest Orton who founded The Vermont Country Store, "The best way out is always through." And even as the East Coast shovels out from record snowfalls and others deal with the aftermath of high, damaging winds and flooding, Frost's words continue to ring true. "The best way out is always through." These are indeed words to live by - well beyond just the weather.
Despite the challenges it presents, all Vermonters have this in common: we love winter. It's true! There is a magic to this season that no other season can compare. We love the sparkle of sunlight on snow and little diamonds of ice on tree branches. We love snow so frigid it squeaks underfoot. We're not all skiers or hikers, but we love our world-class ski mountains and our thousands of miles of wooded trails. We love ice fishing, sledding and snow forts; we love walking among whispering pines. For we are blessed with a perennial front row seat to witness the most poignant turn of seasons in America, at once arduous and stunning and full of the surprises that make life interesting. Right here in Vermont.
Cabot Orton, far right, is one of the proprietors of The Vermont Country Store, along with his dad, Lyman and brothers Eliot and Gardner.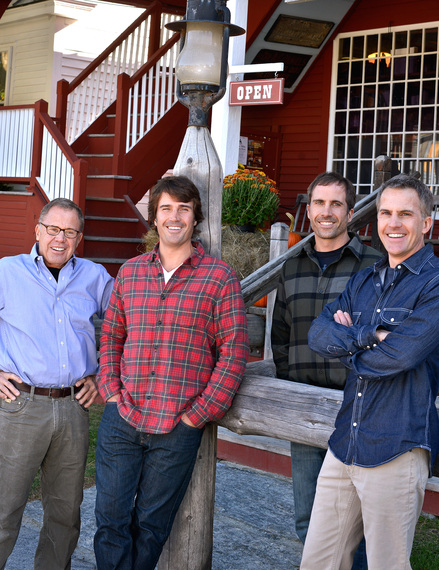 Related