There are an estimated 250,000 Syrian refugees living in Iraq - the majority staying in the Kurdistan Region of Iraq. Some 94,500 refugees live in ten camps directly supported by UNHCR; but the majority live outside camps and can face great hardship during winter. UNHCR has assisted some of the most vulnerable over the winter with heating and cash assistance - including cash for rent in some of the most extreme cases. Caroline Gluck met one mother in Sulaymaniyah Governorate, KR-I, who has received UNHCR help but is still finding daily life a struggle.
Outside the sun is shining bright, but indoors, it's so cold that the vapour from your breath leaves visible smoke trails. The only source of heat in this room is a kerosene heater, donated by the UN refugee agency, UNHCR. The heater stays on during the day, says widower and mother-of-three, 37 year old Amina Mohammed Sadiq, and is vital to keep the family warm. But, she says, it's too dangerous to keep it on overnight, leaving the family to shiver as they try to sleep on their mattress beds with a few blankets as cover, which were also part of UNHCR's assistance.
Amina and her family are Syrian refugees from Derek city, Qamishli governorate, but fled to northern Iraq in 2013 because of the conflict. They lived in Qushtapa refugee camp, in Erbil, until her brother and husband were killed in a car crash, close to the camp. Her husband was initially transferred to a hospital in Sulaymaniyah, but later died. Since then, the family have lived in the small town of Bainjan, Bazyan sub-district, in Sulaymaniyah governorate for about a year and a half, moving into a basic one-room house built by her father-in-law and furnished with donations from well-wishers and neighbours.
Without her husband to rely on, Amina finds it hard to support her children. "We're living on donations and help from others", she lamented. "I'm scared ...especially for the future of my children"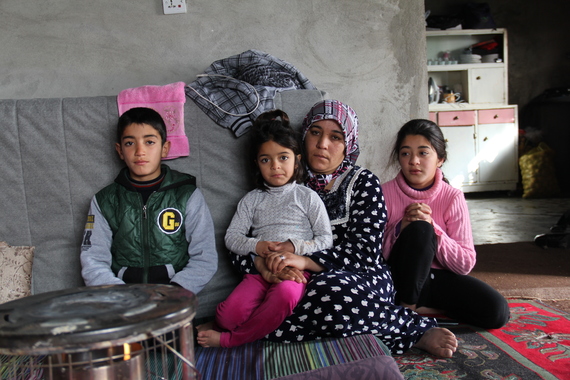 Amina and her three children, who depend on aid agencies and help from neighbours, say winter is the toughest time.
Winter is an especially difficult time for the family. "The children are always getting colds and flu. It is freezing cold here and my youngest has been sick four times last month", said Amina.
"The windows of the house are only protected with plastic, not glass, so it doesn't keep us warm. When the winds blow, I fear the roof will blow away", she said, telling me that many times, the cement blocks holding the corrugated roof in place have fallen off. "When it snowed last month, it leaked water and all our clothes and bedding got wet", she said.
Water continually drips from the ceiling, and plastic buckets are strategically placed in the room to catch the water. Electricity, which is highly subsidised by the Kurdistan Regional Government, is not available all the time, says Amina, who tells me that it's because she can't afford to pay the bill.
"These winter months fill me with dread", she said. "I'm praying for winter to end but even the summer brings its own problems - like scorpions attacking us in the house."
Winter is a cruel season for Syrian refugees like Amina and her family as well as thousands of displaced Iraqi families who've fled conflict. They are especially vulnerable because most are living in substandard or inadequate shelter which are poorly insulated and expensive to heat. And in high-altitude areas, such as Sulaymaniyah, which has already seen heavy snows and where the thermometer often falls to below zero at night, its even tougher for families.
UNHCR began distributing supplementary winter help to some of the most vulnerable Syrian refugee families and displaced Iraqi families in KR-I back in October, including extra blankets, kerosene stoves, kerosene and plastic sheets. The goal was to reach 25,000 refugee families and 29 000 displaced Iraqi families with help to survive the freezing temperatures.
The vast majority of Syrian refugees live in the Kurdistan region of Iraq (KR-I) - with around two-thirds of those living outside formal refugee camps. Many families are already deep in debt, struggling to find money to pay rent and to buy daily necessities, such as food.
With more snows expected this month, families like Amina's are grateful for the help they've received but looking forward to spring, and the hope of warmer weather.
On 4 February in London, high level delegates from more than 70 governments, together with UN, non-governmental and other organisations, will be discussing the Syria conflict, about to enter its sixth year. The challenge is how to better provide humanitarian assistance to those affected, both inside Syria and in neighbouring countries, which are hosting more than four million refugees Follow developments; .@refugees .@SupportSyrians @UNHCRIraq #SupportSyrians
Popular in the Community