ORLANDO - As the Baseball Winter Meetings begin in Orlando, Hot Stove trade talks are plentiful. The New York Yankees opened the meetings with the blockbuster acquisition of slugger Giancarlo Stanton from the Miami Marlins and the Los Angeles Angels of Anaheim became the new home for Japanese ace Shohei Ohtani who is destined to become a two-way player rarely seen in modern day baseball. There will be plenty of trade rumors and off-season maneuvering throughout the next few days while both baseball operations and business barracudas meet in sunny Florida, but today, we're looking into an off-the-field business story that blends old-and-new.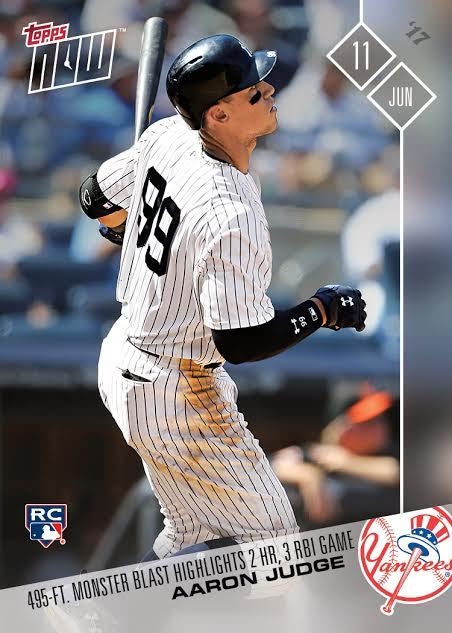 In today's sports marketing and business world that screams for engagement and innovation, many of the most admired brands still need to recognize and have the ability to pivot and thrive. Marrying that concept in the tradition-laden world of baseball is a daunting task, but one iconic sports company has found a way to reinvent itself while keeping its brand relevant - not just to a passionate core - but also to a new level of young, enthusiastic and engaged fans.
Do people still collect baseball cards?
Yes, millions do, but it's not the same business model as it was in days of Willie Mays and Mickey Mantle.
Topps and MLB went out in early 2016 and launched TOPPS NOW, which created a new "on-demand" mechanism to collect cards from the latest "big moment" in baseball.  The new model called for ordering in real time, and prompt delivery right to your door, with as many copies as you wanted. No more waiting for the next set six months down the line or ordering a virtual card (which, by the way, Topps does have with Topps BUNT).
If your favorite pitcher throws a no hitter? His card is there. Amazing catch by Mookie Betts in the outfield? They have it. Local hero gets his first hit? Order away. The ability to print hard cards on demand meant that there was no surplus of wasted paper, so it became a fast-growing, cost efficient and wildly popular endeavor.
In just two seasons, Topps SOLD over one million cards, making it the company's most successful product-launch ever and it's become so popular that they've extended the brand to additional partners like the UFC, MLS and The Premier League, with more ideas beyond the sports world soon to come.
"In 2018, we are looking to increase our fan engagement through new product enhancements that we're soon finalizing," said Jeff Heckman, the Director of New Product Development and eCommerce Marketplace for Topps. "We would like to formalize a way for fans to help us develop TOPPS NOW cards.  Additionally, we're planning to build a mobile shopping app to create a richer and more seamless vehicle for fans to interact and engage with Topps NOW."
Heckman and his colleagues at Topps have a lot to look forward to in 2018, considering the full season of 2017 saw production of 886 cards with such highlights as Aaron Judge's record-breaking season, Adrian Beltre's 3,000th career hit, and Derek Jeter's number retirement ceremony. The card where Judge broke the rookie record with his 50th home run of the season set a TOPPS NOW record with 16,138 cards sold alone.
The Top 5 best-selling TOPPS NOW cards of all time all rolled off the presses this past summer:
New York Yankees OF Aaron Judge - Commemorating his rookie home run record (2017) – Sold 16,138 cards
New York Yankees OF Aaron Judge - Commemorating his Home Run Derby (2017) win – Sold 8,997 cards
New York Yankees OF Aaron Judge - Commemorating a 495-foot home run (2017) – Sold 8,623 cards
New York Yankees OF Aaron Judge - Commemorating his breaking of Joe DiMaggio's Yankees rookie team record – Sold 8,538 cards
Former New York Yankees SS Derek Jeter - Commemorating his number retirement ceremony – 7,791
So why has the platform taken off when many think baseball card collecting business has stagnated?
"They have mastered the on-demand mentality that millennials, and for that matter, sports fans of any age crave," said Chris Lencheski, of MP & Silva, a longtime sports marketer and professor at Columbia University.
"We want what we want - now - and we want as many as we can get, but companies have no way to really anticipate demand. Topps provides a window, limited, to catch that moment and deliver a real product - not virtually - but place it in my hands in just a few days. I don't have to do anything but point and click, and I get it. Best part is, there is no leftover inventory so all the love goes to the bottom line. It's a perfect system for today's fan, and one that baseball has benefitted from tremendously."
In total, more than 617,000 base cards were sold, and revenue is up 50 percent for the TOPPS NOW program year over year (at roughly $7.50 per card at retail that's an estimated yet unofficial take of almost $4.5 million). Topps created more team sets, such as "The Road to Opening Day" collection for all 30 teams that examined each MLB team's roster as the season got underway last spring.
So with all that success, what's next for Topps?
"We currently offer TOPPS NOW cards for The Premier League (futbol) and we're hoping to add the UEFA Champions League in 2018," said Heckman.
Calling all HuffPost superfans!
Sign up for membership to become a founding member and help shape HuffPost's next chapter
This post was published on the now-closed HuffPost Contributor platform. Contributors control their own work and posted freely to our site. If you need to flag this entry as abusive,
send us an email
.