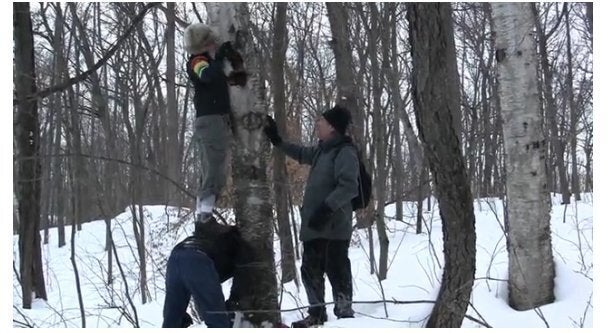 This week's episode has no blood, no animal killing, no guts... and I'm happy about that. It means that the video might not be ravaged with comments, but this series is not just about connecting you to animals, but also introducing new (and strange) food items and having fun.
Having fun can be difficult In the middle of a Minnesota winter when it comes to outdoor food activities. Hunting season is over, there is nothing green for miles, and squash doesn't look nearly as good as it did three months ago. But there's always an obscure mushroom laying dormant out in the woods, waiting to be broken from its home on a birch tree, ground up into a powder, and made into an earthy and healthy tea. That is the case with Chaga.
More unique than eating road kill or pig's head, when consuming a black-hunk-of-what-resembles-petrified-wood, you have to have faith in your guide. So this week I went out with Ron Spinosa of the Minnesota Mycological Society and we found Chaga and drank it as tea. A really interesting episode, I suggest you try watching -- its probably a great digestive for all of that meat. Oh and the Chaga was followed up with Sumac tea, here's a recipe for Sumac Sorbet/Granita/Cocktail (perfect for winter).
Related