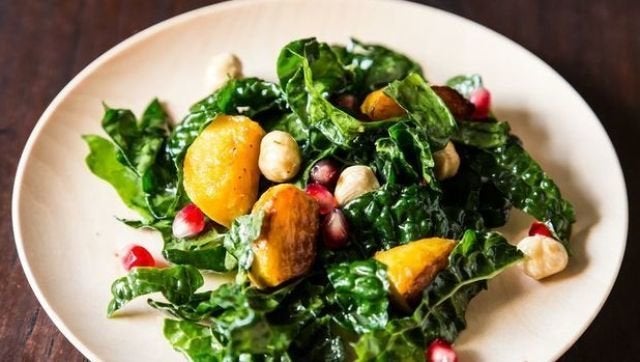 Gena Hamshaw of the blog Choosing Raw eats a mostly raw, vegan diet without losing time, money, or her sanity. Let her show you how to make "rabbit food" taste delicious and satisfying.
Today: Gena shares tips for making healthy winter salads heartier and more indulgent, along with a recipe for kale salad with squash, pomegranate seeds, and hazelnuts.
To me, healthy food can easily be an indulgence. I take as much joy in eating salads and vegetables as I do any other food, and maybe even more. To me, there is nothing ascetic about a salad. With the right attitude, salads can be every bit as filling and indulgent as some of the heartier dishes we're used to -- with the benefit, of course, of outstanding nutrition.
What I love most about salads is that there is no end to their variability. They can be sweet or savory, simple or complex, warm or cold, they can be meal-sized or serve as an appetizer. Changing any one ingredient can totally alter the character of a salad, and turn it into something new: swap one dressing for another, trade beets for potatoes or onions for carrots, and the dish is forever changed. It's a wonderful kind of alchemy.
Of course, I understand why salad is associated with asceticism. I'm a nutritionist, and one of the complaints I frequently hear is, "I ate salad for lunch, and was hungry again right after." When I ask what the salad consisted of, the answer usually includes some greens, a few watery vegetables, and dressing on the side. Such a combination would leave anyone hungry, and it does little to show off how rich and satisfying a salad can be. Today, I'd love to share some of the ways I add heft and nutrition to my salads, without sacrificing simplicity or ease.
Go with the grain. Adding cooked barley, wheatberries, farro, spelt, or quinoa to a salad can elevate it to new heights. Wheatberries and barley will add chew, while quinoa and brown rice add a nutty flavor.
Roast some roots. Sweet, starchy, and deliciously seasonal, root vegetables make fantastic additions to winter salads. Try a mixture of beets, arugula, and toasted walnuts or pecans, or a salad of baby spinach, roasted or grilled sweet potato, and creamy avocado. Today, I'm sharing a recipe in which kabocha squash takes center stage.
Go nuts. There's nothing quite like the taste of toasted nuts or seeds to liven up a salad. Try adding toasted almonds to any of your favorite salads, or a sprinkling of salty, roasted sunflower seeds. I personally like to add either sesame seeds or raw, shelled hemp seeds -- an excellent source of Omega-3 fatty acids -- to cabbage and apple slaw.
Savor soy. Tofu and tempeh are protein-rich additions to vegan salads. It took me a long time to warm up to tofu, but one of the ways in which I first enjoyed it was marinated in soy sauce, apple cider vinegar, and maple syrup, and then grilled and mixed into a hearty salad. Try using the same marinade for tempeh, which is slightly denser than tofu.
Mix up your greens. Don't just use mesclun, spinach, or romaine for your salads. Experiment with all sorts of greens -- kale, chard, mustard greens, mache, or frisee. Go wild.
Stay seasonal. Use local, seasonal produce to keep your salads fresh and vibrant. In the winter, gravitate toward cabbage, kale, and root vegetables; come summer, you can show off the beauty of ripe tomatoes and sweet corn.
My winter salads are heartier than their summertime counterparts, usually featuring potatoes, grains, or autumn squash. Because cold or room temperature salads often don't appeal to people in the cold winter months, I'll often pile my roasted roots or cooked grains on the greens while they're still hot. Dark greens like spinach, kale, and chard hold up well to warm ingredients.
In this salad, bitter kale meets sweet kabocha squash, tart pomegranate seeds, and fragrant toasted hazelnuts. I can't imagine a salad more complete, filling, and healthful.
Hearty Kale Salad with Kabocha Squash, Pomegranate Seeds, and Toasted Hazelnuts
1 large bunch curly kale, stems removed and discarded, torn into bite sized pieces, washed, and spun dry
1 small kabocha squash (Japanese pumpkin), halved and seeded and cut into 1.5 inch pieces
4 tablespoons olive oil, divided into 1 tbsp and 3 tbsp
3/4 cups pomegranate seeds
1/2 cup skinned hazelnuts
2 tablespoons lemon juice
Related