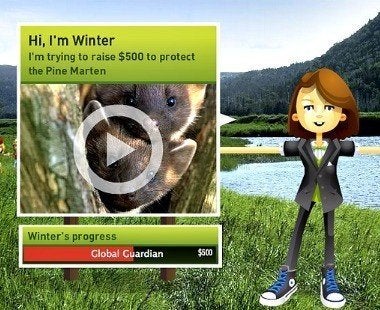 WASHINGTON -- When 7-year-old Winter Slade decided that she didn't want presents for her birthday, but instead wanted people to give money to a charity to help protect endangered animals, her mom couldn't have been more proud.
"I thought it was awesome," said Michelle Slade, who, along with Winter and her other four kids, lives in London, Ontario. "She thought that was a great idea because she had enough toys already."
Winter got the idea from a public service announcement on television for Bring Back the Wild, a children's conservation program that works with kids to raise money to protect wild animals and their habitats. The program, run by the Canadian nonprofit Earth Rangers, encourages kids to have birthday parties where they don't take gifts but instead have their friends donate money to help protect their chosen "hero" animal featured on the Earth Rangers website. Kids who want to do this for their birthday get a conservation-themed "party pack." They also get a personalized fundraising page on the Earth Rangers website, where kids and their parents can keep tabs on how much they've raised for their animal. Half of the proceeds go toward teaching conservation in schools, and the other half go to the Nature Conservancy of Canada, a partner of Earth Rangers.
In Winter's case, she chose to help protect the pine marten, a ferret relative. Michelle says Winter hasn't been able to stop talking about her birthday plan (which isn't even until November) ever since she got the idea in her head. But one day after school, as she was telling her friends about her birthday idea while they stood around with their parents, Winter overheard some of her friends' parents making fun of her.
"One mother said to me, 'Why would you do that? That is so stupid,'" Michelle said. "Mind you, my daughter is right next to me." Two other parents also called the idea "stupid" within earshot of Winter, predicting that the charity would use most of Winter's money to pay for administrative costs versus actually helping the pine marten. Michelle was stunned by the parents' reactions.
"I leaned over and said, 'Well, I guess your child won't be invited to her party then,'" she said.
On their walk home from school, Winter started crying and asked why her friend's mom "said I was stupid." The whole incident infuriated Michelle, who said she "realized very quickly" that Winter's fundraising idea probably wouldn't work out too well since her friends' parents "seemed very diametrically opposed to it." So she decided to try another tack: reaching out to people online to see if anyone would be willing to donate to Winter's fund in a show of support for what she is trying to do. She created an account on Reddit, a social news website, and posted a link to Winter's fundraising page, asking complete strangers to pitch in even $5.
"Please help me restore her faith in humanity," Michelle said she asked people. "I didn't want her to think that adults think she was stupid."
She posted her Reddit plea on Thursday night. By Friday morning, she was surprised to see that she'd gotten some nibbles.
"When I woke up, it had a whole bunch of replies and she was already at less than $100. I thought, wow, people are really donating money," Michelle said. "These people don't even know me."
As the day went on, more people began kicking in money. One person donated $100. Another woman wrote a long message about how inspired she was by Winter and how she, too, loved nature when she was a child. Word of Winter's fundraising campaign started gaining traction on blogs and got picked up by Grist.org. People from the Nature Conservancy of Canada contacted Michelle and said they wanted to send Winter a T-shirt. They also put a tribute to Winter on their Facebook page that featured a picture of a pine marten saying, "Thank you, Winter!!"
By Saturday afternoon, Winter had raised close to $2,500. While Michelle said her daughter doesn't really understand the traction her story is getting, she does understand that she hit her goal of $500, which means she gets a free Bring Back The Wild T-shirt.
"Winter is just so excited. She talks about it all the time. The pine martin, blah blah blah, the pine martin." Michelle said. "The funniest thing is she keeps saying she's raised $15,000 instead of $1,500, which is funny because she doesn't really understand money. She's only seven."
Winter spoke briefly to The Huffington Post.
Asked why she likes animals so much, Winter said, "Because they're cute and they never want to stop playing with you and they never say no." She said she has a dog, but that her favorite animal is the pine martin because "you don't have to do as much work" compared to dogs.
Michelle was reluctant to give much attention to the fact that, amid all of this, she's been in a long battle with cancer. She said she intentionally left that detail out of her Reddit posts because she didn't want to seem like she was asking people "to give money to this poor girl whose mom has cancer." Still, the reality is that Michelle's illness has taken a toll on Winter.
"Everything in our life is about cancer. You get cancer and suddenly the whole world revolves around the person with cancer," Michelle said. Winter is "my oldest and most concerned. She thinks about it a lot and cries about it a lot."
So for Michelle, even more important than seeing the dollars come in for Winter's fundraising effort is just seeing her daughter happy again.
"All she wants to do is raise money for the pine marten. It's funny and it's sweet and I don't think she even understands the scope of what's happening," Michelle said. "She just thinks it's awesome because they sent her a T-shirt.
Related
Popular in the Community