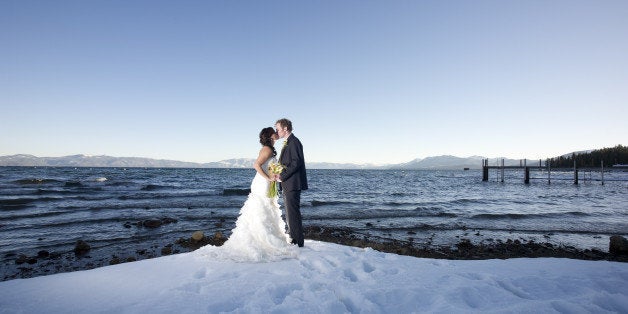 Thinking of a winter solstice wedding?
The solstice, which occurs on December 21, is an auspicious occasion that is celebrated around the world. It represents a turning point in the year, just as marriage represents a turning point in your lives, and since the holiday season is meant to be joyous it can be a very happy time for a wedding!
Not all your relatives will love the idea. They may be stressed out about the holidays or feel it is too much to add a wedding to the schedule. They may not relate to the symbolism of the solstice. But if you feel this is the right day, you can imbue your ceremony with the light of love and a sense of promise of bright things to come.
There is much folk lore and history about winter solstice. Although it is the shortest day and darkest night of the year, from that day forward, the days will grow longer and the nights shorter. It is a time to celebrate the reemergence of the sun's light.
The ancients would mark this time of year with rituals. They didn't have Al Roker to tell them the sunlight, indeed, would return, so they would light fires, make offerings to the gods and pray for the return of the light. They would even make noise to make sure the gods knew they were still there. Some say this was later translated to mean merriment!
In general, December is a celebratory time for all faith backgrounds. Hanukah, Christmas, Kwanza and Yule are all celebrated with light -- candles, yule logs, fire in the hearth and electric lights of all kinds.
December 21 is also the day designated to celebrate the holiday known as Yule. It is an old European custom to burn the Yule log on the winter solstice. Today, people who practice earth-based spirituality celebrate Yule with gift giving, feasting, merriment and a fire in the fireplace whenever possible. Many mark this day with candle lighting rituals (and a bonfire here and there).
A solstice wedding can represent a promise for more light in your lives. It can surround your whole family in the light of love. And it can be filled with merriment and celebration.
Elements of a Solstice Wedding Ceremony
Here are some non-religious elements of solstice wedding ceremonies I've officiated. Your designated clergy person, or even a friend or family member, can officiate and guide you through so that you and your beloved can just "be" and receive the blessings.
Officiant offers opening words to unify those gathered: Tonight, we celebrate the merger of two people in love and the families united on this day. It is a bright and joyous time for loved ones to gather together. Tonight is winter solstice -- the darkest night of the year, and the time to celebrate the reemergence of the sun's light. From this day forward, the days will grow longer and the dark nights shorter. On this auspicious evening we are gathered to celebrate the light of love that burns brightly between this couple with the prayer that it will burn brightly for them in all the seasons of their lives.
Officiant addresses the couple: Just as the solstice symbolizes the rebirth of the sun, and symbolizes the sun coming closer to the earth, you two are also reborn on this day. It is said that on the wedding day, a couple is granted a clean slate, a fresh start. As you become closer to each other, may you feel a deepening sense of oneness.
On this day, as you stand at the doorway to your future, take a moment to reflect on all that came before to bring you to this day... to acknowledge the love and support of those loved ones who are here to share in this sacred event... and, also, to remember those ancestors and loved ones who are no longer with us.
Couple lights a memory candle: First, we light a candle to remember the ancestors who came before us. Let's join together in silence for a moment of remembrance.
Couple lights a solstice candle: Now, looking forward, we invite the couple to light the solstice candle and make a wish (or say a prayer) for their life together.
All guests light a votive candle: And now, everyone here will have a chance to add illumination to this night. This couple asks that you each light a candle in honor of their marriage to bless them on their journey to the altar. Tea-light candles are lined along the table. Please light a candle with a lit taper candle and then hand the taper to the person behind you. Then return to where you were. We'll do this in silence.
Ask group to silently bless couple: (Once everyone's candles are lit) Now, please think of a special blessing or wish for a happy marriage and hold that thought in your heart. (Or if it is a small group, blessings can be out loud.)
Close with this non-denominational Celtic blessing:
May peace and plenty be first to lift the latch on your door. And may happiness be guided to your home by the light of these candles. Amen.
This ritual can also be adapted as a ceremony of light and used any time of year.
Popular in the Community