A vortex of ice and howling wind left up to a foot of snow over parts of the Northeast on Thursday as the first major winter storm of 2018 barreled up the coast. Authorities throughout the region declared states of emergencies and canceled thousands of flights meant to ferry post-holiday travelers home.
Almost no part of the Eastern Seaboard was spared from frigid temperatures that plunged well below freezing, and snow fell from New England all the way down to Georgia and the Carolinas.
The National Weather Service in Boston said the worst of the storm had passed by Thursday evening, but left wind advisories in place through early Friday and the city canceled school for the second day in a row. Thousands of flights were canceled across the country on Thursday, and airlines pre-emptively canceled hundreds more on Friday.
Despite the blanket of snow, New York City's LaGuardia Airport had reopened late Thursday, and John F. Kennedy Airport was expected to resume flights early Friday. Transportation officials in Boston were also digging out the city's train network and had restored service to several lines by Thursday evening.
But the storm did not leave the region unscathed. At least three deaths were attributed to the weather in North Carolina, Gov. Roy Cooper (D) said Thursday afternoon. At least 17 deaths around the country have been blamed on cold temperatures in recent days, The Associated Press reported.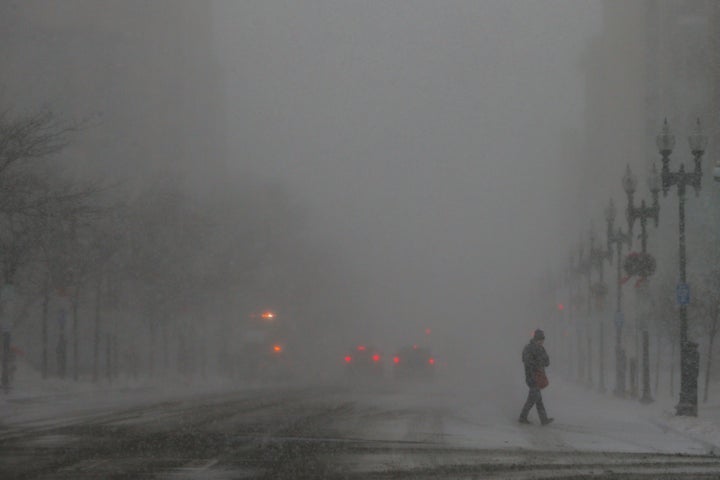 Records Could Fall In Boston
In Boston, the storm dropped more than 13 inches of snow over parts of the city, left more than 24,000 people without power amid blizzard conditions and caused a massive tidal surge that threatened decades-old records. Massachusetts authorities reported multiple rescues of drivers trapped by waves of slushy water, and urged travelers to stay off the roads.
"This is the first time I've ever seen the water come this high in the downtown area," Joseph Finn, commissioner of the Boston Fire Department, told The New York Times. "The tough part of this is it's going to repeat itself at 12:30 tonight," during the next high tide, he said.
Rising water left many drivers trapped and needing to be rescued from their cars, authorities said.
The Quincy Police Department, located in the Boston metropolitan area, said it had rescued around 20 people from cars due to floodwaters.
Schools were ordered closed in New York, parts of New Jersey, Boston and other cities through the region on Thursday, and Boston's public schools will remain closed on Friday, the city's mayor said.
More Than A Foot Of Snow In NYC
In New York City, the National Weather Service warned of blizzard conditions throughout the day. The storm left around a foot of snow in parts of Queens and the Bronx, impairing travel. Residents of Manhattan and Brooklyn saw at least 9 inches of snow by 5:30 p.m. local time, and officials said snow gusts would continue throughout the night.
New York City Mayor Bill de Blasio declared a winter weather emergency Thursday afternoon amid what he described as blizzard-like conditions in parts of the city, particularly in Queens.
"These are tough conditions to move around in, so if you don't need to be on the road ... you shouldn't," de Blasio tweeted. "Everyone needs to take this weather very seriously."
He warned at a news conference that frigid temperatures could continue for "days to come" after the snow stopped. Outside temperatures on Friday morning and Saturday night are expected to feel like minus 20 degrees Fahrenheit, de Blasio added.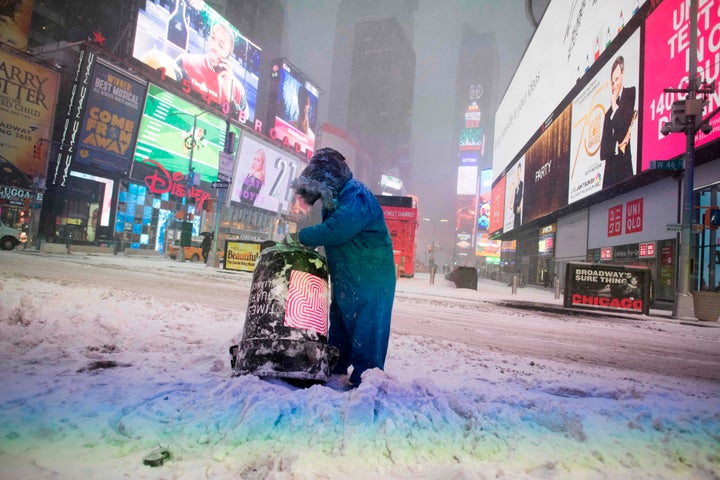 Thousands Without Power
According to WCNC, a station in Charlotte, North Carolina, roughly 5,000 homes and businesses were without power ― mostly in Currituck, Dare, Harnett, Pamlico, Rockingham and Wake counties ― as of around noon on Thursday.
In Virginia, where a state of emergency was also declared, state troopers have responded to more than 200 traffic crashes since Wednesday night, Richmond station WTVR reported. No fatalities were reported. Virginia Gov. Terry McAuliffe (D) and other officials up and down the coast urged drivers to stay off the roads.
North Carolina's highway patrol also said it has responded to more than 900 crashes. Officials issued warnings of black ice through the weekend, and urged citizens to check on friends and family and keep pets indoors.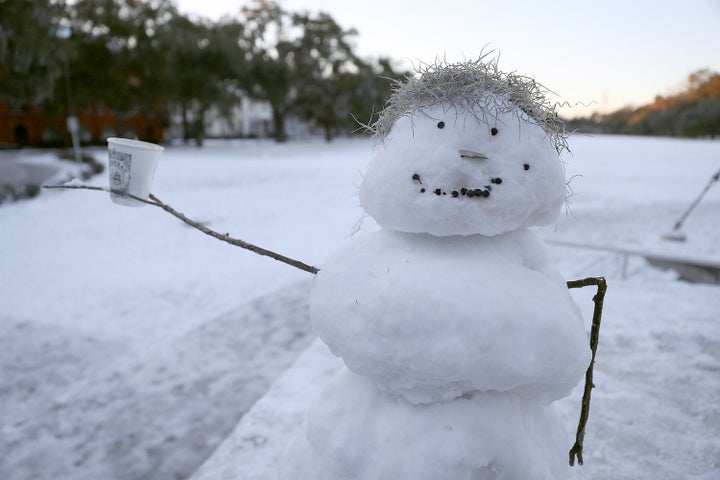 The powerful winter storm, dubbed "Grayson" by the Weather Channel, has been described by weather forecasters as a "bomb cyclone," as it resulted from a rapid and rare plunge in barometric pressure.
Satellite images of the storm showed that a dusting of snow had settled in regions that don't often see such extreme weather.
On Wednesday, the storm brought snow to parts of northern Florida for the first time in 30 years. In Tallahassee, where one local homeless shelter has been scrambling to accommodate people, temperatures were expected to dip into the 20s on Thursday night. Parts of central Florida experienced similar temperatures Thursday morning, the weather service reported.
This article has been updated with additional details about the storm and conditions on the East Coast.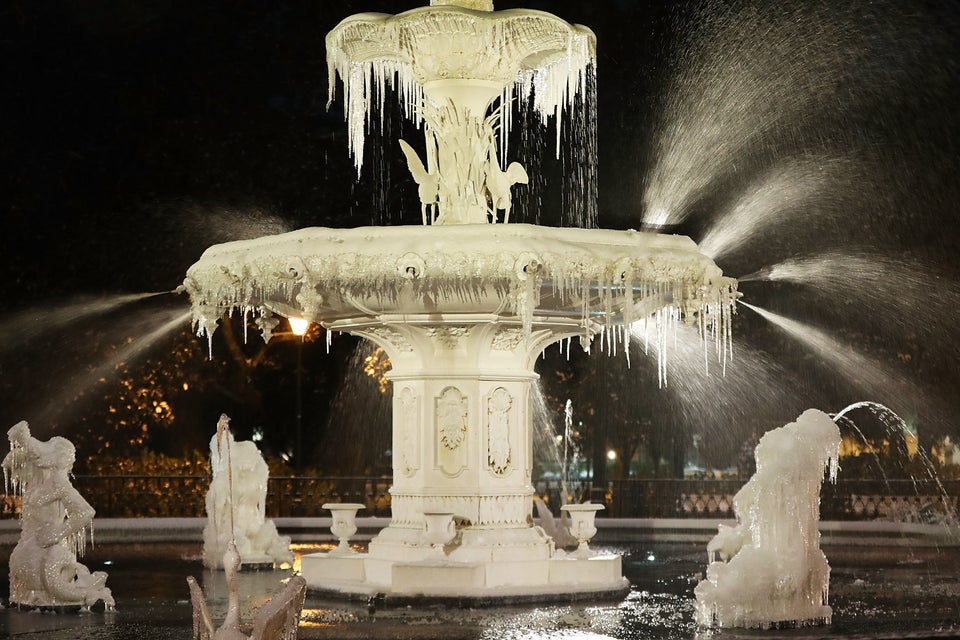 Winter Weather Blasts East Coast