NEW YORK/WASHINGTON, Jan 23 (Reuters) - A blizzard that has paralyzed much of the U.S. East Coast intensified on Saturday, bringing Washington to a standstill and forcing the closure of roads, bridges and tunnels into New York until Sunday morning.
In all, there were at least 19 deaths in several states related to the storm. It ranked No. 3 in terms of snowfall accumulation in New York City history with at least 26.8 inches (68 cm), and was among Washington's biggest too, the National Weather Service said.
Thirteen people were killed in weather-related car crashes in Arkansas, North Carolina, Kentucky, Ohio, Tennessee and Virginia. One person died in Maryland and three in New York City while shoveling snow. Two died of hypothermia in Virginia, officials said.
After dumping 17.8 inches (45.2 cm) of snow on the Washington area overnight, the storm unexpectedly gathered strength as it spun northward and headed into the New York metropolitan area, home to about 20 million people.
New York Governor Andrew Cuomo declared a state of emergency, as have 10 other state governors. He also imposed a ban on all travel on New York City area roads and on Long Island, except for emergency vehicles, from Saturday afternoon until 7 a.m. on Sunday, when all bridges and tunnels into the city from New Jersey would also be re-opened.
Subways running above ground and trains operated by the Long Island Rail Road and Metro-North halted service at 4 p.m. because snow falling at a rate of 3 inches (8 cm) per hour proved too much for plows on roads and railways, Cuomo said.
The impact of the travel ban on the New York's financial services industry was seen as minimal over the weekend, and it was too soon to tell how much the heavy snow would affect Wall Street's reopening on Monday.
On Broadway, however, the impact was immediate. Theaters canceled Saturday matinee and evening performances at the urging of the mayor.
An otherworldly quiet descended on the usually bustling city of 8.5 million, the most populous in the United States. Tourists and residents took to the streets of Manhattan, with many venturing into the white expanses of Central Park, some on skis. Others built snowmen or had good-natured snowball fights.
While authorities in New York and New Jersey halted public transportation, the Washington Metropolitan Area Transit Authority took the rare step of suspending operations through Sunday in the capital.
"The forecasts suggest that the snow will wrap up late tonight or in the very early hours of the morning," Washington Mayor Muriel Bowser said at a press conference. "But it doesn't make it any less dangerous. We expect continued high winds throughout the area which will continue to make the conditions and visibility very poor."
More than 5,100 flights were canceled on Saturday and over 3,300 more on Sunday, said FlightAware.com, the aviation data and tracking website.
United Airlines said on Saturday that it would not operate at Washington-area airports on Saturday and Sunday, and would gradually resume service on Monday. The airline plans to start "very limited operations" on Sunday afternoon at its Newark, New Jersey, hub and other New York area airports.
The brunt of the blizzard reached the New York City area after battering Washington, where snow had piled up outside the White House and the city's famous monuments were frosted with snow.
"We haven't made snow angels yet, but we're looking forward to doing that in front of the White House," said Robert Bella Hernandez, 38. "We're just going to walk around, see some snow-covered D.C. landmarks. And then when it's unsafe, maybe go back in for a minute."
The record high of 28 inches (71.1 cm) of snow in Washington was set in 1922 and the biggest recent snowfall was 17.8 inches (45.2) in 2010.
HIGHER TIDES THAN DURING SANDY
High winds battered the entire East Coast, from North Carolina to New York, reaching 70 mph (112.5 km) in Wallops Island, Virginia, late on Friday, whipping up the tides and causing coastal flooding, said National Weather Service meteorologist Greg Gallina.
The snow also engulfed the Mid-Atlantic cities of Baltimore and Philadelphia while about 150,000 customers in North Carolina and 90,000 homes in New Jersey lost electricity in the storm on Saturday.
Tides higher than those caused by Superstorm Sandy three years ago pushed water onto roads along the Jersey Shore and Delaware coast and set records in Cape May, New Jersey, and Lewes, Delaware, said NWS meteorologist Patrick O'Hara.
Some evacuations were reported along the New Jersey Shore, where thousands of residents had to abandon their homes during the devastating 2012 storm.
The barrier islands near Atlantic City were experiencing significant tidal flooding, said Linda Gilmore, the county's public information officer.
The storm developed along the Gulf Coast, dropping snow over Arkansas, Tennessee and Kentucky on Friday. On the coast, warm, moist air from the Atlantic Ocean collided with cold air to form the massive winter system, meteorologists said.
(Reporting by Barbara Goldberg, Frank McGurty, and Robert MacMillan in New York, Mary Wisniewski in Chicago; additional reporting by Daniel Kelley in Philadelphia and Victoria Cavaliere and Alex Dobuzinskis in Los Angeles; Writing by Mary Milliken and Grant McCool; Editing by G Crosse, Sandra Maler and Muralikumar Anantharaman)
Below, more photos from the winter storm: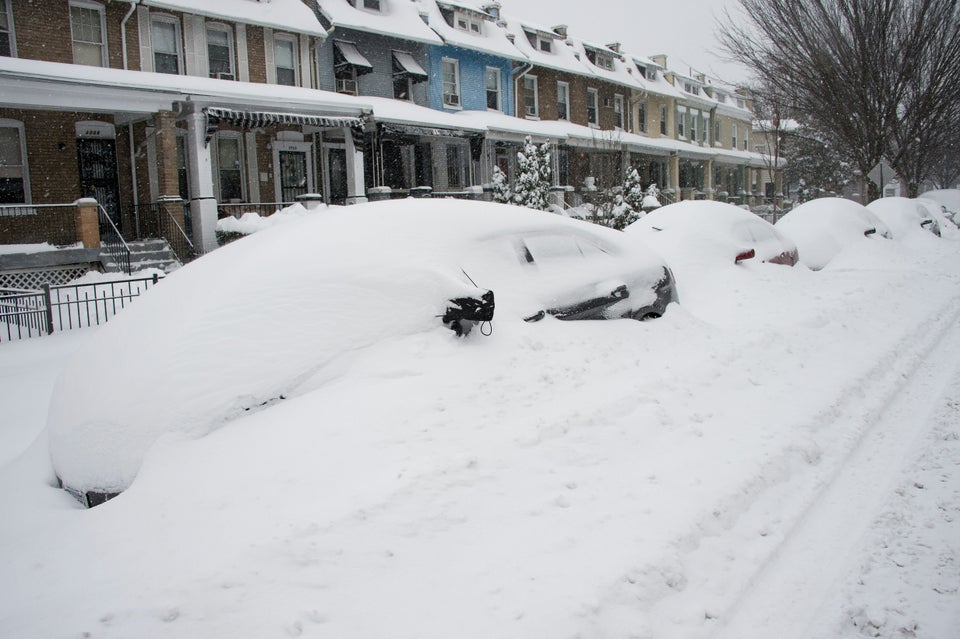 Winter Storm Jonas
Popular in the Community