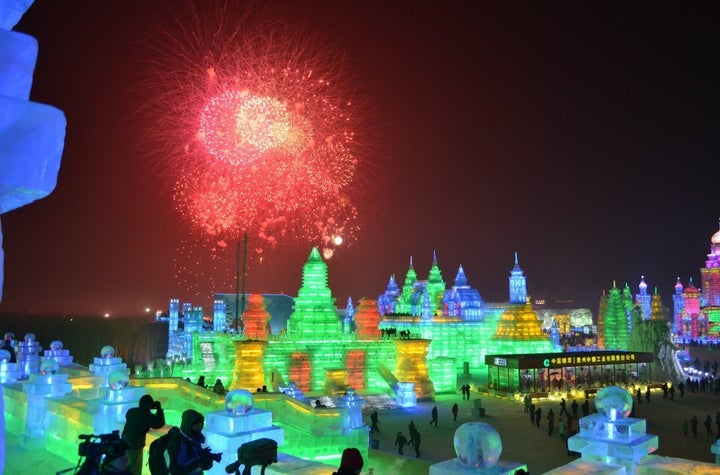 I'm with a friend of a friend and a friend of a friend of a friend in the lobby of what is supposed to be one of the two high-class bathhouses in a city renowned for its bathhouses, and I'm experiencing one of those moments particular to travel, and especially to travel in faraway places, in which the novel and thrilling have evaporated and metamorphosed, seemingly in an instant into the absurd. After 10 minutes of back-and-forth with the manager -- my friend of a friend speaks fluent Mandarin -- we finally convince him that no, we don't each want a "private room with pretty girl" and find ourselves instead in a dark, cavernous lounge filled with cushiony recliners, several of which contain dozing middle-aged Chinese men. TVs mounted on a rectangular pillar in the center of the room play the news at low volume.
We're told to take our seats. Moments later, our massage therapists join us. Two masseuses and a masseur. None could be older than 25. One of the women is quite pretty; the other wears a t-shirt that says, "I'M NOT EASY BUT WE CAN DISCUSS IT." I end up with the young man. The three begin nattering, which they'll continue to do for the duration of our massages, and the masseur goes to work on me, "work" being a generous term. He commences by playing my head like a bongo. Then he downshifts into some hair-tugging. This, presumably, is my head massage. A half-hour later he is leaning on his left hand and halfheartedly slapping at my calf with his right. He clears his throat -- oh, that indomitable Chinese phlegm -- and blows a snot rocket onto the floor.
It's a familiar yet unsettling feeling for me, for any frequent world traveler. This, I recognize, is ridiculous. And then I wonder, as I always do in these situations: Wait, how did I get here again?
(*SEE PHOTOS OF HARBIN BELOW*)
Of Harbingers and Hampsherites
I saw the pictures for the first time about nine or 10 years ago, before Facebook or the blogosphere. I'd received them the old-fashioned way: by email forward, most likely accompanied by one of those all-caps headlines only your aunt in Saginaw still used. Something like, "YOU MUST SEE THESE PICTURES." They were photos of the ice and snow sculptures at the annual International Ice and Snow Festival in Harbin, in northeastern China, and it was one of those rare instances when the contents of the message met the expectations of the hyperbolic subject line. I must, indeed.
I promised myself that if I ever got within a few hundred miles of Harbin at the right time of year -- a snowball's toss, by today's flat-earth standards -- I'd make the trip to see the festival in person. When I moved to Shanghai last fall to start a new job, I barely waited a month to book my flight to Harbin.
First order of business: brace for the cold. You can't wing Harbin. If China is an overfed V, Harbin is located near the tip of the right arm, the Chinese equivalent of New Hampshire. It is China's northernmost major city, less than 200 miles from Siberia -- not quite Maine, but still, it bears repeating, New Hampshire. Temperatures as low as 36-below have been recorded, though the average daytime high in January is a balmy 10 degrees Fahrenheit. It was dark by 4:00 p.m. when I was there the first week of the year, when the festival begins.
The question you might be asking yourself at this point, and rightly so, is: Why would anyone live there? My guess is that New Hampshirites occasionally get asked this as well, and not in August. Having never met a native-born New Hampshirite, I presume their answers generally include perquisites like excellent public schools, variegated fall foliage, and early presidential primaries. I didn't ask any Harbingers the same question -- the demonym is "Harbinger," unofficially and portentously -- though I doubt their reasons would have overlapped much with New Hampsherites'. The difference between Harbin and New Hampshire -- one of many -- is that more than 5 million people live in China's Concordian counterpart, four times the population of the entire state of New Hampshire. Harbin, the 15th-most populous city in China, would rank second in the U.S.
And yet, like most of China's secondary and tertiary cities, Harbin feels more like a scrappy outpost. Semi-urban, if not quite suburban. There's traffic, but no traffic jams; large buildings, but no skyscrapers. Nightlife, but not really: The bar we kept hearing about, a place called Sky Bar -- "You have to go to Sky Bar," my friend of a friend's friend, a native Harbinger, told him -- elicited visions of a swanky rooftop lounge. It turned out to be a small café located on a sleepy side street in a residential neighborhood. By that point, I wasn't surprised. An hour or two of exploring Harbin and you wonder: How can this city be twice the size of Chicago?
Back to the cold. That's what went through our minds every time we had to layer back up -- fleece, parka, ski hat, scarf, fingerless gloves, mittens -- and venture outside again. Minutes later, the only part of my body not protected from the elements -- my face -- would be introduced to a sensation I'd never experienced before my trip to Harbin. It took me a moment to recognize what was going on the first time it happened. Then I realized: my nose hairs had frozen together.
Yeah, but it's a dry cold
Harbin's history and culture are inextricably linked to its weather. Founded in 1898 as a village outpost on the China Eastern Railway, a rail line linking the Siberian cities of Chita and Vladivostok, Harbin developed into a significant economic hub in the 1920s, thanks to an influx of business-savvy Russian and Jewish immigrants. And although few of their descendants remain, you still find remnants of those cultures scattered throughout town, from the city's best-known landmark, the onion-domed St. Sophia Cathedral, to the former synagogues that have been converted into museums and hostels. Even the city's main park is named after a Russian: Stalin. You might have heard of him. (I was half-amused, half-appalled when I learned the park was named after a neighboring country's totalitarian dictator--there is no Hitler Park in Austria, after all--but then, this is a nation that lionizes iron-fisted leadership, even if the leader in question suffers from, say, occasional moral lapses. Just look at China's currency, which features the government's favorite totalitarian dictator of all. )
Harbin's name derives from a Manchu word meaning "a place for drying fish nets," which, if not particularly elegant in translation, makes sense once you've visited and breathed the air. Harbin's is a dry cold. It doesn't seep through your clothes the way more humid cities' wintry days do; instead it claws and bites, and when you get near the Songhua River, which runs through the city, the wind-chill factor often dips into the double-digit negatives.
Yet Harbingers don't seem bothered by it. One of the charms of a trip to the Ice Festival is watching the locals go about their lives as usual, daily highs and nightly lows be damned. In Stalin Park, Harbingers ballroom-dance and play ping-pong al fresco, just as they do in other Chinese city parks. The region's famous syrup-glazed fruit on sticks known as tanhulu sell like hotcakes would if the Chinese had those, despite the fact that the snack is frozen solid during the winter. Life goes on, even with your nose hairs stuck together.
Other vital signs are less charming. Some of the Chinese's least endearing idiosyncrasies manifest themselves in more permanent splendor in Harbin. The copious litter freezes solid in the gutters. Frozen vomit and loogies dot the sidewalks. (Seeing the frozen loogies, I couldn't help but recall the urban legend I heard as a child, that when the temperature drops low enough, your spit freezes before it hits the ground.) And the air pollution worsens during winter, as the entire city burns coal for heat. Consider yourself warned.
Of course, if you're visiting Harbin, you're likely there for one thing: the annual International Ice and Snow Sculpture Festival. The IISSF, which no one but me called it, officially begins on January 5 and runs for a month, but sculptures start going up in December, and most festivities last until the snow and ice melts, which, if my trip was any indication, is usually around mid-July.
In some ways, the event emblemizes China's meteoric economic ascendance. First held in 1963, the festival was discontinued for several years during the Cultural Revolution but resumed again in 1985. It wasn't until the late 1990s, however, that the festival, like China itself, really took off. It's a testament to Chinese ambition that the photos from Harbin's event, not from other popular counterparts that have been running for much longer (Norway's Ski Festival, Canada's Quebec City Winter Carnival, and Japan's Sapporo Snow Festival began in 1892, 1894, and 1950, respectively), are forwarded in emails to Westerners 8,000 miles away. Go ahead and attribute that success to sheer force of will. The Chinese would call it inevitable.
Gulags and frozen rivers
The highlights of the festival are the now-famous sculptures, but there's plenty of other wintry fun to be had. At the edge of the river, where Stalin Park meets Zhongyang Dajie, the main pedestrian street, family festivities abound: ice skating, ice slides, ice chairs (think wheelchair-sleds -- yes, seriously), and inner tubes pulled by both gravity -- via chutes -- and ATVs. My favorite? These old-school tin tops that you literally whip to get started and then spin forever on the frictionless ice. Basically, if it slides or glides, you'll find it there.
On my first night exploring the town, I headed over to Zhaolin Park to see the least renowned of the sculpture exhibitions, so as not to be disappointed with it later. I suspect that the sculptors and structure-builders whose work is on display here need to "graduate" before they can have their work featured at the main event. Still, I found the exhibit charming in parts, largely because it was much less crowded, which lent it the strange but pleasant feel of a quiet stroll through a park that just happened to have extraordinary ephemeral artwork scattered about.
The next afternoon, my friends and I took a taxi to Sun Island, on the opposite side of the Songhua River, to take in the Sun Island International Snow Sculpture Art Fair. The theme of last year's Festival was the "Tourism Year of Russia" in China, so naturally the show featured sculptures of famous Russian writers, quaint dachas, evocative village tableaus, and alleged anti-Stalinists performing backbreaking manual labor in a Siberian gulag. Disturbing imagery aside, the sculptures were impressive, every bit as imposing in scale and intricately carved as the ones I'd seen in photos a decade earlier.
The disappointment for me lay not in the art but in the ambiance. I admit it: even after two days there, I still harbored naïve romantic fantasies of a wondrous winter snowscape reminiscent of Dr. Zhivago -- born, no doubt, from that indelible image of Lara's daughter singing and prancing about their icy dacha. What we encountered instead might best be described as a makeshift sculpture park, with the operative medium -- snow -- found nowhere but within the sculptures themselves. Alas, one of the great ironies of the Harbin Ice and Snow Festival is that, despite its name, there's hardly any snow anywhere, because the winter months are the driest of the year. Imagine my dismay when I learned, after some persistent questioning, that the snow used in the snow sculptures is manufactured. Pasternak would not be amused.
After finishing there, we found ourselves on the wrong side of the Songhua River, which separates Sun Island from the main part of Harbin. In front of us: an unlikely beach -- a popular spot, I suspect, two or three months a year -- and a quarter-mile or so of frozen water. Behind us: an unfamiliar route and half a dozen taxis eager to gouge white-faced tourists. We decided to cross.
I've lived in and traveled to some cold places in my life, but the Songhua was the first frozen body of water I'd ever seen, much less stood on. As it turned out, crossing the river was one of the highlights of the week. At first we took short, mincing steps, but soon we gained our footing. The setting sun splashed warm tints across the ice's translucent blues, producing an ethereal contrast. Beneath our feet were trails of air bubbles that had frozen on their way to the surface. In the middle of the river, where one of the support towers for the gondola stood, the frozen water planed upward against the concrete cylinders, as though waves had formed and then frozen at their peaks. (Indeed, maybe they had.) It was the most surreal experience in a trip with no shortage of them.
The main event
We save the supposed best for last. Our final night in Harbin coincides with the official start of the festival, and the opening ceremonies take place at the main attraction: the aptly named Ice and Snow World. This is the exhibit whose photos captured my imagination a decade ago. This is what I've come to see.
After a delicious dinner at a dongbei (northeastern Chinese) restaurant near our hostel, my friends and I flag down a taxi and head over. The throngs can be overwhelming at any tourist attraction in China, so we brace for the worst. As expected, it's crowded, but the exhibit is large enough to absorb the hordes.
Once inside, the three of us unsheathe our cameras, split up, and start wandering.

In short, the photos from that tantalizing email did it justice. They did more than that, in fact. They did what so many -- what too many -- travel photos do: they improved upon the real thing. In the case of Ice and Snow World, it was less the result of snazzy doctoring or clever cropping than the inevitable elision of the exhibit's pitfalls and annoyances: the crowds, the cold, the corporate tie-ins.
Oh, for the love of Coke, those corporate tie-ins. Lest you forget where you are, the Ice Festival is here to remind you: the Chinese have mastered the ancient Confucian arts of cross-promotion and product placement. Look, over there! It's Kung Fu Panda! And there! That's a giant bottle of Coke made of ice and illuminated from within. Are you thirsty for a really, really cold bottle of Coke now? No? How about a really, really cold bottle of Harbin brand beer instead?...
To be fair, most of the sculptures serve no dual purpose. Indeed, the exhibit is compulsively photogenic, and I quickly find myself transforming into a shutterbug. Every sculpture is beautiful, every angle snap-worthy. I take five or six photos of the same ice castle, then put away my camera and resolve to stay in the moment. Ten steps later, though, I have to take it out again, for before me rises another parade of color and luminescence I need to capture. The last time this happened was six years ago, when I visited Angkor Wat in Cambodia. Same thing there: every corner yielded a new discovery, a new shade or shadow.
I round a bend and look up to see a giant green castle, and damn if it doesn't resemble one of the wats at Angkor. An ersatz Buddhist temple of ice, Disneyfied with the glow from wires of green neon coursing through each block -- but still, an alternate-universe dead ringer. It occurs to me that while this exhibit isn't intentionally modeled on Angkor Wat's, next year's might be, or the year after's. It's bound to happen.
Around 8:30, the festivities begin. I climb the stairs of the nearest ice castle to get a better view. The show, such as it is, resembles what the opening ceremonies might look like if China ever hosts the Winter Olympics. There's a fireworks display and a performance with blaring background music and uniformly outfitted downhill skiers, the narrative of which I couldn't begin to interpret. Here is when a moving picture is worth more than any number of words, and so I switch my Nikon to video mode and start recording -- yet another "only in China" moment to share on Facebook and my blog.
When the opening ceremonies finally fizzle out, I reconnect with my friends for one final loop. The ubiquitous ice castles are impressive in a Chinese way -- that is to say, in their sheer scale, ambition, and luminosity. What a task it must be to construct them; I see the huge rectangular blocks of ice and mind-travel to Egypt. And I can't help but smile at the various fictional characters -- Alice and the Mad Hatter, Winnie-the-Pooh and friends, Johnny Depp as Jack Sparrow -- carved out of snow and enlarged by double-digit factors.
But for my yuan, I'll take the exquisitely detailed hand-carved sculptures any day. This year marked the debut of the International Ice Assemblage Sculpture Contest (I will go out on a limb and assume this is a direct translation from Chinese), a competition comprising 12 teams from countries around the world. The winter wonderlands of Singapore and Malaysia were represented; the U.S., apparently, was not. It's unclear from the exhibit who won, but the Russians' anachronistic depiction of Romeo and Juliet at the altar, accompanied by creepy hooded druids is the clear standout for the tourists. The biggest disappointment is not being able to witness the competition or any other construction efforts. I would have enjoyed watching the process as much as the final result.
It's late now. Celine Dion's theme from Titanic, "My Heart Will Go On," blares from the loudspeakers for the second time tonight. Apparently Ice and Snow World's soundtrack has started repeating. "I think that's our cue," I say. My new friends nod; their toes went numb an hour ago, they tell me. Maybe they're not the only ones -- the crowds are now filtering out by the hundreds.
By tomorrow, we will have run out of things to do, and end up at a Roman-style bathhouse where I will receive what is hands-down -- literally -- the most unsatisfying massage of my life. Now, though, despite frozen nostrils and a sore throat, I want to take one last mental picture of a place I will almost surely never see again. On my way out the main gate, I turn around and look back, at the frolicking children and giant Coke bottle and snow sculptures of Cars characters, and wallow in the strangeness -- the true absurdity -- of it all.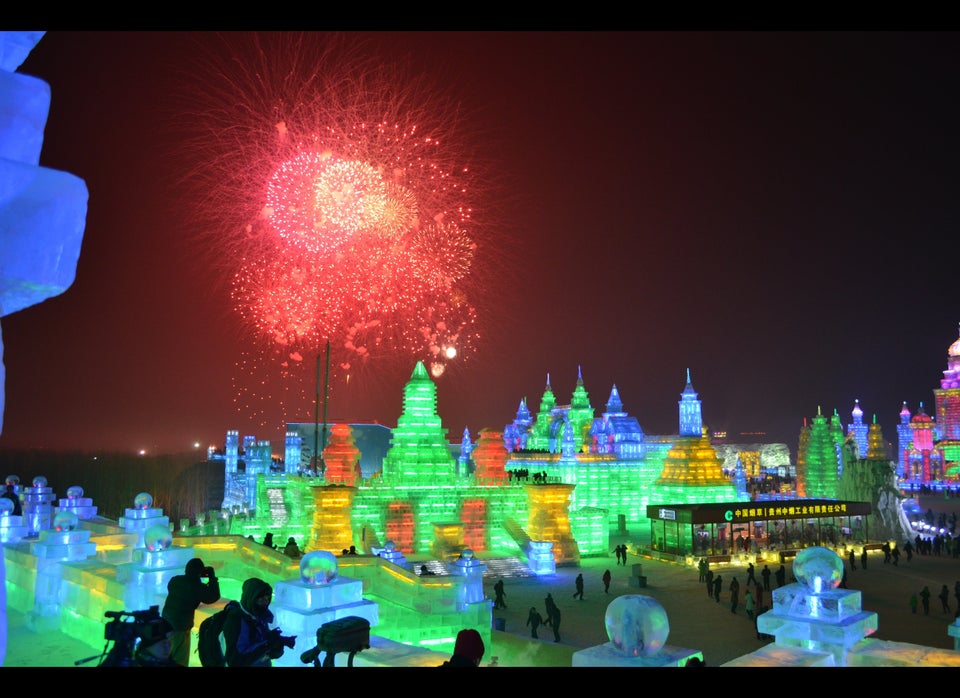 A Wintry Week in Northeastern China