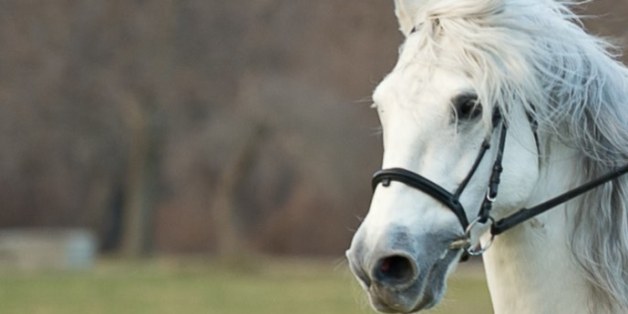 This past weekend, "Winter's Tale" opened in theaters and was met with a collective Valentine's Day yawn by most moviegoers, only grossing a little over $8 million to date. One of the stars of "Winter's Tale" is a magical, flying space horse named Athansor. We had the pleasure of speaking to Athansor earlier this week about the disappointment of "Winter's Tale" and what his plans are for the future.
(It was either this or write about "Pompeii." I chose this. I'm sorry.)
Hello, Athansor. It's really great to be talking to you today.
Neigh.
Well, that's a good point, "Winter's Tale" didn't really perform well at the box office, did it?
Neigh.
I read that you accepted a back-end payment based on the film's profits. Will you get any money for your performance?
Neigh.
Well, an artist's work is payment enough, right?
Neigh.
Do you feel your presence in the movie kept people away?
Neigh.
I agree. A magical flying space horse can only benefit a movie. Was it Colin Farrell's hair?
Neigh.
Let's move on. The message in "Winter's Tale" seems to be that love can conquer all, even the boundaries of space and time. Do you agree?
Neigh.
That's true, Athansor, love is hard to define. Are you in love?
Neigh.
If you could steal a smooch from anyone in Hollywood, who would it be?
Neigh.
Did you like working with Russell Crowe?
Neigh.
Yeah, I've heard he can be intense. Have you gotten many offers for other movies?
Neigh.
Yeah, it's tough out there. What about the new "Entourage" movie?
Neigh.
Did you know they started filming on Wednesday?
Neigh.
I bet Vinnie Chase could use a magical flying space horse?
Neigh.
Turtle?
Neigh.
You have experience working in space. Would you want to be in J.J. Abrams' new "Star Wars" movie?
Neigh.
So you're saying that you absolutely will not be in "Episode VII"?
Neigh.
Ah, I see, you have to keep these things on the down low. I understand, Athansor. I hope to see Han Solo ride you into space some day.
Neigh.
Do you like "House of Cards"?
Neigh.
Can I feed you a plum?
Neigh.
Are you enjoying awards season?
Neigh.
Are you going to the Vanity Fair Oscar party?
Neigh.
That is a tough ticket, maybe next year. Do you know Artax from "The NeverEnding Story"?
Neigh.
Can I feed you some corn?
Neigh.
Can I fly you into space and become a star?
Neigh.
Well, I really enjoyed our time, Athansor. It was very nice to meet you.
You too.
Mike Ryan is senior writer for Huffington Post Entertainment. You can contact him directly on Twitter.
REAL LIFE. REAL NEWS. REAL VOICES.
Help us tell more of the stories that matter from voices that too often remain unheard.