Wipro Ltd (NYSE:WIT) is a global information technology, consulting and outsourcing company with 170,000+ workforce serving clients in 175+ cities across 6 continents. The company posted revenues of $7.7 Billion for the financial year ended Mar 31, 2016. Wipro was founded in 1945 as Western India Vegetable Products Limited in Amalner, Maharashtra but it ventured into the IT industry in 1981. By 2013, Wipro focused exclusively on IT business and today it is one the world's most trusted brands with a long prestigious history.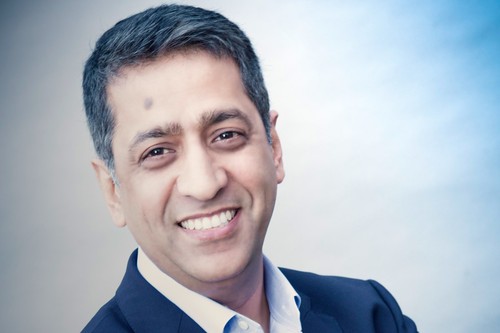 Naveen Rajdev, Chief Marketing Officer of Wipro
Leading the marketing and digital transformation one of the largest digital and information technology services brands in the world is big responsibility. In March of 2015, Naveen Rajdev was appointed as the new chief marketing officer at Wipro. Rajdev manages the global marketing team which implements all brand initiatives, large scale global partnerships, corporate media, analyst relations and business marketing. Rajdev believes that powerful technology brands are built on human principles and has been leading Wipro towards becoming a more digital and people-centric brand, leading the foundation of what he calls B2i "Business to Individuals" future. As Wipro's brand champion, he is also passionately engaged in employer branding, sustainability, corporate social responsibility and has been at the center of Wipro's latest announcements and longstanding support of programs like urban biodiversity, First Book and 'Children with Disability'.
Ray Wang, bestselling author and CEO and founder of Constellation Research, and I invited Rajdev to our weekly show DisrupTV to discuss marketing and digital transformations lessons learned from one of the most innovative CMOs in the world. We discussed the new role of the CMO, emerging technology trends, disruptive sales and consumer buying behaviors and how companies can stay relevant and grow market share by adopting new ways of connecting with customers.

Marketing differentiation through agility, experimentation and tangible value
In the digital world, your customers are undergoing massive transitions. Rajdev believes that this is not a world where you can afford to do things linearly. Marketing organizations can teach customers to fail fast, be agile, experiment more and succeed through an iterative process. Sometimes differentiation means challenging the status quo and thinking differently, even if it means adopting traditional marketing methodologies.
Rajdev recently published a Wipr Magazine called Wool - a Fast Company like professional looking magazine with beautiful graphics and insightful bite-size business and technology thought leadership content. Rajdev believed that sharing concise content aimed at highlighting key industry, business and technology future trends, through a beautifully designed magazine, would be of great value to the Wipro community. By delivering relevant content to customers and business partners, Wipro is able to earn the Trusted Advisor relationship with their stakeholders. Rajdev's design principle for Wool was combining McKinsey Quarterly with GQ in terms of design and content. I received the first issue of Wool and I read it cover to cover - pictured below.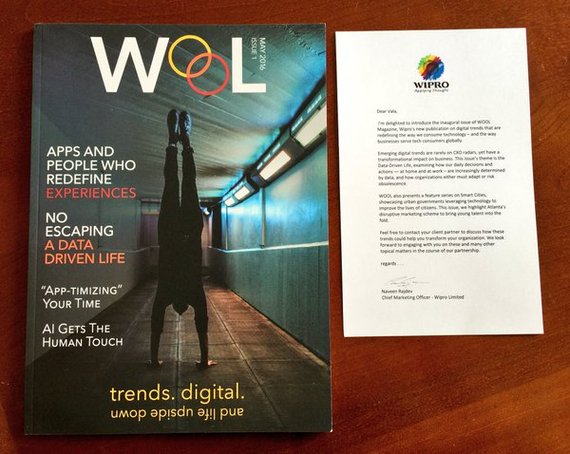 As marketers, we can help companies connect with customers in a whole new way. With compelling content, Wipro is able to connect with senior executives and elevate the conversation at the intersection of business and technology. Wipro marketers are working closely with their customers to improve design thinking principles, architect agile processes and align various lines of business to further improve their execution velocity and stronger alignment with laser-sharp focus on ensuring customer success.
Shifting from a B2B marketing strategy to a B2BC marketing model

How can global CMOs most effectively prioritize their day? Rajdev is fortunate because everyone in the business views him as a experienced sales leader and advocate given his deep business acumen and prior experience as a senior sales executive at Wipro. Rajdev and his team work hard to ensure strong alignment with the sales organization in order to find the right audience. Wipro marketing has adopted a very powerful point of view in terms of orchestrating their marketing strategy based on a principle that shifts the traditional B2B marketing model to a B2BC (business to business's customer) engagement model.
"My day starts with 'what am I doing for the business?' and my day ends with "Did I take Wipro to the brand that we want to be, or not?" - Naveen Rajdev, CMO Wipro

Winning at the intersections

Wipro branding strategy at Davos and the World Economic Forum was to demonstrate winning at intersections - business to business, technology to technology and business to technology. Rajdev highlights the intersections between blockchain technology and the banking industry, or artificial intelligence's impact across all industries. Rajdev is focused on new business model innovation opportunities that exist between these transactions.
Evaluate technology based on relevance to desired business outcomes

Given the explosive expansion of new marketing technologies it is very important for CMOs to develop a robust marketing strategy in order to develop an invest roadmap. Radjev believes that CMOs and digital marketers must adopt a beginner's mindset and experiment with new technologies. From mobile, social and marketing automation technologies, Rajdev and his entire marketing team are very experimental and innovative with their use and adoption of new technologies.
To learn more from one of the smartest digital marketing CMOs in the world, please follow Naveen Rajdev at @NuNaveen.
REAL LIFE. REAL NEWS. REAL VOICES.
Help us tell more of the stories that matter from voices that too often remain unheard.