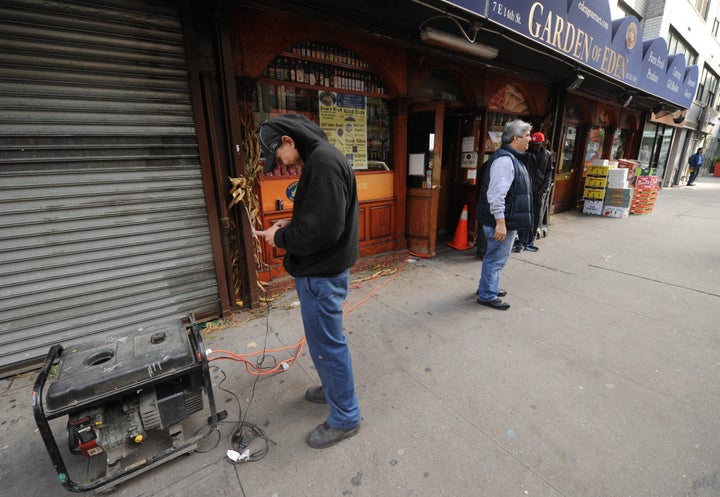 One key factor helps explain why communities ravaged by Hurricane Sandy could not use cell phones to call for help and communicate with the outside world: mobile telephone companies have for years lobbied to kill rules that would have forced them to maintain backup power at their cell phone towers.
After Hurricane Katrina knocked out communications along the Gulf Coast, federal regulators proposed that wireless companies have backup power at all cell towers.
But the wireless industry sued to block the requirement, saying it would be a financial burden and regulators didn't have authority to impose it. An appeals court later sided with the industry.
This week, as Sandy dealt a severe blow to the nation's most populous region, about one in four cell towers failed, leaving thousands of customers unable to make cell phone calls for days.
The outages exposed weaknesses in wireless communications during disasters and renewed questions of whether carriers should be required to make their networks more resilient.
"The biggest issue is they have not wanted to invest the money in hardening their networks sufficiently against a catastrophic event," said Harold Feld, senior vice president at Public Knowledge, a public interest group.
To prepare for hurricanes, wireless carriers say they adhere to "voluntary, industry-based best practices," such as using portable cell towers on wheels, known as COWS, as temporary towers in areas without service. AT&T and T-Mobile allowed their customers this week to use each other's networks in New York and New Jersey until their networks were fully restored.
But there are almost no rules on how wireless companies should respond to severe weather. While they work closely with federal agencies during storms, they are not required to file detailed emergency plans with them beforehand.
"It's basically left up to the industry to decide whether to put plans in place," Feld said.
The reliability of wireless service in a disaster has become increasingly critical as more Americans ditch their landlines for cell phones. The percentage of cell phone-only households has risen from 18 percent in 2008 to 34 percent today, according to the National Center for Health Statistics.
Last year, the Federal Communications Comission sought public comments on how wireless providers should strengthen their systems, citing "the inadequacy of backup power" as a key reason for wireless failures during emergencies.
Most cell towers -- but not all -- have backup battery power, ranging from several hours to a few days, according to Chris Guttman-McCabe, vice president of regulatory affairs for the CTIA. After Hurricane Sandy, the carriers relied on generators to keep the cell sites running, but expressed concern about fuel shortages.

Last fall, Connecticut State Sen. Andrew Roraback (R-Goshen), proposed a bill that would have required all cell towers in his state to be equipped with backup generators. He introduced the bill after a snowstorm knocked out power at towers near his home, leaving his cell phone useless.
"It's a real public-safety issue," Roraback said in an interview. "When you lose your landline in a storm, the last way you have to communicate is with your cell phone. When the cell tower goes out, you're left with no means of communication. You're stranded."
The industry opposed the bill. It was later modified to require state regulators to conduct a study on how to ensure cell coverage during severe storms.
During hurricanes, wireless networks depend on more than just cell towers. They also rely on fiber or copper wires -- known as "backhaul service" -- and switching centers to transmit calls between towers. This week, Verizon said that one of its key switching centers in lower Manhattan flooded, and its copper wires were damaged as well. Other wireless carriers also said their networks can become overloaded by sudden spikes in usage during emergencies.
As power returned to many areas over the weekend, wireless carriers reported that more than 95 percent of their cell towers in areas affected by the storm were working. But they remained vague about what areas still lacked cell service. And on Sunday, some customers were still begging for connectivity, six days after the storm.
"Please send a mobile cell tower and power linkup to Long Beach, NY," one Twitter user wrote Sunday. "It's been decimated by Sandy. No AT&T service there, lots of need."
For wireless customers, the question going forward is whether they can count on the industry to prevent such outages in the next hurricane, or whether regulators should create new rules to ensure that they do, Feld said.

"Are we just going leave it to the industry that in another one of these crises they'll invent this stuff from scratch, or do we want to tell regulators they need to actually put some standards in place?" he said.
Related
Before You Go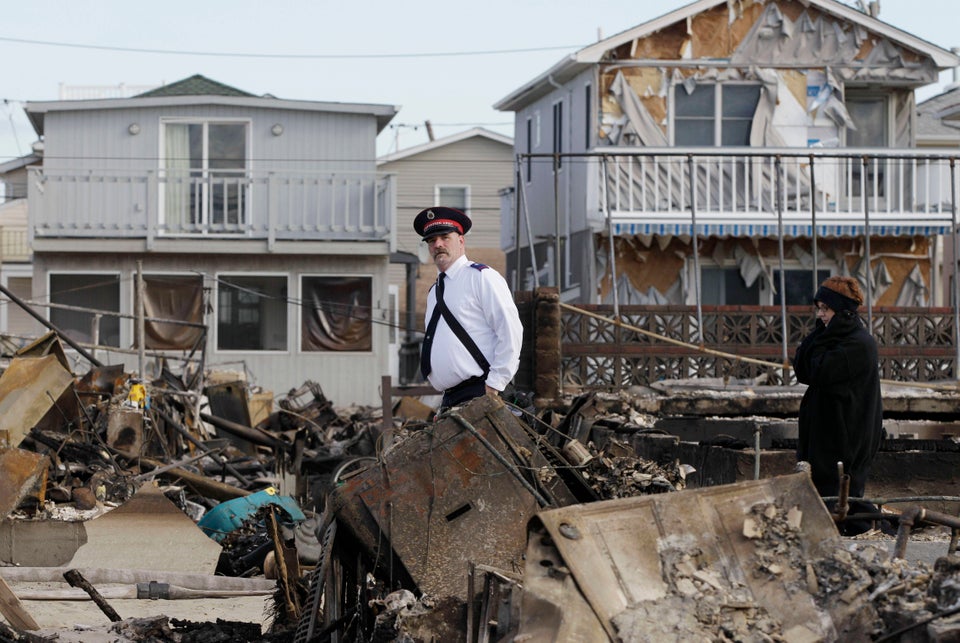 Hurricane Sandy
Popular in the Community