By Rita Abban, WiSci STEAM Camp parent
So I got caught up in all the feverish preparations for my daughter to attend WiSci STEAM Camp. The first of its kind so there was basically nothing to read on. I spent time reading about the country and worried over its neighbor and the political unrest there. "But never mind", I was told, security was assured.
My daughter, Anne-Marie is a natural artist and does equally well in the sciences. We had always traveled together and so this time it was different as she would be traveling on her own, with her peers. I found nothing wrong with this, as I believed she could manage, though still as a mother I worried a bit. Anne-Marie has leadership qualities and takes initiative; something which endears her to her colleagues and teachers. I had observed though, that she would sometimes hesitate with initial challenges, seeking an opinion or other before making a move. Somehow I believed the camp could change that.
Wasn't I right? WiSci experience emboldened the lion. I saw a new outlook in her, in handling issues, bringing others on board and charting a path. Her group at the WiSci camp won the coveted technology prize. Based on the theme "Floods must go", the technology aimed at preventing flooding which rendered people homeless and caused loss of life. This humanitarian spirit is consistent with Anne-Marie's nature of showing concern and trying to improve the plight of others.
Back in school (SOS-Hermann Gmeiner International College), she had the opportunity together with her colleagues to make a presentation on WiSci experience. This whipped up interest of other girls. She campaigned for position in her school's Pan African Club, got nominated to head some of her hostels events and got selected as a monitor. It didn't end there. She has pursued her passion to improve the lot of orphans at the SOS Villages, in addition to her school work. She did this by starting a new group/club in her school which she heads, called "Art2Math Foundation". This is with the approval of the principal and school management team. The main aim of this group is to teach orphans at the SOS Villages (at primary to Junior High School level) the Universal Concept Mental Arithmetic System (UCMAS) and various concepts of Art. This group works under the Creativity Activity Service (CAS) project of the school.
With the support of UCMAS Ghana Ltd. and her school, training has been provided to members the club who will go on to teach the UCMAS concept. Other members will teach art concepts. The Artists Alliance Gallery in Ghana will support art work through mentorship. The underlying philosophy is to impact the brain development of these young ones in order to enhance analytical skills in the different subject areas.
I guess what is even more inspiring for me as a mother, is that Anne-Marie has gone a step further by trying to solicit support from various institutions and donors to undertake this laudable cause. The funds which are contributed to and managed by her school (SOS Hermann Gmeinner International College) are intended to make this project sustainable by providing the needed materials and equipment, as well as ensuring the club carries on its activities over a longer term. That is to say, long after Anne-Marie leaves her school this charitable work will still go on.
On the home front, Anne-Marie is an active parishioner at our church, Christ the King Parish in Accra. She is always willing to help with church work especially for the youth. She recently was co-opted as a member of the interim executive of the newly inaugurated Catholic Students' Union.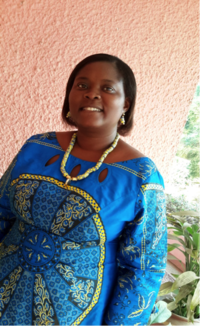 Rita Abban holds an MSc. degree in Financial Economics, MPhil degree in Management and is pursuing further studies. Currently she works at the Head Office of the Council for Scientific and Industrial Research in Ghana as the Head of the Intellectual Property Office. She provides consultancy services in business development among others. In between travels, Rita enjoys reading, walking, and, giving talks.