By Joseph Nsengimana, Executive Director of WiSci STEAM Camp
Week two was simply spectacular! When was the last time you saw teenagers choose to remain in classes to do work instead of taking a break, never mind an afternoon break? Well, I witnessed this multiple times during week two of the WiSci2015 camp! The interest and enthusiasm that the campers displayed were inspiring. I have no doubt that these young ladies are tomorrow's innovators and I, for one, am sure tomorrow is in good hands!
The Intel Education Service Corps (IESC) trainers were a hit with the campers! The multi-months planning paid off indeed; the training went smoothly and captivated the campers' attention throughout the week. From day one, the WiSci2015 girls were excited by the hands-on aspect of the robotics training that the Intel team delivered. They loved the fact that they can make things; it was moving to see how excited they got when they were able to use the Intel Galileo ™ board to control LED strips and program them to display theirs or their friends' names. The excitement reached fever pitch when they programmed and raced miniature cars on Friday, as part of their week two friendly competition.
With week one and week two training under their belts, the campers are ready to put their newly acquired skills to the test! In groups of 4, they will choose a project, plan/design it, and implement it this upcoming week. They will have a chance to present it to their peers and outstanding projects will be recognized. Good luck to them all!
Week two wasn't all robotics. The campers were treated to mentor hours conducted by inspiring and motivating women. They heard from Dr. Frances Colon, Acting Science and Technology Advisor to the US State Department. They also heard from mentors from TechWomen, an initiative of the US State Department that support women leaders in STEM in Africa, Central Asia and the Middle East.
Leadership training was in full display on Friday afternoon. I got to witness the girls practice their elevator pitch. I was recruited to be one of the people they were pitching to and my task was to give each one of them my made up business card if I thought she was effective. Well, all girls but one got a card! Even the one that didn't get a card, it wasn't that she was ineffective, it was simply that she was asking for assistance with agricultural content --a sector that my assigned persona had no expertise in; the technical side, she had it down!
Of course the week couldn't be complete without some fun! Culture nights were the highlights of most of our evenings! The presentations were done with the fanfare that only teenage girls can successful display. As was for week one, week two was also caped with an outing; the visit to Akagera National Park. Rise at 3:00 am... that is right 3:00 AM! The 3 hour drive from Gashora Academy to the park, plus a whooping 5 hour drive through the park itself made for a long day. We saw a beautiful landscape of rolling hills and a lot of animals! We even took zebra selfies! The buses arrived at Gashora by 7:30 pm. Somehow, the girls were still energized! Where do they get the energy?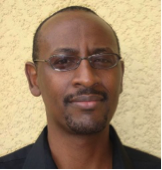 Joseph Nsengimana is the Director of Programs and Strategic Alliances at the Intel Foundation. In his role, Joseph oversees all programs funded by the foundation and supports innovative partnerships to develop technology solutions and education opportunities for girls and women, as well as programs targeting youth development. Joseph and Thomas Debass of the State Department are the initiators of the WiSci project and he is the Executive Chair of the Camp. From 2008 to 2012, Joseph was based in Johannesburg, South Africa, where he held the role of Director of Corporate Affairs Group and Strategic Alliances in Africa for Intel Corporation. In this role, he led a team responsible for government affairs, ICT and broadband policies, and CSR in Sub Saharan Africa. He advised and assisted governments, regulating agencies, and bilateral and multilateral development organizations on the use of technology to fast track development. As part of Intel education programs, Joseph and his team worked with 12 ministries of Education in Sub-Sahara Africa on their education transformation. Joseph served on the technical advisory committee of the African Leadership in ICT project to build capacity and raising awareness of African leaders on the issues of Knowledge Society, ICT, Education, Science & Technology and Innovations in support of EU-AU Strategic Partnership 8 and AUC action Plan; as well as on the ICT Taskforce of the Association for the development of education in Africa (ADEA). Joseph holds a BA and MS in Electrical Engineering from Brigham Young University.
Calling all HuffPost superfans!
Sign up for membership to become a founding member and help shape HuffPost's next chapter