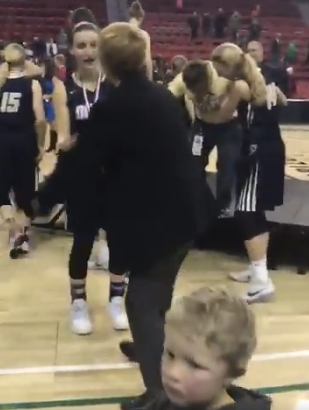 We all need a hug sometimes.
Organizers of a high school basketball league in Wisconsin issued an apology on Monday after a league official refused to let the younger brother of a girls basketball player onto the court for a postgame hug.
The video was shared by Nic Levy, father of Appleton North junior Sydney Levy, who is seen attempting to reach her younger brother, 3-year-old Jaylen, according to USA Today. The hug had become a postgame tradition for the little boy and his big sister. 
"Obviously, it was disappointing that I didn't get to hug my brother, but just because the video was of us and the fact that he was a 3-year-old little boy, it doesn't mean we are the only ones affected," Sydney Levy later told WBAY. "I had teammates who had family travel from all over who didn't get to celebrate with them, so that was disappointing."
The Wisconsin Interscholastic Athletic Association acknowledged the incident and said that it had expressed its regrets for any difficulties brought on by the situation. A statement released Monday by WIAA Director of Communications Todd Clark reads as follows:
The Wisconsin Interscholastic Athletic Association acknowledges that the short video clip that was released on social media Sunday may be seen by the casual observer as insensitive. In the celebratory situations following a State championship, it is not possible for the WIAA to know the individual traditions and rituals of all the schools, teams, families and players involved. For the safety of all involved, we keep spectators off the playing surface. As an organization that runs large events on a regular basis, our focus is always on the safety and "what if" situations that can evolve quickly and cause potential harm to innocent bystanders. When the WIAA staff receives advanced requests regarding special family situations or needs, we do our best to accommodate if and when possible. The WIAA has reached out to the family to express its regrets for any distress they may have experienced.
On Monday, Nic Levy shared a few additional thoughts on Twitter, highlighting the Appleton North High School girls' impressive 28–0 season.
REAL LIFE. REAL NEWS. REAL VOICES.
Help us tell more of the stories that matter from voices that too often remain unheard.
BEFORE YOU GO