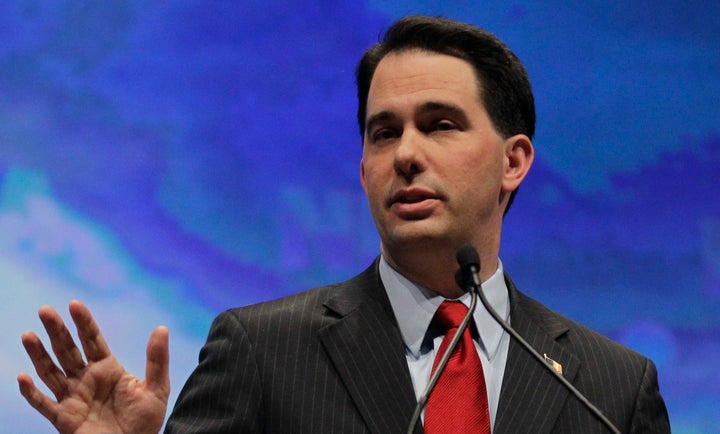 We've heard about all of the out of state money that's gushing into the Wisconsin's recall races. One Virginia-based group that is pouring money into Wisconsin but getting little notice is the Republican State Leadership Committee.
The group played a pivotal role in flipping the Wisconsin state senate, assembly, and the governor's mansion in 2010. The group says it spent $1.1 million in Wisconsin in 2010 election. For the 2012 election cycle, the total is closing in on $1.3 million.
That's a big chunk of change for a group that first spent money in Wisconsin in 2006 when it supported J. B. Van Hollen in the attorney general race.
"We felt that if we don't win here, if we don't put up a fight, then it will have a ripple effect on Republican reforms around the country," RSLC president Chris Jankowski told Politico about the group's recall efforts. (The RSLC did not respond to my requests for comment.)
The brainchild of Republican stalwarts Karl Rove and Ed Gillespie, the RSLC spends most of its money on negative ads and that's exactly what it's doing in this race. And just like 2010, it's saturating the public airwaves and sending out lurid direct mail at the tail end of the campaign season.
In 2010, the RSLC spent nearly $500,000 on negative ads against Russ Decker, former Democratic majority leader and state senator. It was the only group to target Decker, who, after losing, pitched a petulant fit and deep-sixed new contract accords with state unions.
Republican Pam Galloway won the race against Decker. Although she has more years left in her term, in March Galloway announced plans to retire early, saying she wanted to spend more time with family. Galloway said her resignation did not have anything to do with the recall election she faced.
These days, RSLC television ads are once again flooding the airwaves of this north central senate district, where Republican Representative Jerry Petrowski is running against Representative Donna Seidel.
"Donna Seidel measures success differently than others," the narrator says. It then cuts to video of Seidel saying, "In the last session when the Democrats were in charge, when I was in a leadership role, we advanced job growth policies that were very, very successful."
"Successful?" asks the narrator. There were "mass layoffs, plant closures, rising unemployment rates, all when Seidel was in charge. Her recipe for success costs us jobs and money. Seidel voted no to almost half the job bills voted on last year, even one that would have created thousands of jobs. Donna Seidel? She's got the wrong recipe."
Seidel, a former police officer and investigator in Marathon County and former assistant Democratic Assembly leader, was not happy with the negative ad.
"Obviously, I'm very disturbed by the $117,000 the Republican State Leadership Committee spent to attack me," she says. "It distorted my jobs records, and on top of that, it attached the attack to a recipe card."
"People in my district were shocked by both aspects," she says. "It's sexist, offensive and it's wrong."
I asked Seidel if she was surprised that the ad used the jobs issue, considering Walker's record in state.
"Absolutely. With Wisconsin being dead last in jobs across the country, with every other state in the nation gaining jobs, for them to come after me, it's very disturbing," she says.
Another disturbing ad is being distributed by the RSLC in the Racine area. In the hotly contested District 21 race, Democrat John Lehman is challenging Republican incumbent Van Wanggaard. The Democrats consider this a winnable race, as Lehman held the senate seat before Wanggaard beat him in 2010.
The RSLC sent out a direct mail package with racial overtones. A young woman has a terrified look on her face as a man's hand covers her mouth. "You're not safe," the mailer reads. "Thanks to John Lehman." On the back is a faceless man wearing a hoodie, a la Trayvon Martin.
The accusation is based on Lehman's support for the 2009-2011 state budget, which included an early release program for prisoners.
The mailing is nearly identical to the ads the RSLC sent out against Kathleen Vinehout in 2010. The hoodie, though, is a new addition.
"We've seen that some of the trashiest advertising done in recent years is done by phony front groups and outside interests," says Mike McCabe of the watchdog group Wisconsin Democracy Campaign. "They aren't accountable to voters. They don't face a backlash at the polls."
The Republican State Leadership Committee is a stalking horse for corporate America. Top contributors include Altria (formerly Philip Morris), Anheuser-Busch, Citigroup, Comcast Cable, Exxon Mobil, Home Depot, Monsanto, PhRMA, the U.S. Chamber of Commerce -- its biggest funder -- Verizon and WellPoint.
"The dirtiest work is now being done not by candidates, but by outside groups," McCabe says. "Outside groups that have no real interest in Wisconsin, they can travel the low road, get in the gutter, and no one can hold them accountable."
Seidel says her constituents are concerned about accountability. "People are concerned that the voices of citizens are being drowned out by Super PACS and millionaire contributors," she says. "People ask me, 'If these groups are successful in buying this election, what will Petrowski owe them?' "
At this point in the recall races, there are very few undecided voters, and negative ads are generally most effective when candidates are unknown. Regardless, the RSLC and other outside groups are not leaving that to chance. The real unknown in the recalls are not the candidates, but the special interests that fund the negative ads.
"As campaigns get more expensive, and campaigns get dirtier and more lurid, candidates have sort of warmed up to these groups, accepted them as part of landscape," McCabe says. "We don't hear people condemning them like they did a few years ago. It's a sad development."
Calling all HuffPost superfans!
Sign up for membership to become a founding member and help shape HuffPost's next chapter