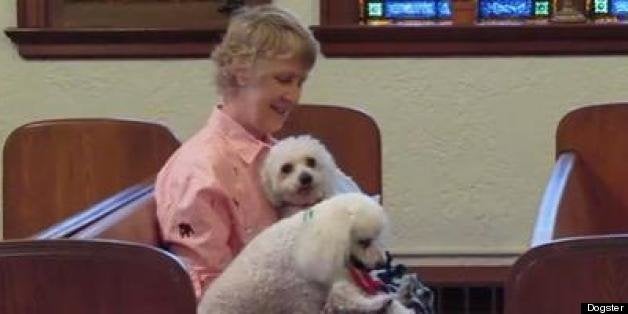 First it was restaurants. Then weddings. Dogs are being invited to more places (despite people ruining the party with fake service dogs). What's next?
"Church!" you might be thinking. "What about church? Are dogs allowed in church, hot-shot?"
Yes they are! At least if you attend Wesley United Methodist Church in Sheboygan, Wisconsin. (You do, don't you?) At the 9 a.m. service, dogs are allowed to worship with the parishioners, or at least just quietly relax, according to a story by Sheboyganpress.com.
Thank the Rev. Ann Bullis for the unusual service -- and those bold parishioners who made the request in the first place.
"About two months ago (some congregants) came up to me and said, 'Boy, I wish I could bring my pet to church. Can we bring our pets to church?'" Bullis told Sheboyganpress.com. "And we said, 'Why not?' We couldn't come up with a reason why not."
Story continues after photo.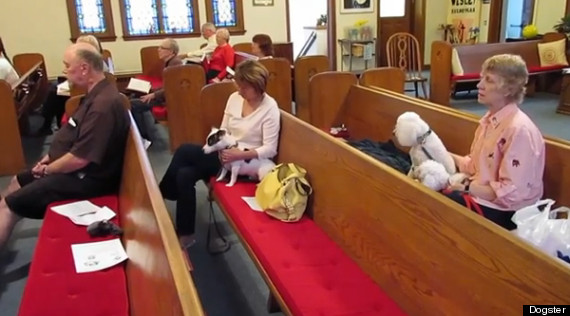 "Dogs go to heaven," Bullis added. "What would (heaven) be without our dogs? Heaven is supposed to be a happy place."
The congregation was game, and thus far, a handful of people have elected to bring their dogs. People including Louise Hansen, 62, who regularly brings her husband and her two Bichon Frises, Libby and Dolly, to services.
"They're very much a part of my life and I consider them family members," Hansen said. "They're a real blessing, and God truly cares about animals. ... I always refer back to Noah and God saving his family and the animals from the flood. And I always feel that animals reflect the unconditional love that God has for his children."
"From what I've seen from the two times I've been there, it tends to bring smiles to people's faces," Hueppchen said. "The majority of the people, they all like to see him, and (Diego) loves being around people."
Admittedly, this policy won't work at every church. It needs a open, casual atmosphere -- especially with the potential for barking and accidents -- and that's exactly what Bullis is gunning for. In the past few years, the church has made it a goal to be more open and welcoming. Coffee, too, is permitted at church.
"We're just more casual. We're not formal at all," Bullis said. "I think it just goes with today's society. People just like to roll out of bed and not put a lot of effort into dressing up. We're just more of a family atmosphere. I can preach over kids and I can preach over dogs. It doesn't bother me in the least."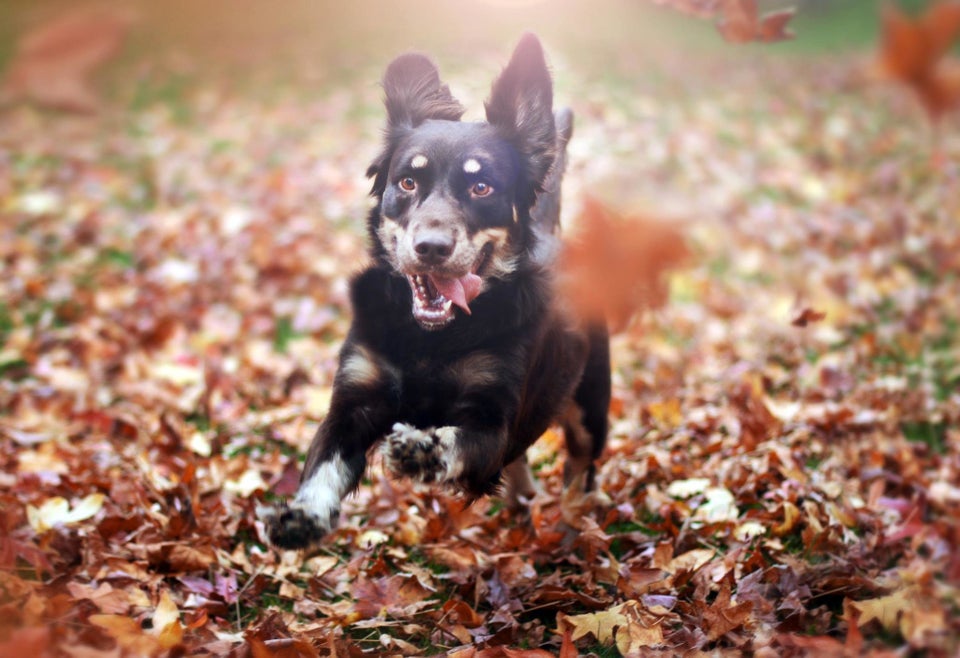 Jessica Trinh's Stunning Pet Photos
Popular in the Community