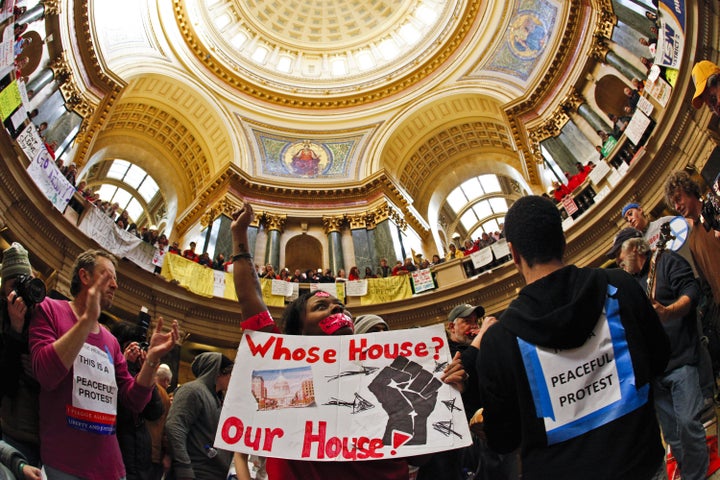 This report is part I in a two-part series on a behind-the-scenes look at the Wisconsin collective bargaining fight. Read part II here.
WASHINGTON -- On the morning of March 10, representatives of the 28 agencies within the Wisconsin government convened a conference call to assess the damage done the evening before, when the Senate rammed through anti-public worker legislation with all 14 Democratic lawmakers self-exiled in Illinois.
The officials had one overriding fear -- that a widespread strike would paralyze the state. Agency after agency reported that morale was "poor," "low," "glum" or in "shock" and that employees planned to show up dressed in all black in protest. But most importantly, they were showing up. Republican Gov. Scott Walker, at least for now, had won.
"This morning, the Human Resources Directors reported that attendance is normal and employee morale is poor," summed up the Wisconsin Office of State Employment Relations, according to Department of Administration documents provided to The Huffington Post in compliance with an open-records request.
"DOC [Department of Corrections] and DHS [Department of Health Services] reported a rumor that tomorrow is 'Black Friday', during which employees will wear all black. There are rumors that there will be an after hours protest at the School for the Deaf, and that Teaching Assistants and Graduate Assistants may be planning a walkout this week. Some students from Madison high schools have left school in order to demonstrate at the Capitol," emailed Jessica O'Donnell, the executive assistant in the Office of State Employment Relations on March 10.
"[N]ormal attendance. Mood is glum," read the update from the Office of Credit Unions -- a sentiment that seemed widespread across the Wisconsin state government that day.
"The Senate is coming in tonight to pass the non-fiscal items in the bill and the Assembly is tentatively scheduled for 10:00 tomorrow. The Capitol Police are aware," wrote DOA Executive Assistant Jodi Jensen in an email at 4:23 p.m. CST to Edward Wall, administrator for the Wisconsin Department of Justice's Division of Criminal Investigation.
"Can you call my cell below?" responded Wall within minutes.
What made the event so bold was that Senate Democrats had been out of the state for nearly a month to deny their GOP colleagues the quorum needed to pass budget bills. The collective bargaining provision was contained in a wider fiscal measure. By isolating the labor language alone, Republicans didn't need votes from Democrats.
While labor unions quickly condemned what the legislature had done, officials told The Huffington Post at the time that a general strike -- a large-scale strike by all workers in particular industries -- was not in the works.
Fears of a general strike had been as poorly founded as concern about violence -- but that didn't stop the Walker administration from calling out the SWAT team to prepare for the aftermath.
At 8:19 p.m., Wall emailed DCI staff, alerting SWAT team members of their duties for the next day.
"All DCI agents are being called to duty tomorrow. Unless out of state on approved leave, ALL agents are to report to WSIC [Wisconsin Statewide Information Center] by 8am. SWAT team members are to report to WSIC by 7am and will be detailed to HQ to secure the building and other high priority areas," wrote Wall, adding, "As you have probably heard, the situation is very tense. Over 4,000 have breached the Capitol doors and climbed through the windows. The crowds outside are also growing rapidly. Protesters were blocking the entrances to HQ and the parking garage."
But even in the days leading up to the vote, the Walker administration was on the alert for internal disruptions.
On March 8, for example, Arthur Zoellner, the director of continuity of government in DOA emailed out a "daily situation report" to various government officials about attendance, operational ability, informational picketing and job actions at 16 state agencies. That day, there was picketing at DOA, DOC and the Department of Revenue. All agencies reported normal attendance.
The pre-passage monitoring extended to Twitter. On March 9, University of Wisconsin-Madison Police Chief Susan Riesling sent an email to Wisconsin officials, including DOA head Mike Huebsch, about an analysis of the four main Twitter "accounts," which seem to be references to the hashtags #protest, #wisconsin, #wiunion, and #strike.
"So what does this mean? It means we have identified all of the main twitter accounts used by folks engaged in legal protest activities involving our Capitol and the Capitol Park," she wrote. "It also shows what [Department of Natural Resources Chief Conservation Warden] Randy Stark and I talked about in our meetings -- which is the minute we (law enforcement) does something it is shared quickly with lots of others via twitter."
She added that they had joined some of these Twitter "accounts" to view the tweets and keep up to date.
"This is perfectly legal for us to do," she assured the email recipients.
DOA Documents On Agency Updates:
Support HuffPost
The Stakes Have Never Been Higher
Popular in the Community