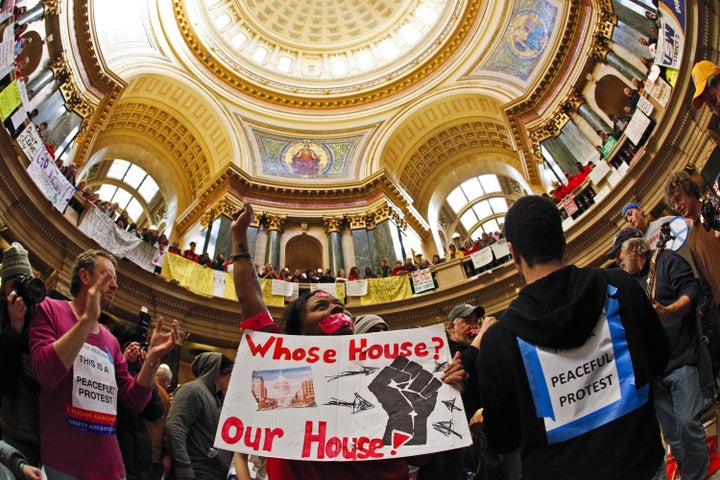 WASHINGTON -- It's day four of exile for Wisconsin's Democratic state senators, who crossed state lines in order to stall the expedited passage of Gov. Scott Walker's (R) budget proposal. Although many of the governor's supporters have called on them to come back to Madison, Democrats are ready to stick it out in Rockford, Ill. until Walker agrees to negotiate.
"We'll be here until Gov. Walker decides that he wants to talk," said state Sen. Tim Carpenter (D) in an interview with The Huffington Post on Saturday. He added that so far, the governor refuses to meet with them or even return the phone calls from members of the Democratic caucus.
"He's just hard-lined -- will not talk, will not communicate, will not return phone calls," said Carpenter. "In a democracy, I thought we were supposed to talk. But the thing is, he's been a dictator, and just basically said this is the only thing. No amendments, and it's going to be that way."
"Clearly, we offered a viable compromise at the end of last week," said state Sen. Robet Wirch (D), who is in northern Illinois, but not in Rockford with other members. "We wanted the clergy to come in and mediate this thing. But the governor just has his feet in cement."
Walker's office did not respond to The Huffington Post's request for comment.
On Friday, union leaders in Wisconsin agreed to the part of Walker's bill that would require public employees to double their health insurance contributions and contribute 5.8 percent of their salary to their pensions. Walker has argued that concessions by public workers are necessary in order to help the state's financial situation.
But in return, unions have asked Republicans to remove the provision that would essentially strip away the collective bargaining rights of public employees. Senate Majority Leader Scott Fitzgerald has said, however, that the measure is non-negotiable.
"As long as there's no willingness to reconsider that position by the governor, there's no willingness among us to return," state Sen. Jim Holperin (D) told The Huffington Post, who said that Democrats meet every single day as a caucus and regularly discuss when and if they should return to Wisconsin.
"The big issue is, this is a fiscal adjustment bill," added Carpenter. "The labor unions have said, okay, we'll make the concessions on health care and the pensions. But having something that's a non-fiscal item -- a separate part of the statute --- put into the emergency bill, with hardly any review and it's very complex -- we're the first state in the nation to have it -- the bill will pass. All he has to do is say he will pull back the attack on workers' rights. That's all we're asking."
"He just has a great disdain for worker rights. That's the only thing you can figure after his reaction to that," said Wirch.
Without the Democratic senators, the Republican-controlled Senate does not have enough members to reach a quorum, meaning they can't move forward with legislative action -- and can't pass Walker's bill.
Stalling final passage is, for the Democratic senators, key to their strategy of getting enough public support to oppose the measure. One of their principal complaints -- a sentiment shared by unexpected allies like the Greater Madison Chamber of Commerce -- is that Republicans tried to push through the bill with little public debate or scrutiny.
Many state residents were infuriated earlier this week when Republican Assembly members refused to stay around and listen to their testimony. In an interview with The Huffington Post on Saturday, Democratic Rep. Brett Hulsey said that members of his caucus continued to listen to hundreds of hours of testimony.
"There are many issues in that bill that people were not aware of because it was only introduced on Monday, less than a week ago," said Holperin. "And Republican legislators insisted that following a public hearing on Tuesday, we take it up on Thursday, and vote for it immediately. Well, there's a reason that they wanted to act very very quickly and pass this 140-page piece of legislation in only three days. Their reason is now becoming a little more obvious. There are a lot of things in that bill that they didn't want people to know about, and they wanted to get done."
Last week, Democratic legislative offices were inundated with callers directed to them from a Republican National Committee robocall. Chairman Reince Priebus -- who used to be Wisconsin's state GOP chair -- instructed listeners to tell their Democratic state senators to get back to work.
Both Carpenter and Holperin insisted that being Green Bay Packers fans in Chicago Bears country was no picnic, and they were continuing to work, talk with constituents and attempt to reach an agreement with the governor.
"It's not like we have our feet up and we're watching TV and smoking cigarettes and drinking beer," said Holperin. "We're in constant contact with those we need to be in contact with, and I think especially in today's age of technology that one's physical location is increasingly irrelevant. The question is, are you available? Are you doing the things you're paid to do and making the decisions you're paid to make? I know all of my colleagues are in that position."
Holperin is one of the Democratic senators who could face a recall effort by conservatives in the state. Under Wisconsin law, any elected official who has been in office for at least a year is eligible to face a recall vote from the state's voters. However, after facing such an effort -- which was ultimately unsuccessful and actually opposed by the then-Republican governor Tommy Thompson -- he isn't too worried.
"I've never lost an election," he said. "I understand the anger of people on both sides of this issue, and so I understand why people are criticizing us for walking off the floor of the Senate. But that was the only tool procedurally that we had available to us, to delay the bill so that people could look at what's in it. We don't have a filibuster in Wisconsin really, like they do in Washington. So I'm sure some people view the recall as their only tool to make a change. That's a somewhat lengthy process and we'll see what happens. I don't think too much about that right now."
"You always worry about that," said Wirch, who may also be a target of a GOP recall effort. "But I think Republicans are on the wrong side of public opinion, quite frankly. So I would welcome that battle."
Popular in the Community