 MILWAUKEE -- Every day is Election Day for the next two weeks in Wisconsin.
Early voting in the state kicked off Monday morning, and it will run through Friday, Nov. 2. After that, voters will have to wait until Election Day, Nov. 6, to go to the polls. Unlike several other states, Wisconsin doesn't require voters to give any reason to turn in early absentee ballots, and both Republicans and Democrats will be working hard to turn out their troops over the next two weeks.
Approximately two dozen young supporters of President Barack Obama were very enthusiastic about voting early Monday -- so much so that they camped out in front of the Frank P. Zeidler Municipal Building in downtown Milwaukee on Sunday night in order to be first in line.
"As a volunteer for the campaign, I've done a lot of work here, and I just want to make sure I'm the first one to vote for Barack Obama," said Nate Smith, 22, a student at the University of Wisconsin-Milwaukee. "I'm really passionate about why it is I'm voting for him. I believe in everything he's done as far as Pell Grants go. I need an education. As a twin, both of us are going to school at the same time, and it's really hard for my parents to pay for college. So it's really important for me to show him that I really care about his policies."
There were at least five tents set up along the sidewalk outside the municipal building on Sunday night, along with some sleeping bags and cots that weren't protected from the elements. There were plenty of hand warmers and snacks, as well as hula hoops, soccer balls, cornhole sets and board games to get them through the night. Despite the fact that it's midterm week at UW-Milwaukee -- with many students, including Smith, facing exams on Monday -- there weren't many study books around.
Smith was the first one in line on Monday morning, but the person who ended up turning in the first ballot in the entire city of Milwaukee was Katie Miller from Marquette University.
"I got to see them rip open the shrink wrap on the ballots, which was pretty cool," said Miller.
Early voting in Milwaukee started at 8:30 a.m. About a half-hour before the doors opened, the several dozen people in line consisted mostly of the students and older African-American voters; they were predominantly Obama supporters.
For some, coming early was a matter of convenience. Carley Fleming, 63, said she had to attend a funeral later in the day and wanted to get voting out of the way. But, she said, she was also enthusiastic about supporting Obama's reelection.
Betty Carter took the bus to vote on Monday morning, telling The Huffington Post, "I'm as serious about this as a heart attack."
"I'm 79, honey. I've been living here a long time in the United States. I know what we've got at stake. I'm not crazy. I can't even see nobody in another line where they're going to cut women's rights and take things away from us that we've had all the time," she said. "I just don't understand it."
Carter said she was also troubled by the criticisms and disrespect thrown at Obama, believing it was mostly because of his race.
"Let's be real about it. All that Obama's done -- when Romney comes in, he won't have to do anything, because he's white," she said.
Milwaukee Mayor Tom Barrett (D) and actress Ashley Judd both showed up for early voting in Milwaukee, decrying the attempts by Republicans in the state to restrict voting rights.
Voters didn't have to show photo ID on Monday morning because courts have blocked the state's Republican-pushed law that would have required photo ID at the polls. Unlike Election Day, when Wisconsin will have many polling places set up around the state, there is just one location in each municipality for early voting. Absentee ballots can also be requested via mail, email or fax.
Both Republican and Democratic campaigns were active in Wisconsin over the weekend, reminding their supporters to get out and vote early. On the GOP side, Republican National Committee Chairman Reince Priebus, Sen. Ron Johnson (R-Wis.) and Rep. Paul Ryan's wife, Janna, were going around the state. On the Democratic side, both first lady Michelle Obama and Jill Biden were in the state.
The benefit of people voting early is simple: Life happens, and the campaigns don't want any unforeseen events stopping their supporters from making it to the polls on Election Day.
"You wake up on Election Day, you might have a cold, babysitter gets sick, it's raining, the car broke down, I could go on -- toilet overflowing," said Michelle Obama in Wausau, Wis., on Friday. "There are so many ways to mess up a day when you don't have a lot of time."
*************************
What's happening in your district? The Huffington Post wants to know about all the campaign ads, mailers, robocalls, candidate appearances and other interesting campaign news happening by you. Email any tips, videos, audio files or photos to openreporting@huffingtonpost.com.
Before You Go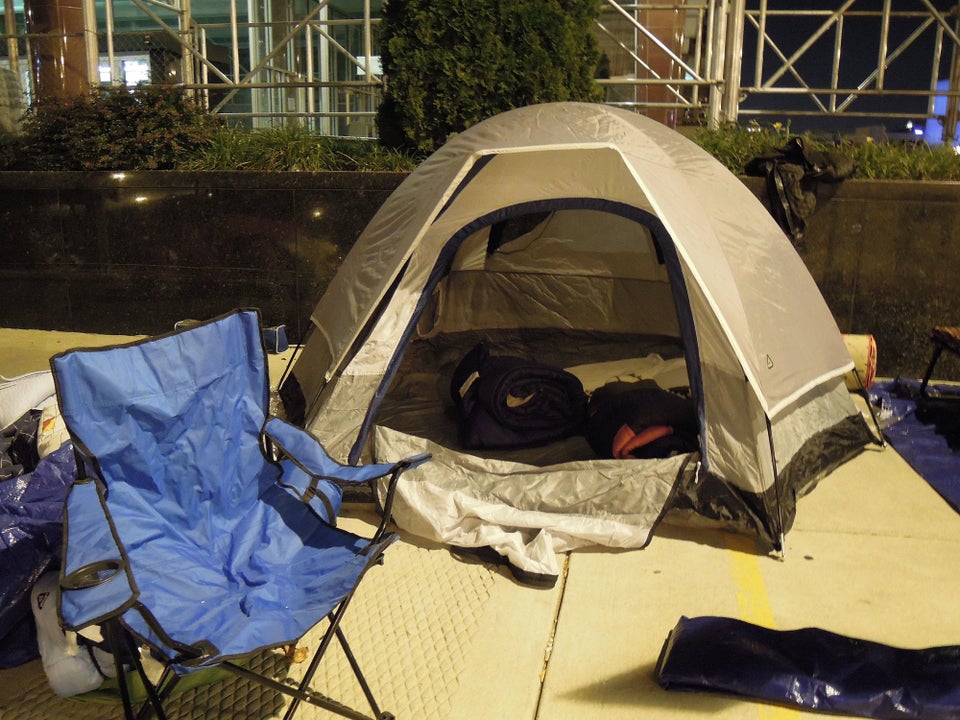 Early Voting In Milwaukee
Popular in the Community