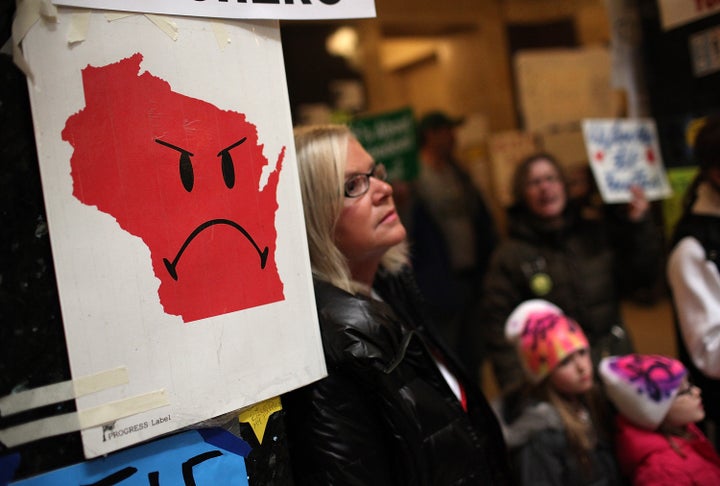 A Wisconsin Republican lawmaker is proposing that the state switch its distribution of electoral votes to district-based awards.
State Rep. Dan LeMathieu (R-Sheboygan County) emailed legislators Wednesday morning asking for support for a bill he filed to switch the state from winner-take-all electoral votes to distribution based on presidential candidates winning congressional districts, with only two electoral votes going to the statewide winner. The move follows the introduction of a similar proposal in Pennsylvania.
"This method would better protect the votes in each congressional district," LeMathieu wrote. "If I live in a congressional district that votes for a candidate that loses the statewide vote this method would allow my district to cast a vote for the candidate the majority of the voters in that district supported. This method would also decrease the incentive for fraud because you would only be affecting the outcome of one congressional district and the two at large votes, instead of all ten votes."
The Pennsylvania proposal was introduced last month by a Republican state legislator and has won support in the Republican-controlled legislature and from Gov. Tom Corbett (R). Eighteen of the state's electoral votes would be allocated based on votes in congressional districts and two would be based on statewide votes. An analysis in Mother Jones indicated that a switch in Pennsylvania could tip 12 electoral votes to the Republican presidential nominee with eight going Democratic, if the Democratic nominee captures the statewide popular vote.
No state has switched formats for the distribution of electoral votes since the 1800s. Currently Nebraska and Maine are the only states that allow for electoral votes to be distributed based on the winners of congressional districts. Wisconsin has 10 electoral votes and has voted Democratic in every presidential election since 1988.
Wisconsin Democrats quickly countered LeMathieu. State Rep. Kelda Roys (D-Dane County) emailed legislative Democrats urging them not to co-sponsor LeMathieu's bill and instead adopt the the national popular vote.
"Finally, this bill, if enacted, would make Wisconsin totally irrelevant in the presidential election," Roys wrote. "With 2 of Wisconsin's congressional districts likely to vote solidly Democratic, and 4 or 5 likely to vote solidly Republican due to the recent gerrymandering, there would be no reason for either major party nominee to spend any time or resources campaigning here or responding to our state's needs."

Calling all HuffPost superfans!
Sign up for membership to become a founding member and help shape HuffPost's next chapter