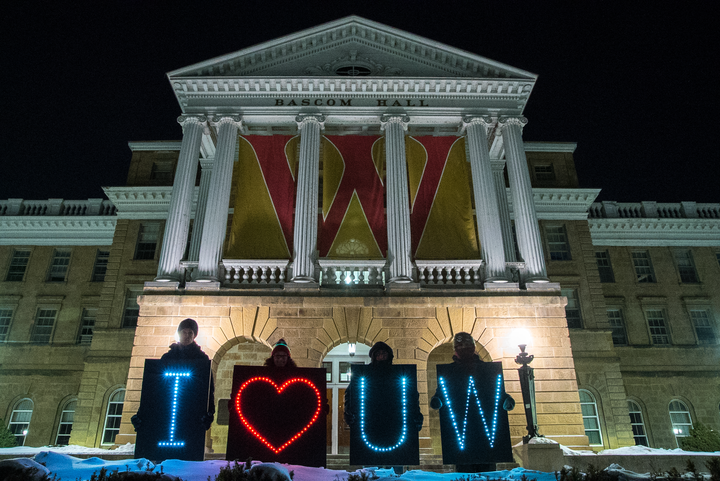 A national organization representing professors and a faculty union in Wisconsin said Wednesday that they remain concerned about the future of tenure in the state, despite changes in public drafts on the policies.
The American Association of University Professors and the American Federation of Teachers-Wisconsin issued a statement ahead of a University of Wisconsin Board of Regents meeting on Friday, where the regents will discuss proposed changes to faculty tenure policy.
Last year, the GOP-controlled Wisconsin legislature and Gov. Scott Walker (R) pushed through a budget that eliminated tenure from state law. Academics raised an outcry when it appeared that the new budget would allow governor-appointed regents to fire tenured professors simply because an academic program had changed in some way.
Tenure exists in higher education essentially to protect faculty from political pressure related to their scholarship or research. It doesn't mean that faculty can't be fired; it just establishes the process a university has to go through if it wants to sanction or fire a tenured professor. Part of that process involves the school citing a specific reason -- something a professor said or did -- for why it wants to penalize them.
Critics fear that Wisconsin's attack on tenure is an attempt to strip away protections for academics and make it easier for the state to silence certain voices if it wishes to.
In 2015, it was revealed that a draft of the University of Wisconsin regents' new policy would allow for layoffs of tenured faculty "when such an action is deemed necessary due to a budget or program decision requiring program discontinuance, curtailment, modification or redirection."
The draft policy has changed since then. As of this week, it does not include any mention of program "curtailment, modification or redirection" -- a change that both the AAUP and AFT-Wisconsin said they were pleased to see.
"We remain concerned, however, that some of the provisions in the draft regent policy documents fall far short of those standards," the groups' statement reads.
"Particularly alarming is the inclusion of a provision for program prioritization based primarily on financial considerations for the purpose of discontinuing academic programs and laying off faculty," it continues. "Actions taken by administrations at several universities in the name of program prioritization have led to investigations of violations of academic freedom and tenure as well as the imposition of censure by the AAUP."
Bypassing tenure for layoffs in financial emergencies is not unusual -- in fact, the AAUP's model guidelines include similar language. Those guidelines also say that laying off tenured professors is fine when the entire academic program is getting cut for the overall good of the institution. Still, they say, the process should include full faculty input.
Sara Goldrick-Rab, a professor of educational policy studies and sociology at the university system, has dubbed the proposed changes in Wisconsin "#FakeTenure." She wrote at Medium this week that she'll likely leave the state soon, and that she was dismayed by the earlier proposal to allow the university to lay off tenured faculty if the school decided there would be "curtailment, modification, or redirection" in their field of study.
"In my case, all that would be required is for the School of Education to decide that the Department of Educational Policy Studies no longer needs to include a scholar of higher education," Goldrick-Rab wrote. "As I'm the only one, I'm gone. Neat, complete, finite."
A number of people have written to the regents expressing concern about what tenure protection would be left, exactly, in the event of an academic program's "curtailment, modification, or redirection," as the earlier draft of the policy described. Many wrote that it's not clear "who gets to decide that a particular program may be curtailed, modified, or redirected," or what the procedures for that would look like.
"We remain concerned about the primary purpose of the legislative changes to tenure, due process, and shared governance," they wrote, "and we will have to reserve judgment as to the adequacy of the proposed policies to safeguard these bedrocks of US higher education until we see how they will be applied within the UW System."
UPDATE: 9:20 p.m. -- Alex Hummel, spokesman for the University of Wisconsin system, defended the tenure proposals and said they include AAUP feedback.
"The draft policies before the Board of Regents Education Committee on Friday were not only shaped and informed after feedback and guidance of AAUP but they also borrow heavily from peer policies at institutions including the Universities of Colorado, Iowa State, Maryland, Michigan and California and the University System of Georgia, the California State College System and the Minnesota State Colleges," Hummel told HuffPost. "Tenure in the UW System will be comparable and competitive."
Popular in the Community