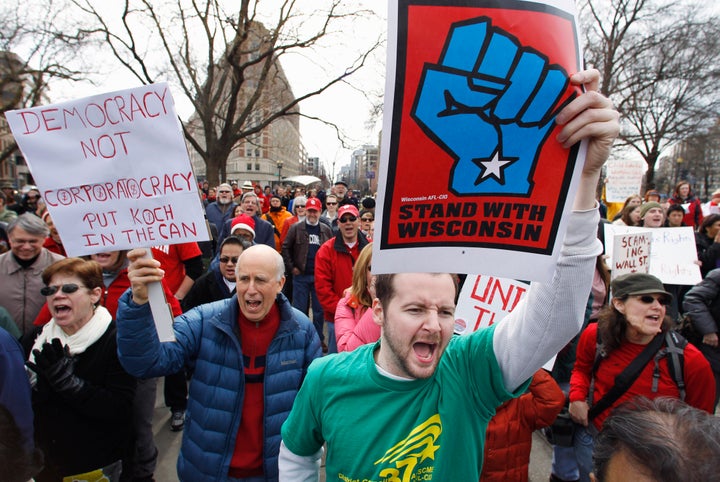 WASHINGTON -- Wisconsin's Republican state senators are attempting to commandeer the staffs of the 14 Democrats who have been camped out in nearby Illinois for nearly two weeks, the latest effort to convince their colleagues to return and move forward on Gov. Scott Walker's controversial budget repair bill.
A resolution proposed on Wednesday would allow Wisconsin Senate Majority Leader Scott Fitzgerald (R) to "assign supervision over any employee appointed by a Senator who is absent without leave for 2 or more session days." The absent senator would retain control of the office's data, however, presumably meaning that Republican senators would not be allowed to access the Democrats' electronic or paper files.
The measure is almost certain to pass, as the state Committee on Senate Organization, which has jurisdiction over such measures, is composedd of three Republicans and two Democrats. Fitzgerald's office could not be reached for comment.
The resolution has Democratic staffers spooked and unsure of what is coming next. One scenario worrying Democrats that if their new supervisor decides they're not adequately performing their duties and fires them.
"We have to figure out what it means to have a supervisor that is not our appointing authority," one Democratic aide told The Huffington Post. "We have been talking over possible scenarios in which we remain employed, and none of them look that good."
A senator in the minority typically has two to three staffers, according to state party officials. There is no precedent for such a measure, Wisconsin Democratic Party spokesman Graeme Zielinski said.
""They frequently threaten people with unemployment," said Zielinski. "But never has it been done to staff with regard to the capital as far as we know. But it is real. These are real people who do real jobs."
Zielinski also relayed that Democratic staffers at the capital were worried about the implications of such a measure though he said he did not know if the party had a contingency plan in place should scores of them end up unemployed.
Democratic State Sen. Chris Larson said that he had heard from nervous staff members about the resolution and planned to talk to each one individually about what would happen should they actually receive a new Republican supervisor.
"I want to make sure they are alright and that they are not going to be fired because the Republican governor doesn't want them sending a press release or reaching out to constituents," he told The Huffington Post, calling the GOP's latest gambit "quite disgusting."
"This is a full-on assault of workers rights. They are trying to reshape the way Wisconsin works," Larson added. "I keep joking that the next thing they are going to do is take away our lunch and shove us on the playground. They are becoming petty on this stuff."
State Sen. Jim Holperin (D) said he believes his GOP colleagues are growing increasingly uncomfortable in the national spotlight, especially in support of a bill that would strip collective bargaining rights for the state's public employees.
"I think this is something they never thought the governor would require of them, and many in that Republican caucus probably feel very strongly that workers' rights should not be completely eliminated in Wisconsin," Holperin said. "Their discomfort is frankly being taken out on their Democratic colleagues."
In another resolution passed on Wednesday, Senate Democrats will now face a fine of $100 for every day they are out of state.
According to the resolution, "a senator who is absent without leave from two or more session days is subject to a penalty equal to $100 for each day that the senator is absent without leave. In addition, the senator must reimburse the senate for the actual costs incurred to compel his or her attendance." If a senator does not pay the penalties within 30 days, the chief clerk may simply withdraw it from his or her per diem, travel expenses or other matters.
The resolution also authorizes the sergeant at arms to "request the assistance of any law enforcement officer in this state to find and return any senator who is absent without leave."
On Wednesday afternoon, MoveOn.org blasted an email to its members asking them to sign an "emergency statement of support" for Wisconsin's Democratic state senators that urges them to remain out of state.
"These senators have been away from their homes and families for almost two weeks now, at great personal cost," reads the email. "Their bravery has made this whole fight possible, and it can't be easy. That's why we need to show them that they have the support of millions of progressives nationwide -- and that as long as they stay strong, we'll stand with them."
The resolution that would put missing senators' staffers to work elsewhere has been reproduced below:
TO: Members of the Committee on Senate Organization
FROM: Senator Scott Fitzgerald, Chair
DATE: March 2, 2011
SUBJECT: Ballot 11-033 Policy Change Relating to Senators Absent Without Leave

[MOTION] Pursuant to Senate Rule 88 (1), the Majority Leader may assign supervision over any employee appointed by a Senator who is absent without leave for 2 or more session days. If the Majority Leader assigns supervision to a Senator other than the employee's appointing authority, the appointing authority remains the custodian of records for the office.

The following members are assigned to supervise the employees appointed by senators who are absent without leave:

Sen. Cowles is assigned to supervise the staff of Sen. Hansen
Sen. Darling is assigned to supervise the staff of Sen. Erpenbach
Sen. Fitzgerald is assigned to supervise the staff of Sen. Miller
Sen. Galloway is assigned to supervise the staff of Sen. Jauch
Sen. Harsdorf is assigned to supervise the staff of Sen. Lassa
Sen. Hopper is assigned to supervise the staff of Sen. Taylor
Sen. Kapanke is assigned to supervise the staff of Sen. Vinehout
Sen. Kedzie is assigned to supervise the staff of Sen. Larson
Sen. Leibham is assigned to supervise the staff of Sen. Carpenter
Sen. Moulton is assigned to supervise the staff of Sen. Holperin
Sen. Olsen is assigned to supervise the staff of Sen. Coggs
Sen. Schultz is assigned to supervise the staff of Sen. Risser
Sen. Wanggaard is assigned to supervise the staff of Sen. Wirch

Sen. Zipperer is assigned to supervise the staff of Sen. Cullen

Please review the motion and record your vote below by signing your name, inserting the date, and circling "aye" or "no." Thank you.

[If this ballot is not returned to the Majority Leader's office by Wednesday, March 2, 2011 at 12:45 p.m., you will be designated as not voting.]
Popular in the Community