Wisconsin Gov. Scott Walker (R) is virtually tied with his Democratic opponent, Mary Burke, in the Wisconsin gubernatorial race, according to poll results released Wednesday by the Marquette Law School Poll.
Among registered voters, Walker took 46 percent to Burke's 45 percent. Among voters likely to turn out in November, however, Burke took 47 percent to Walker's 46 percent.
While both candidates have the support of most respondents in their parties, independents are almost evenly split between the two candidates. Forty-five percent said they will vote for Walker, while 44 percent said they will vote for Burke. Two months ago, Walker led Burke among independents, 49 percent to 40 percent.
Voters as a whole were divided about how well Walker is doing as governor. Forty-seven percent said they approve of Walker's job performance as governor, while 48 percent said they disapprove.
The poll also finds that Burke is still unknown to many voters. Forty-nine percent of respondents said they haven't heard enough about or do not have an opinion on Burke, while 26 percent have a favorable opinion of her and 24 percent have an unfavorable opinion. In comparison, 45 percent of respondents said they have a favorable opinion of Walker and 47 percent expressed an unfavorable opinion. Just 8 percent said they had not heard enough about or did not have an opinion on Walker.
According to Charles Franklin, director of the Marquette Law School Poll, almost all changes between Marquette Law School Poll's previous poll, conducted in May, and this new poll are not statistically significant. In the May poll, Walker and Burke were tied at 46 percent among registered voters. Among likely voters, Walker had a slight lead, with 48 percent supporting him and 45 percent supporting Burke.
HuffPost Pollster's model, which includes all publicly available polling, shows Walker with 49 percent to Burke's 46 percent, with little movement in the race since pollsters began tracking it last fall.
Marquette's July poll surveyed 804 registered voters, 549 of whom were determined to be likely to vote, by phone July 17-20.
Before You Go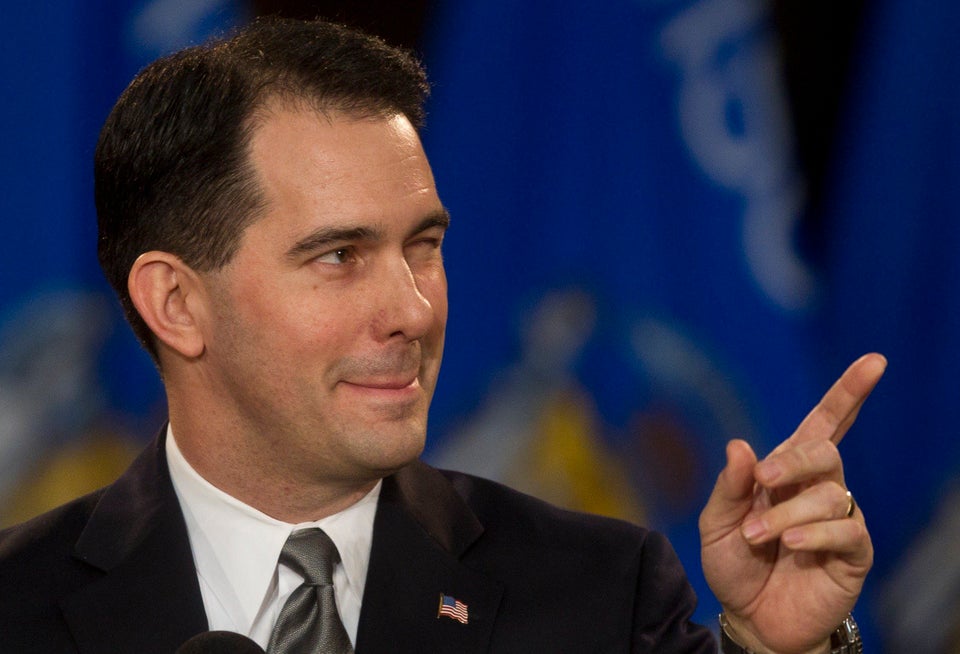 Scott Walker Pointing Fingers
Popular in the Community