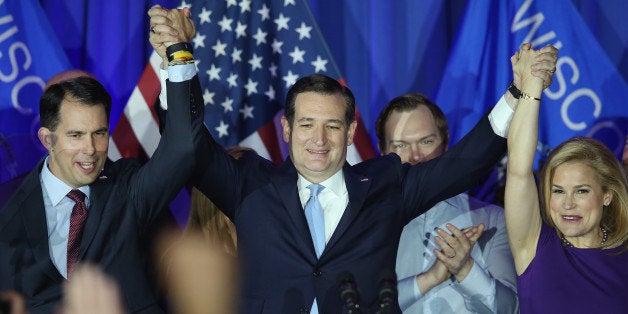 Wisconsin may be Donald Trump's Waterloo, or the beginning of it.
It was the first electoral test since Trump's disastrous nuke and abortion mistakes last week and shows that, unless he can reverse the damage, he may just have peaked. That will likely result in a hung primary outcome and a brokered convention where Trump is decidedly the least favorite.
He fared badly among Republicans who prize "electability", among women and independents - all core constituencies he needs to win the prize.
He also blundered into Wisconsin by attacking its popular, if controversial, Tea Party Governor, Scott Walker, who campaigned vigorously against him.
The state's "conservatives" fought against him in the media and door to door, causing him his first large loss of roughly 52 percent by Cruz to 31 percent for Trump.
Cruz, the last non-Trump standing, is mathematically incapable of nabbing the nomination and will be sidelined at a brokered convention because of his extreme right-wing, fundamentalist views and unlikeability.
On the Democratic side, voters handed Bernie a huge boost -- the "yuge victory" he asked for.
The Sanders victory will propel his campaign against Hillary Clinton and in early counting he had beaten her 53 percent to 46 percent, a good margin but not the home run he needed to close the delegate gap even a small measure.
However, Wisconsin plus another expected triumph in Wyoming will mean that Sanders will have won 8 of 9 primaries on his way to the big prize, allowing him to argue that the convention should be brokered for the Democrats too in order to allow pledged or Special Delegates the freedom to choose.
His trajectory is just plain remarkable considering that one year ago he hadn't declared his candidacy nor did he have any brand name recognition outside of Vermont and Congress, not to mention that he readily called himself a "socialist."
One on one polls show that Bernie beats Trump, Cruz and others handily, by a great margin than does Hillary Clinton.
In addition, Bernie is the most "likeable" of all the other four remaining candidates in both parties and is a factor that is important in the real election.
What's interesting now is that the primary season is a ratings dream -- outcomes thus far as so inconclusive that any one of the four top candidates can win. Of course, this is a tall order but sudden mistakes or scandals can strike any of them off the roster and the Republican and Democrat who can win New York, California, New Jersey and Pennsylvania will get their party's nomination.
Wisconsin is a milestone and has endorsed a relatively unknown "socialist" like Bernie over a household word "Hillary" and has punished Trump, possibly marking the fact that he may have peaked in this race.
He is losing support and will continue to do because of his mistakes, because he never corrects his behavior, he has invoked and endorsed violence and because he trots out ridiculous policy solutions that are laughable and dangerous.
The Badger State has spoken loud and clear: Trump is toast and Bernie is the most attractive new candidate this year.
Calling all HuffPost superfans!
Sign up for membership to become a founding member and help shape HuffPost's next chapter