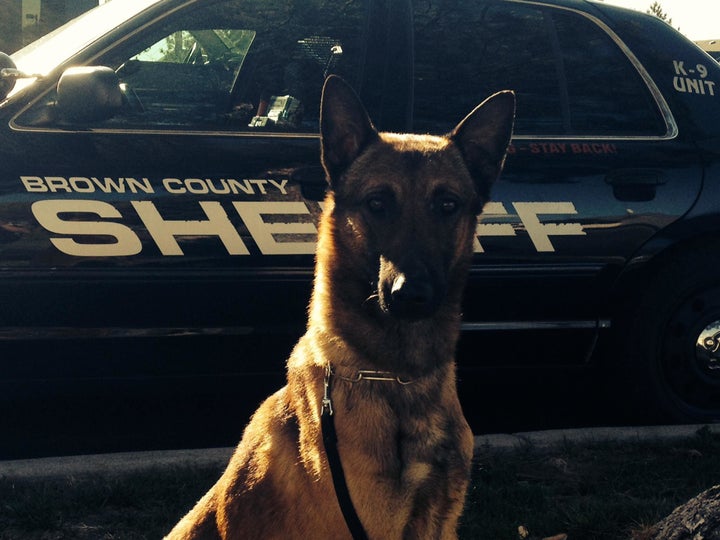 Three-year-old Wix had been on special duty at the PGA Championship in Sheboygan with his partner, Deputy Austin Lemberger, when he was left alone in a squad car with the "engine running and the air conditioning on," said the Brown County Sheriff's Office in a statement.
The air conditioning unit, however, is believed to have malfunctioned. An alarm system that's supposed to sound if the temperature in the car rises to a dangerous level also "failed to activate," the statement said.
Wix, who had been with the Brown County Sheriff's Office since April 2014 and had specialized in explosive detection, was found "unresponsive" by his partner on Wednesday afternoon. It's unclear how long the dog was left alone in the car.
"Wix was a valuable member of this agency and community and will be sadly missed by all. Our thoughts are with Deputy Lemberger while he copes with the loss of his K-9 partner," said the agency.
Temperatures can rise extremely quickly inside vehicles. According to the Humane Society, it is never a good idea to leave a pet in a parked car, even with a window cracked or the air conditioner on. "On an 85-degree day, for example, the temperature inside a car with the windows opened slightly can reach 102 degrees within 10 minutes," the organization writes.
However, according to the Press-Gazette, police dogs are "routinely left inside squad cars if they're on duty but not working."
"[Officers] don't have the luxury of tying a patrol dog to the tree when they rest ... They are so well-trained that when they come out of the car they're on high alert," Margaret Eastman, a veterinarian from Bay East Animal Hospital in Green Bay, told the news outlet.
"Utilizing the vehicle as a place of rest is necessary," she said.
Calling all HuffPost superfans!
Sign up for membership to become a founding member and help shape HuffPost's next chapter